In just three weeks we will have 20 new die sets available at KarenBurniston.com and at many of your favorite local and online retailers. You may pre-order from our website starting today, but do please consider pre-ordering through your favorite local store if you have one. We always ship store orders first.
Check out the new dies in this collection preview video:
We have also compiled a July 2019 Digital Catalog with all of the new dies in one handy spot. Feel free to download and print your own copy.


Let's look closer at the six new interactive dies in this release.
Train Pivot Panels - the newest in our popular series of Pivot Panels die sets is the Train Pivot Panels. The Train Elements set is the perfect add-on, including the tracks, crossing sign and All Aboard greeting. Our animal dies fit in the cars as an option, and the new Tiny Accessories 3 die set includes a train conductor's hat and bandana.
As with all of our Pivot Panels die sets, the Train Pivot Panels can be added to the Twist Panel die set (sold separately) to make an extra-dynamic pop-up card.
Family Room Pop-up - Here's a pop-up that's specific . . . and yet generic! It's so customizable to whatever colors/patterns you choose. It has quick and easy assembly and a very impressive reveal. You can also customize it be adding any of our animal sets to the furniture. Add-on sets include Word Set 10 - Thinking of You, Home Sweet Home, and the Memory Charms.
The Memory Charms coordinate perfectly with the Family Room Pop-up, especially for the fronts of the cards.
Barn Pop Stand - by popular request we've brought back the Barn Pop Stand die set. The set has been expanded with extra duplicate pieces (no more double cutting the doors) and a couple of new pieces (hay, grass, window). The barn doors slide open to reveal something inside. We also have a brand-new add-on set called the Farm Edges, plus three animal sets, including a chicken, lamb, pig, goat, cow, longhorn, horse, unicorn and zebra! The Tiny Accessories 3 set includes a farmer/cowboy outfit for the animals and the new Howdy word makes a great greeting.
Triple Flip - our newest pull tab die set is the Triple Flip. It's sized for an A2 card, at 5.5" wide. Pull the tab and all three rectangles flip over at the same time. The rectangles are sized to fit our charm sets and animal dies perfectly. It's shown here with our new Happy Hour Charms and Cheers word.
Here's another Triple Flip card, this time combining the Space, Happy Hour and Birthday Charms and staggering the locations of the rectangles.
Rocket Pop-up -the Space Charms are also a great add-on to the new Rocket Pop-up. This fun mechanism will launch the rocket as the card is opened. The rocket can be use independently as a stand alone element and this pop-up also makes great window cards. The Enjoy the Ride word set goes nicely with the Rocket and the Train Pivot Panels.
I will be teaching a two-card class at Scrapp'n Savvy in Conroe, Texas, on Wednesday using the new dies. We will be making this bright and fun Rocket Pop-up card in class. It also uses the Space Charms, Enjoy the Ride and our Crosshatch shape dies.
Photo Collage Pop-up - if you're looking for a completely generic but massively WOW pop-up die, you'll love the Photo Collage Pop-up. This fun mechanism twists and expands to reveal eight photo frames in a fun collage bulletin board style. The photo frames can be filled with our animals, charms, your favorite stamps, or actual photos. Accessories that come included in the set are push pins, binder clips, a ticket and the word "smile". Great add-ons are the Memory Charms and Home Sweet Home word set.
The Photo Collage Pop-up will also work wonderfully on scrapbook pages or to make a truly personalized card featuring photos. Here's a birthday card where I used pictures of my twins from age 3 to age 20. The photo frame fits square 1.25" photos. This sample also uses the little camera from the Memory Charms set.
Scrapp'n Savvy students on Wednesday will get to try this die and make a birthday-themed card. One frame will be left open for a photo of the recipient. On my sample card I used a photo of myself on my 9th birthday, wearing my favorite Mork 'n Mindy tee-shirt that said "Shazbot". (Nanu nanu!)
Scrapp'n Savvy Students please bring these supplies to class:
Scissors
All types of adhesive including glue with a fine tip, tape runner, mini glue dots, double-sided tape and pop dots
Black pen for pig feet and snout
Bone folder
Quickstik or tweezers for placing small pieces
Optional: if you have a photo of the birthday recipient, bring it sized at 1.25" square. Otherwise, plan to add it at home later.
We are introducing the collection today as a Sneak Peek and opening our website for pre-orders at 8 am, Eastern time. Our shipping starts July 15th in the order received.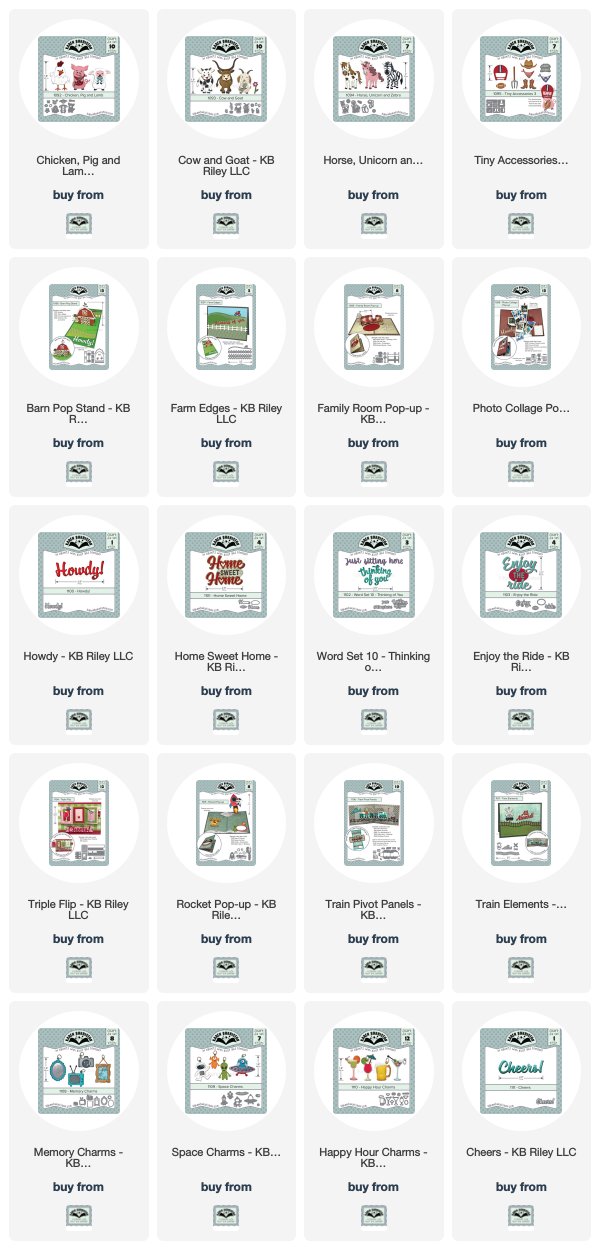 I am plugging away on assembly videos and will be uploading them over the next couple of weeks as I complete them. The Design Team has been making AMAZING cards with the dies and they are free to start posting their cards on their blogs today, so definitely check out those blogs (there's a clickable list in the sidebar at left) and I also suggest "liking" our Facebook Page and joining our fun Facebook group Karen Burniston Pop-up Peeps. If you want to make sure you don't miss out on any videos, please consider subscribing on YouTube.
Happy Crafting,
---