Welcome to our 73rd monthly Designer Challenge with a theme of HOLIDAY HOUSE. I challenged the team to use our Holiday House die set for a card of any holiday/theme. The variety is fabulous!
For my card and video I combined the Holiday House with the Tag Book Pop-up, but in order to use the Holiday House on the pop-up I needed to elongate the Tag Book. 
Watch the video below for a full tutorial:
My card measures 3" x 7.25" in the closed position and can be mailed in a No. 10 Business Envelope (slimline). For the front of the card I repeated the elements and styling from the inside using leftover materials. All patterned paper is Maja Designs "Autumn Poem" collection.
In addition to the Holiday House and Tag Book Pop-up die sets, I used the Tiny Trees Pop-up, Haunted Tiny House Add-ons and Word Set 7 - Autumn to decorate my card.
The diamond glitter colors came from The Paper Cut and were perfect for adding some sparkle to the Holiday House.
Since I was creating an autumn-themed card I kept the trees bare with just a few leaves sprinkled throughout the scene. For a spring or summer card I would have added the foliage pieces to the trees. This is a card that is easily translated into other seasons!
Want to give this card a try? Here are the dies and supplies used:
<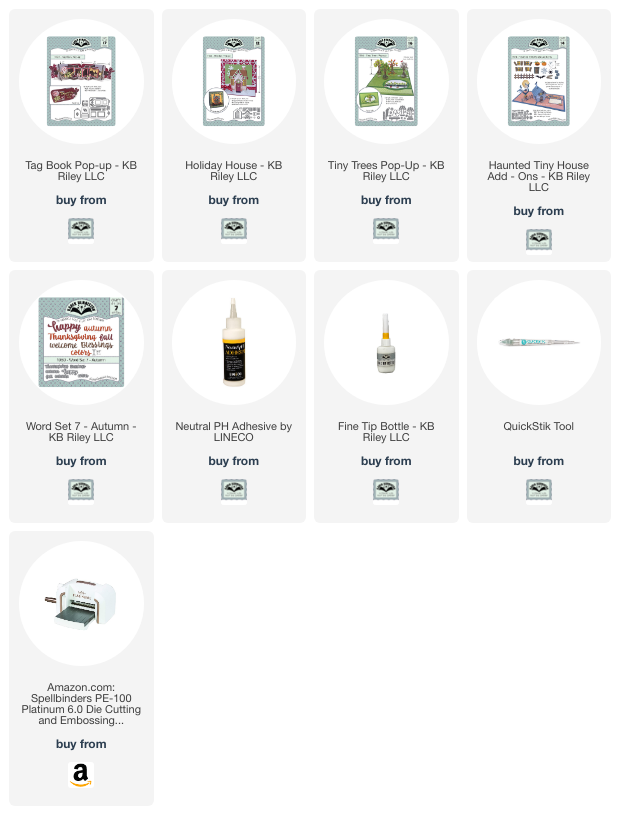 ---
Tim to check out the wonderful HOLIDAY HOUSE inspiration from our team. In each case you can click the designer's name to open their blog post in a new window. On their blog posts you'll find additional photos, supply lists and, in some cases, even videos!
Sue Small-Kreider ingeniously combined the Holiday House with the House of Cards die set for this light-up Valentines spectacular! I am swooning over this clever combination of dies for such a unique look. Click over to Sue's blog to see this card in action, including how it lights up. Love it!
Nicky Foden made this wonderful Easter Holiday House card featuring the Tiny Trees Pop-up and animating the house using a Bam Box Pop-up. I adore the pastel spring colors and the styling of this card. Check out Nicky's blog for a full photo tutorial.
Frances Byrne turned the Holiday House into a holiday gingerbread mansion for this lovely Christmas card. I love how she made the house taller and disguised seams with cleverly placed candies. Frances used the mechanism from the Explosion Pop-up to animate the house. So yummy!
Lois Bak made a wonderful Halloween slimline card featuring the Holiday House as a haunted house and the Little Twist Panel Pop-up inside the card. I love how she mixed and matched several of our Halloween dies to bring her scene to life!
Sandy Diller customized a card for her son welcoming his move to Arizona. I love the southwest feel to this card. Because Sandy combined the Holiday House with the House and Fence Pop-up she had more choices for windows and doors. Love it!
Suzanne Smit was feeling groovy when she made this fabulous Twist Flower pop-up featuring the Holiday House. I love the bright fun colors and amazing energy of this card. Peace, love and crafting! 
Jen Webster turned to the House and Fence pop-up for her holiday creation, using her amazing coloring and composition skills on a spoooooky Halloween card. I love everything about it! Be sure to click to Jen's blog to check out the card front. Amazing!
Fran Sabad is off this month so I'm sharing a throwback Fran classic featuring the Holiday House in three color schemes across the front of a slimline card. Fran also used our Long Rectangles Crosshatch and Long Nature Edges on this bright and beautiful card.
Well we hope you feel inspired to try the Holiday House for your next card. Join us next month on Wednesday, October 4, 2023 for our next Designer Challenge with a theme of  JACK-O-LANTERN - we'll be showing off cards using our Halloween dies and incorporating at least one Jack-o-lantern.
Also be on the lookout for the Mission Poppable challenge for September. It will go up next week. 
Happy Crafting!
---