Welcome to our September 2021 Designer Challenge with a theme of Sun or Snow. The team was challenged to make a sunny or snowy card.
Since I really needed to create an assembly video for one of our new die sets I took the opportunity to have it perform double duty as my snow-themed challenge card.


Watch the full assembly video to see how I made this card:
My card measures 5" x 5" when closed, which means it will fit in an A7 envelope for mailing. For the front of the card I layered the Merry Christmas and Merry Christmas Shadow dies and then traced around the word with a white gel pen to mimic the look of a cookie. I then repeated elements from inside the card as a simple lead-in.
Open the card and the gingerbread house pops up, decorated with all the pieces included in the Add-ons set.
For an added element I used the Street Lantern Pop-up, cut and styled as a gingerbread lantern and shortened to fit the card. The snowmen are fashioned out of circles, stenciled features, a candy-cane scarf and bird leg arms.
Ready to give this card a try? Here are the supplies used in the video: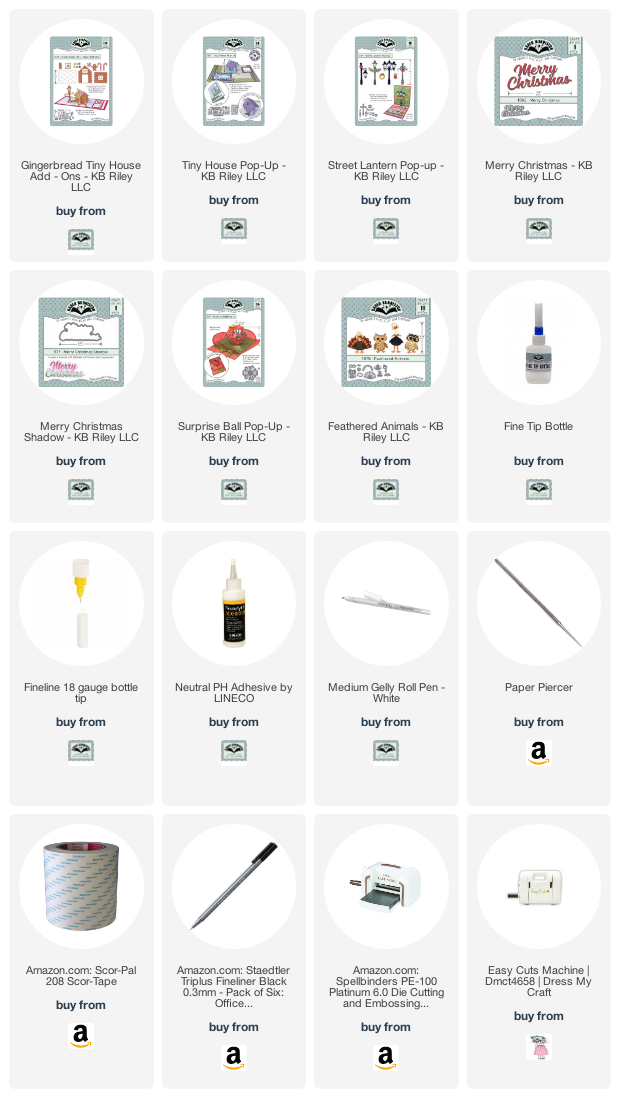 NOTE: Amazon links are affiliate links where I receive a small commission on the sale at no cost to you.
---

Now let's take a look at the awesome sun and snow cards created by our talented design team. For each of these cards there is a full blog post, supply list and, for some of the cards, a video as well. Click the designer's name to visit the blog post, which will open in a new window.
Sandy Diller created a wonderful stacked Pop 'n Swap card. Her card is so sunny it has me dreaming of a day on the beach. Click over to her blog post to watch a video about this card.
Lois Bak has been incorporating scenery patterned papers into cards where she then fills in with die cut elements. This snowy Garden Bench slimline card is perfection!
Fran Sabad has a charming deck the halls card featuring a stacked Bitty Ball Santa Claus and the Iron Fence die sets. I love her candy-striped Street Lanterns!
Karen Aicken has a stunning snow-themed card made using the Photo Collage Pop-up. You really must click over to Karen's blog to see the video for this card. Plus it features her fabulous handwriting for the greeting. Amazing!
Kelly Booth created such a clever mix of both challenge choices by putting the Snowman Pop-up on the beach! I love, love, love this! Look at those cute flip-flops and the snowman holding the sun! Such cuteness (and danger) in one card!
Frances Byrne created a lovely snow-themed Garden Bench slimline card also featuring our Snowman and Street Lantern die sets. The colors are so rich and festive in this card. Stunning!
Well I hope you feel inspired to make sunny or snowy cards. Join us next month on October 6, 2021 for our next Designer Challenge with a theme of HAUNTED! The team will be sharing Halloween cards.
We started our Mission Poppable hashtag with Designer Challenge 45 and have been delighted with the projects posted. For the August challenge our winner (by random draw) is Sue Krieder, who posted a lovely tiered cupcake pop-up card.
Each challenge will bring a new mission and you have a month to complete it. You are welcome to post more than one card for the mission, which will increase your chances to win by random draw.
Your mission, should you choose to accept it, is to make your own card following this month's challenge theme of "SUN OR SNOW!" Make sure your card features our die(s) heavily. Post your card on Instagram using the hashtag #missionpoppable OR on our Facebook Group Karen Burniston Pop-up Peeps OR both. If posting in the Facebook group, please add it to the photo album for this month's challenge, which you'll find in the Media section of the group. You have until the next Designer Challenge date (October 6, 2021) to complete your mission. This message will not self-destruct because I don't know how to do that.
We will choose a winner by random draw from all the cards for a $25 credit to our website. The winner will be contacted via messenger or e-mail.
Make sure if you're posting on the Karen Burniston Pop-up Peeps Facebook Group that you follow the rules of the group. Outside product is allowed, but not for the pop-up portion of the card. Cards posted on the group must heavily feature our brand. You can find us on Instagram @karenburnistonbrand and also my personal account @karenburniston
Happy Crafting!
---