Welcome to our June Designer Challenge with a theme of "Mini Slimline." I challenged the team to create a Mini Slimline card measuring 3.5" x 6" in the closed position.
For my project and video I wanted to showcase one of the many pop-up dies that will fit in Slimlines and Mini Slimlines. I chose the Explosion Pop-up die set.
Learn the assembly of this card by watching the video below:
My card measures 6" x 3.5" in the closed position. This is a particularly nice size for fitting in those shorter business envelopes you can find at any office supply store. Our Short Rectangles - Crosshatch die set is designed to work with this size card perfectly so I used it on the front of the card along with some Crosshatch Hearts and a butterfly from the Flutter Charms.
Open the card to reveal all the pop-up excitement. The explosion sides were cut with sharp scissors while folded to achieve the lace look. (Similar to cutting a paper snowflake) For the butterflies, I layered bee wings and dragonfly wings with the butterfly to create variety. The greeting is created by combining our Sending Love die set with the Mini Alphabet and Numbers die set. The patterned paper is an older Blue Fern Designs piece from my stash. The explosion sides are cut from origami paper.
Want to give this card a try? Here are the dies and other supplies I used on this card: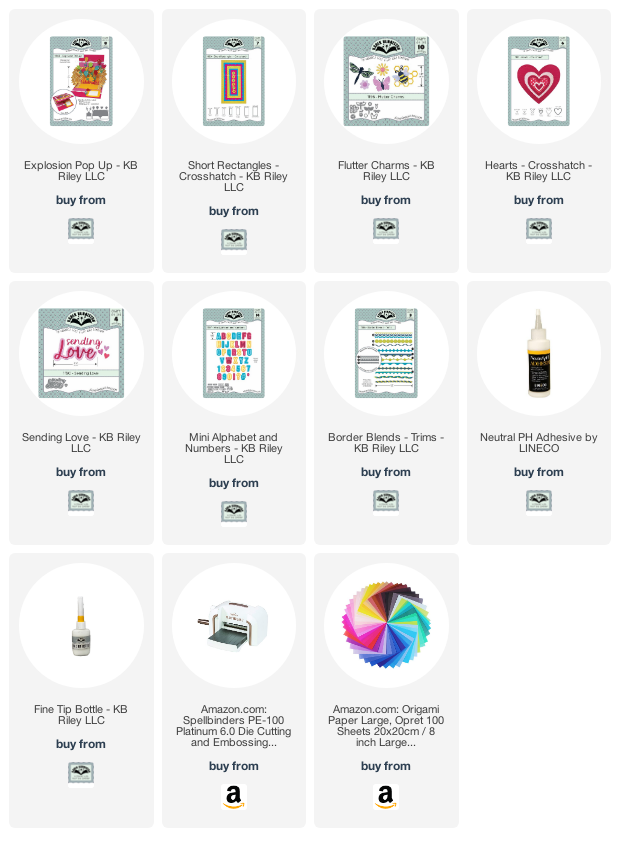 ---
Now let's take a look at what our Design Team came up with for the challenge. In each case, clicking on the designer's name will open a new window to their blog post, where you will find full details about their card.
Sandy Diller modified the lattice in the Flower Pot Pop-up to create a pop-up that really wows! Even better? She has a full video for this card on her blog post. Definitely check out this clever modification of a foundation die to create a completely new slimline-friendly look. Brilliant!
Lois Bak has a wonderful card front for the challenge that combines many of our dies. I love that she's showing the versatility of our die sets by mixing and matching with patterned paper to create a custom scene. Mermazing!
Karen Aicken created an exquisite anniversary card featuring the Heart Collage Pop-up. The colors are so gorgeous and I love her touches of foils for an elegant look. Head over to her blog to watch a video of this card in action. Love it!
Fran Sabad took advantage of the dimensions of our new Landscape Rectangle Accordion, which matches a Mini Slimline size. This three page birthday card is so much fun, partying until the cows come home! Fabulous!
Frances Byrne added our new Long Flap and Closure to a mini slimline size card to be able to add the new Mini Ball Pop-up inside, decorated as a cupcake. Everything about this card is terrific. I love the sweet pink color scheme and the way she styled the cupcake with the borders and candle. Awesome!
Well hopefully the team has inspired you to make some Mini Slimline cards. Join us next month on Wednesday, July 6th, 2022 for our next Designer Challenge with a theme of SPINNERS! The team will be making cards with spinning elements.
PS Last month I promised that I'd issue a new Mission Poppable challenge mid-month. Well, the month of May had other plans, so I apologize. I will issue a Mission Poppable challenge for June. Look for that information in a separate blog post and e-mail on June 15, 2022.
Happy Crafting!
---