Welcome to our April Designer Challenge with a theme of BUNNY! We're all incorporating bunnies into our cards.
For my card and video I wanted to show another way to combine the Slider Box and Surprise Cubes by anchoring the Surprise Cubes into the box and decorating them as a tower. My tower is decorated as an Easter Bunny, but you could absolutely swap out the animal and theme to use this technique for any occasion.
Watch the video below to learn how I made this project.
My finished Slider Box measures 2 3/8" x 4 3/8" x 7/8" and can be mailed in a bubble mailer. The Easter Charms chocolate bunny on the front of the Slider Box is cut from brown cardstock with clear packing tape over the cardstock before die cutting. This creates a glossy surface. I also used the packing tape trick for the bunny's nose.
Slide the drawer out and the tower of Surprise Cubes pops up, decorated as an Easter Bunny using ovals from the Slim Frames set, plus pieces and parts from Mini Ball Add-ons 2 and the whiskers from Animal Add-ons 1.
The bow tie comes from the Big Birthday Charms and the eggs from the Easter Charms. The grass is from Nature Edges.
Ready to make your own Surprise Cube tower? Here are the dies and supplies used on my project. The patterned papers are older designs from my stash. The cardstock colors are also from my stash, a mix of My Colors and The Paper Cut.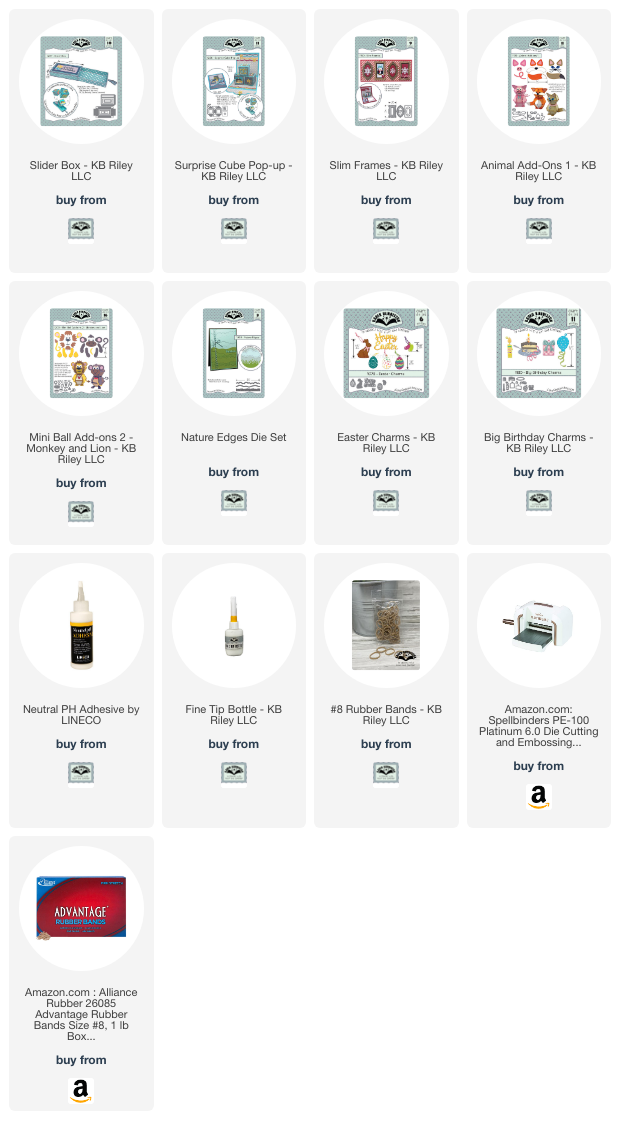 ---
Now let's take a look at the wonderful BUNNY inspiration by our talented Design Team. In each case you can click the designer's name to open their blog post in a new window. On their blog posts you'll find additional photos, supply lists and, in some cases, even videos!
Suzanne Smit cleverly created a bunny bottom from shape dies from other sets. I took inspiration from Suzanne's cute bunny feet when I was constructing my bunny's feet. Suzanne has a great how-to on her blog for making this sweet rearview rabbit Woven Basket Box Card. Adorable!
Jen Webster used the Parcel Pop-up to animate a bunny rising out of her Woven Basket on this fun Easter card. I love Jen's signature Copic shading on the die cuts (look at that bow!) and the way she constructs a scene. Lovely card!
Frances Byrne created a 3-page Landscape Rectangle Accordion in bright cheery Easter colors and decorated with a mix of Spring Animals, Easter and Garden Charms. I just love her cloud stenciling and white pen detailing. Stunning!
Sue Small-Kreider made the most adorable Chocolate Bunny farm! I just love how she's combined the Barn Pop-up with the Farm Edges and an extra Bam Box Pop-up to animate a chocolate bunny off of the fold. Click over to her blog for a video of this amazing card in action. Love it!
Fran Sabad is sharing two cards for the challenge. The first is a sweet Little Labels Pop-up decorated with the Spring Animals. Love those peeking bunnies and just-hatched chick!
Fran also shared an Easter-themed Waterfall card. Definitely click over to her blog to see more photos of each waterfall page. Adorable!
Lois Bak made a doublewide Woven Basket Box Card in an Easter theme and I adore her colors and styling on this. The braided border along the edge plus the entire scene inside the basket makes for a wonderful display piece.
Sandy Diller has made a bunny gnome for her adorable Fancy Label accordion card and it is soooo cute and clever! Click over to Sandy's blog for a video on this great combination of the Spring Animals bunny with the Tiny Gnomes. Love it!
Karen Aicken cleverly created a shadow box scene inside the Slider Box for her challenge card. I love all the layers and the entire fun scene created inside the drawer. Click over to Karen's blog for a video of this wonderful card.
Nicky Foden created a wonderful personalized Easter card by combining the Coffee Cup Pop-up with the Woven Basket Box Card. She gives a full photo tutorial of her process on her blog, so be sure to click over for more info. I love this!
Hopefully you feel inspired to craft some bunny cards. Join us next month on Wednesday, May 3, 2023 for our next Designer Challenge with a theme of BEJEWELED. The team has been challenged to make a card featuring sparkle and bling.
Also be on the lookout for the Mission Poppable challenge for April. It will go up next week. Check out the March Mission Poppable challenge here - you still have a week to add your cards to the album to be in the running for website cash!
Happy Crafting!
---