For our Designer Challenge yesterday I posted a video tutorial for using the Rockin' Rectangle Pop-up die set for a shaped-window card with the added element of pulling up a piece of twine to animate more items.

I thought it would be fun to make the card again but in a different theme. For this version I used the Happy Hour Charms, Cheers and Sweet Treat Charms, but then also filled in with decorator pieces from other sets.
This is a landscape A2 sized card with a martini-shaped window. For the front of the card I used our Crosshatch Ovals, Happy Hour Charms, "hello" from Word Set 6 - Summer, the watermelon slice from our Sweet Treats Charms, the tiny flowers from the Tree Pop-up, and the leafy vine from the Flip Frame Pop-up. One nice thing about our pop-up dies is that they come with so many decorator pieces the can then be used for other fun combinations.

Once open the Rockin' Rectangle lifts and rocks the martini, plus pulls up the twine. The flower charm is from our Backyard Charms set and the greeting is our Cheers die.
The twine I use for this technique is a thicker hemp twine. I used small jump rings to attach the charms to the twine, then used pliers to squish the jump rings so they wouldn't slide along the twine.
Learn this technique by watching this video:
Here are the dies that I used for my Cheers version. The paper is an older Pebbles design called Mocktails.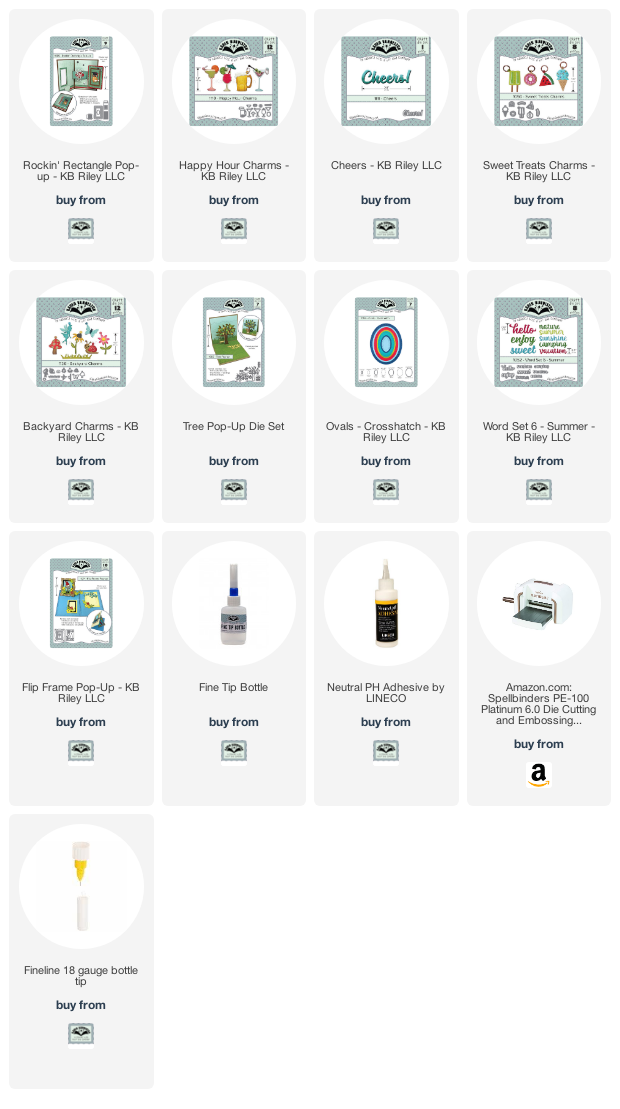 ---