Welcome to Designer Challenge 63 with a theme of Snowman! This month I challenged the team and our guest designer to create a card featuring a snowman. You are in for an absolute treat with all their creative and stunning snowman cards.
For my card and video I took inspiration from a piece of Maja Designs Gingerbread paper from their Happy Christmas line. I thought it would be fun to make a pop-up ball gingerbread snowman.
Learn how I made this card by watching the YouTube tutorial here:
My card measures 5" x 6" in the closed position with 3/8" gusseted folds. It will fit (barely) in an A7 envelope, but I recommend a bubble mailer for this type of card. The closure is a pivot flap closure like the one from Designer Challenge 62, but this time designed to fit a larger card that will accommodate all three ball sizes. The greeting "Sweet Christmas" was created by combining words from You're Sweet and Merry Christmas. To style every element as a gingerbread cookie I cut the pieces from brown cardstock and then highlighted (purposely imperfectly) with a white pen to look like piping.
Open the card and the gingerbread snowman springs up. He sits on a plate made with our Circles - Crosshatch die set with smaller gingerbread cookies sprinkled on the plate. Both the plate and the snowman spin in the card on a brad.
The structure of the snowman is made by stacking all three ball sizes: Mini Ball, Bitty Ball and Surprise Ball. All the accessories for the snowman are from the Snowman Add-ons die set. I cut them from gingerbread colors with white pen detailing for icing.
The measurements for this type of card and built-in closure will work for double-ball characters as well. To make a removable character, mount the character on an oval or diamond and then tuck the ends under cardstock strips attached to the card. Ready to give this card a try? Here are the dies and supplies used on my card: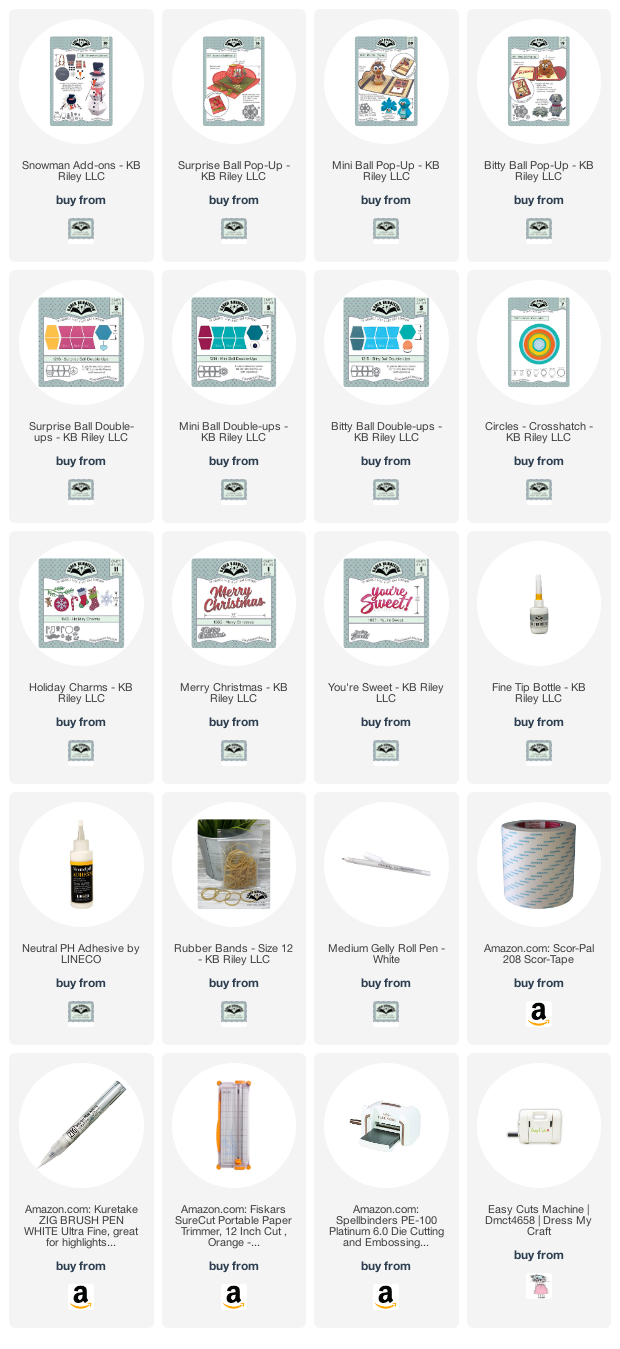 ---
Now let's take a look at the wonderful Snowman inspiration by our talented Design Team and guest designer. In each case you can click the designer's name to open their blog post in a new window. On their blog posts you'll find additional photos, supply lists and, in some cases, even videos!
Karen Aicken received plenty of gasps when she posted her amazing Woven Basket Box Card featuring a snowman, street lantern and white Christmas tree. This card is so gorgeous! I love Karen's color scheme of white, black and gold for this card. The bow on the hat and the twine scarf are perfection! Click over to Karen's blog for a video on this card. Amazing!
Nicky Foden made an amazing card for the challenge and on her blog post she's showing you exactly how she did it. This is SOOOO CLEVER! She made the card base using the Slim Flaps and Frames die set as a flap book that creates all these different snowmen. Can you imagine all the fun if this showed up in your mailbox?! It's just amazing clever and unique. Fabulous!
Jen Webster shows off her amazing coloring skills with this adorable Little Labels Pop-up card. The snowmen are all so delightful and happy. I love all the different looks and expressions she created. Make sure to click over to her blog post so you can see the equally impressive card front, with even more happy snow fellas! Such talent!


Lois Bak combined our Snowman Pop-up die set with our Christmas Tree Pop-up for a double dose of pop-up holiday fun! This card is sure to delight the recipient plus it makes such a nice decor piece. I love all of Lois's brightly-colored circle decorations on the tree. Click to her blog to see the great card front. Love it!
Fran Sabad created a removable snowman pop-up card and I adore her color choices here. She paired the pop-up snowman with smaller snowmen plus the snowflake border from Long Nature Edges 2. Be sure to click over to Fran's blog to see the equally stunning card front. Spectacular!
Suzanne Smit always adds such fun details to her cards. I love this scene of Snowmen having fun with an Ice Cream Sundae. Who would have thought to put chocolate syrup dripping on a snowman?! Suzanne, that's who! This card makes me smile. Click over to her blog for more details. Brilliant!
Sue Small-Kreider created an entire snow family for the challenge and between this blog post and three more after it, she walks you through exactly how to create each member of the snow family. What a delightful creation with so many custom details, like Junior's cap and Mama's shawl. I LOVE IT! Click over for more info.
Sandy Diller created an absolutely BRILLIANT card with Frosty doffing his cap. She used the Mailbox die to create the action and you'll definitely want to head over to her blog to learn how she repurposed the mechanism to use in this way. This card featured great colors plus Sandy's signature tone-on-tone snowflake embossing. So clever!
Frances Byrne created a wonderful gatefold card to accommodate a removable 3-layer snowman and a smaller snowgirl. I LOVE Frances's use of the Gnome Mini Ball Add-ons to create snow braids for the girl plus a fun stocking cap. She also used the Snowman Add-ons on the front of the card to make a big snowman face. Brilliant ideas here! Be sure to click over to watch a video of this card in action.
Karen Hasheck is our guest designer for this month. Karen posts regularly with our dies on her blog and YouTube channel, showing some great cards with fabulous techniques. She is a member of the Send a Smile 4 Kids design team, a charitable organization. When I asked Karen to be our guest for this month's challenge I mistakenly told her the theme was SNOW. Karen ended up making a brilliant Snowman card that fit the actual theme perfectly! Karen combined the Mini and Bitty balls for her 2-layer snowman. She also cleverly used several of our snowflake dies to make a stencil. Be sure to click over to her blog to see the front of this card, more about the techniques and a video of this card in action. Thank you to Karen for sharing her talents with us this month.
Well I hope you are inspired to create some Snowman cards of your own. Join us next month on Wednesday, December 7th, for our next Designer Challenge with a theme of FIREPLACE DIE THROUGH THE YEAR - we will be showing a card using the Fireplace Pop-up for every month of the year.
Happy Crafting!
---