Welcome to our March Designer Challenge with a theme of VACATION! I challenged the team to create their perfect vacation in a card. You're going to be blown away by their clever die combinations.
For my card and video I'm showing a fun doubling technique for our Flip Frame Pop-up die set. My card theme is cruising, but this card could easily be adapted to any other theme. 
Learn the technique by watching the YouTube video here:
My finished card measures 5" x 7" and can be mailed in an A7 envelope. The patterned paper is an older one from my stash by Bo Bunny called "Weekend Adventures Beachy", but any type of swirl, polka-dot or waves paper would work. The front of my card features the decorator frame and rectangle from the Flip Frame Pop-up, the waves from Tropical Scene and the Cruise Charms. Our new Rectangles and Labels - Crosshatch is sized to fit 5x7 cards.
As the card opens the double pop-up starts to expand.
Inside, pop-ups on both sides of the card are revealed. I took inspiration from the cruise ship charm to craft a similar large version using shape dies. (Watch the video to learn how I did this) The background uses the same large crosshatch rectangle and the decorations are created using combinations of Tropical Scene, Flip Frame Pop-up and Cruise Charms.
I mentioned in the video that I'll be an instructor on a cruise next year. You can find all the information on the Cruise and Crop website here.
Want to give this card a try? Here are the dies and supplies used on the card.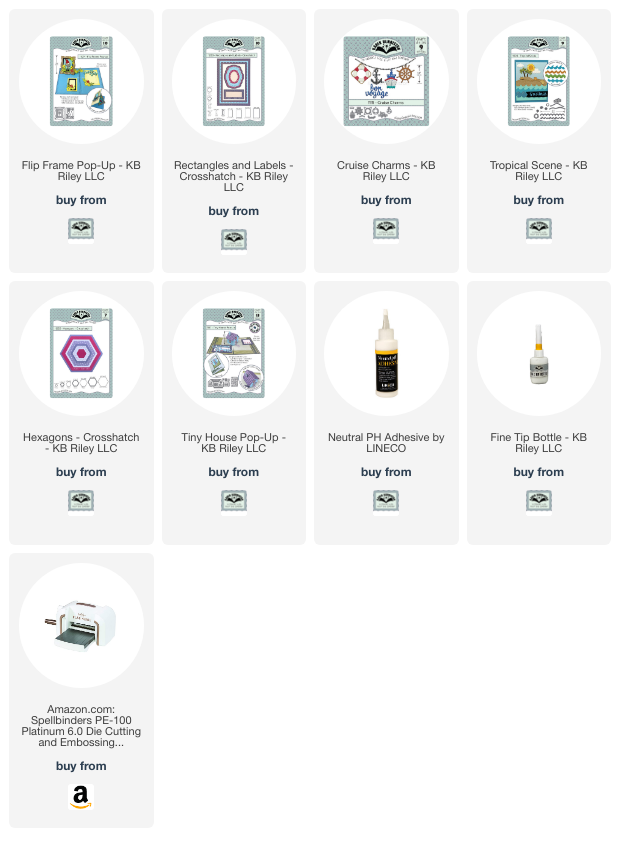 ---
Now let's take a look at the wonderful VACATION inspiration by our talented Design Team. In each case you can click the designer's name to open their blog post in a new window. On their blog posts you'll find additional photos, supply lists and, in some cases, even videos!
Jen Webster created this absolutely delightful cabin by a lake in the woods and I want to go there right now! Her coloring on the Tiny House is exquisite! Be sure to click over to her blog post for more information about this card and to see the equally stunning card front.
Frances Byrne has me longing for sand and surf with this wonderful beachy birthday card. Frances is showing just how seamlessly new dies (Sea Charms, Beach Borders, Beach Bar, Word Set 16) coordinate with what came before, in this case the Adirondack Chair Pop-up, Nature Edges and Outdoor Scene. I also love her custom greeting.
Lois Bak created a Photo Collage card with images of her dream vacation destinations. This is so clever! It's a card version of a memory or vision board. Click over to her blog for the card front, with more destinations. Love this!
Sue Small-Kreider created this absolutely stunning train ride through the Canadian Rockies as her dream vacation card. I love how the patterned paper creates the background and her combination of the Train Pivot Panels with the Twist Panel creates a dynamic double pop-up. Sign me up for this trip!
Fran Sabad made this Circle Tag Book decorated with Cruise Charms as a "Miss you" card. I love the nautical colors and the clever two-part greeting. (Click over to her blog to see the card front) Fabulous!
Karen Aicken used the Slider Box so cleverly to house an accordion fold card with a shimmery sea theme. It even has a shaker front! Click over to Karen's blog for a video of this project in action. What a wonderful keepsake birthday card!
Sandy Diller amped up her Beach Bar pop-up card by adding a Bam Box pop-up to animate the palm trees. I love the texture she created on the sand! Click over to Sandy's blog and let her transport you, via video, to her beach oasis. Love it!
Nicky Foden created an entire scene by the lake for this wonderful Father's Day card. This is the perfect way to mix dies from multiple sets to create a custom scene. Nicky has a full photo tutorial for this card on her blog post, including some great tips for creating a cloud stencil, styling the animals and charms, and creating the foamy surf. This is so creative!
Suzanne Smit made a great card to send to someone embarking on a vacation. She used the House Pivot Panels but also mixed in some pre-made elements that match the theme. I love the bright colors and happy feel to this card! 
Hopefully you feel inspired to plan your next trip! Join us next month on Wednesday, April 5, 2023 for our next Designer Challenge  with a theme of BUNNIES. The team has been challenged to make a card featuring a bunny.
Also be on the lookout for the Mission Poppable challenge for March. It will go up next week. Check out the February Mission Poppable challenge here.
Happy Crafting!
---