Happy 2019, fellow crafters!
To ring in the New Year our first Designer Challenge has a theme of NEW! This challenge centers on trying out a new technique or a new style or a new purchase. The team has created fabulous inspiration as always.
For my card and video I combined three "new" things - a NEW die assembly idea for the Frame Pull Pop-up to convert it into a waterfall card, a NEW (to me) stamp set from Visible Image of the Cheshire Cat, and some brand NEW cutting pads, which I'm sure will please those of you who cringe constantly seeing the well-used ones in the videos every month.
In my defense - I am like everyone else - I use cutting pads until they break.
And then I keep the broken pieces because they work so well for small dies.
I may have a problem.
Anywhoooooo - here's the video.
This is a postcard-style card measuring A2-size (4.25" x 5.5"). To color the Cheshire Cat I stamped it with Ranger Archival black ink onto white cardstock and then used Prismacolor pencils in these shades - Pinks (PC993, PC994, PC1014) and then PC1018 for the inner ears. Purples (PC932, PC956, PC1008). Yellows (PC1011,PC1003) and White PC938. I copied the packaging image as best I could, although I am the first to admit that my coloring skills could benefit from some practice and professional instruction!
Pull the tab to flip to the next set of panels. In this one, the greeting begins as the cat fades. The bird and hearts are dies that come included in the Frame Pull set. I cut them from black cardstock and colored with the same pencils, leaving a black edge to make them tie in better with the stamped images.
Keep pulling to reveal the third scene. Now the cat is just a head, the bird has turned around (in keeping with the greeting) and the rest of the greeting is revealed.
One last pull to reveal the final scene. The cat is now just a floating face spouting his signature phrase: "We're all Mad Here!" I meant to use a purple colored pencil between the nose and the eye, where I left a little bridge of paper while fussy cutting. I figured it would disguise my cheat. But then I forgot to do it! (We're all mad here!)
For the back of the card I added a panel of white cardstock. The "welcome" word from Word Set 7 is inlaid into the white panel, but would look just as good layered on top.
Here are links to the products used on my card.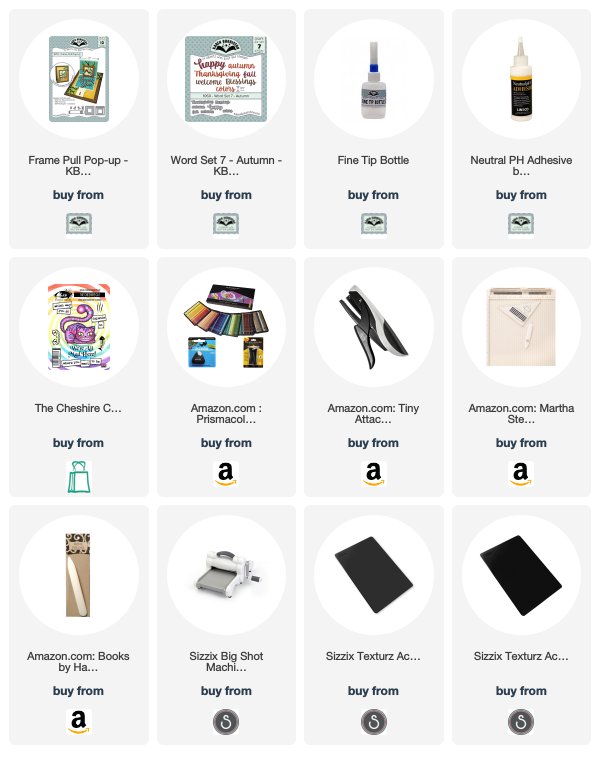 Let's see how our talented international design team interpreted the NEW challenge. In each case, their name will link to their personal blog post, where you will find more photos, supply lists, tips, tricks and sometimes even videos. So click away for inspiration galore!
Continue reading "Karen Burniston Designer Challenge 17 - Try Something New!" »
---