For this month's Designer Challenge we have a theme of Fun on the Farm where I challenged the team to use the new farm-themed dies on a card.
For my video I wanted to teach a technique of combining the Family Room Pop-up with the floating floor from the House & Fence Pop-up to make a top-fold double floating floor family room card. To make it fit the theme I decorated mine using the farm dies, but this is a generic technique that can be used for many themes. Learn it by watching this video.
The card measures 4.75" x 5.5" in the closed position. The front of the card is a simple lead-in to the magic inside.
When the card opens, the entire pop-up scene comes to life.
Here are a couple other versions of this card that I made at a recent retreat. The Halloween version uses the same two base dies - Family Room and House & Fence, plus our Halloween themed dies - Scene, Elements and Charms.
Then I tried it in a Thank You theme. This one adds Word Set 4, Thank You and the Memory Charms.
Ready to give this technique a try? Here are links to the dies and supplies used in the video.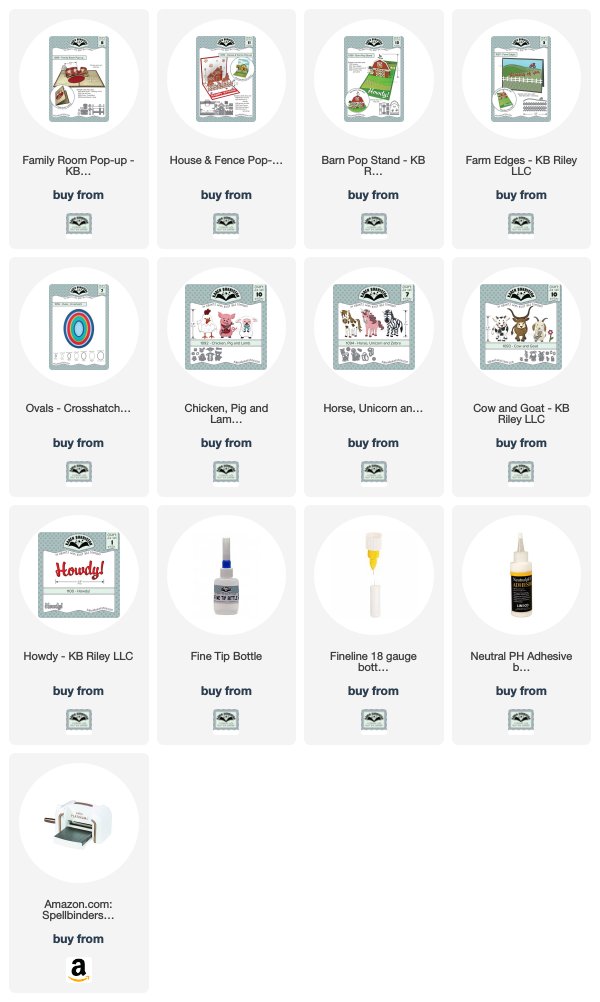 Let's take a look at the great ideas by our talented Design Team.
Fran Sabad is planning a wedding for her youngest daughter at their family farm so this theme was perfect to celebrate the upcoming nuptials.
Frances Byrne combined the Barn with the Family Room to make this super cool hang out for cows.
Karen Aicken made the most exquisite Christmas Barn. I love all the incredible details. Make sure you click over to see the other photos of this spectacular card.
Sandy Diller made a double floating floor to animate the Barn and then added cows to extra supports. Fabulous!
Kelly Booth made a super fun birthday card using the Barn and animals, plus Tiny Accessories sets.
Lois Bak created a fun fold card and then dressed up the farm animals in fun costumes from our Tiny Accessories sets.
Summer Hills-Painter was inspired by a recent technique Karen Aicken shared for creating a single large flip with the Triple Flip card. There's a fun reveal when the tab is pulled - click over to Summer's blog to see it.
Well we hope you are inspired by all these ideas for using the farm dies for all seasons and occasions. Join us next month on September 4, 2019 for our next Designer Challenge with a theme of Enjoy the Ride.
---