Happy December and welcome to our 76th Designer Challenge with a theme of "Naughty or Nice?" I challenged the team to incorporate a stocking into their card.
For my card and video I'm teaching the stacked double-oven technique from a recent Zoom class. This card combines pieces from the Oven Pop-up and Oven Extras die sets, among others.
Learn how to make this card by watching the full YouTube tutorial here:
My card is a 5x6 top fold card and features the stocking from the Stocking Pop-up on the front of the card, filled with Baking Charms. The gingerbread cookie border comes from Christmas Borders 1. Patterned paper for the card front is from Simple Stories.
Open the card to reveal a stacked double oven and spring-up kitchen island. The island is animated using the Bam Box Pop-up. Because the challenge theme featured stockings I added the small stockings from Fireplace Extras 1 to the cabinets. I also used the greenery, berries and holly from that same set. The patterned papers came from my stash.
The ovens can be opened to reveal a sheet of cookies in the upper oven and a turkey in the lower oven.
My inspiration for this card was a class card from our November Zoom class. Zoom class kits are available only through participating stores. It's possible that one of the stores still has kits for the red oven version of the card. Check our Events page for links to the participating stores.
Ready to give this card a try? Here are the links for the dies and supplies used in my card: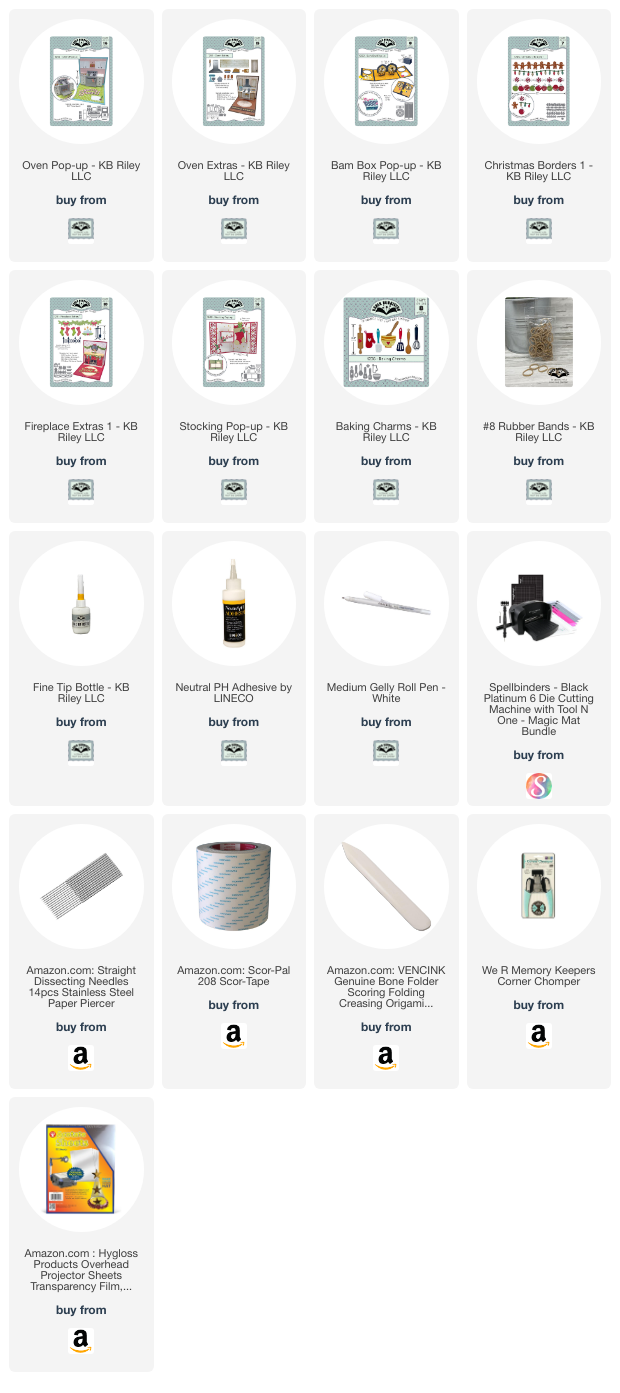 Another class card that made its way into a YouTube video is the Twist Flower Poinsettia Card from our July Zoom class. Learn this card here:
Time to check out the wonderful NAUGHTY OR NICE? inspiration from our team. In each case you can click the designer's name to open their blog post in a new window. On their blog posts you'll find additional photos, supply lists and, in some cases, even videos!
Jen Webster used the Parcel Pop-up to lift up a Mini Gift Bag filled with fun presents, including a little stocking. This is such a wonderful mix of dies and, as usual, features Jen's signature coloring. Click over to her blog to see the card front. Exquisite!
Sandy Diller has some Tiny Gnomes up to all sorts of mischief on her Fireplace Pop-up card. Some are even posing as a tree! Click over to Sandy's blog for a video walk-through of this hilarious card!
Nicky Foden uses our brand new Raising Platform Pop-up (available on our website starting next week) to raise up the upper portion of her tree. I love all the fun elements to this clever card. Click over to her blog for a full photo tutorial. Amazing!
Sue Small-Kreider used a clever modification of the Twist Flower mechanism to twist and pop-up two circles featuring naughty or nice stockings. Be sure to click over to Sue's blog for a wealth of information about this card, including photos and video. I love it!
Suzanne Smit made a Rockin' Rectangle pop-up card that features cute Christmas Animals reindeer peeking out of the stockings. I love how she also incorporated the matching stocking border. Ho ho ho - you'll definitely want to click over to see more more more!
Lois Bak created a lovely Fireplace easel card featuring greenery and cute stockings. I love how she used Merry Christmas as the easel stop. Click over to Lois's blog post to see this card closed. Wonderful!
Lois also posted a bonus DC card featuring the new Raising Platform Pop-up (available next week from our website).
Fran Sabad created this fabulous Stocking Pop-up card featuring curious mice from the Christmas Animals decking the halls and swiping the candy. I love all the beautiful layers and detailing to this card. Click over to Fran's blog to see the equally-impressive card front.
Frances Byrne combined pop-ups for this slimline card featuring the new Raising Platform and Stocking Pop-up, plus a flat version of the Fireplace on the card front. The festive colors and styling to this card are a feast for the eyes! Click over to Frances's blog to see more.
Well we hope we've inspired you to be nice (not naughty) so Santa will fill your stocking with dies! Tune in next year (tee tee) on January 3, 2024 for our next Designer Challenge with a theme of RAISE IT UP! We will all be using the Raising Platform Pop-up in our projects.
Happy Crafting!
---