Welcome to our June Designer Challenge with a theme of Baby or Wedding. The team's cards are, as usual, wonderful creations!
For my card and video I am showing how to style the Iron Fence Pop-up as a rainbow.
Watch the video below to learn how to make this card:
My card measures 5" x 5.5" when closed. The front of the card features rainbows made from the Circles - Crosshatch die. Other dies used on the front include Border Blends - Trims, Baby Charms, clouds from Landscape Scene and Welcome.
When the card opens, two rainbows pop up, made by adding strips over the Iron Fence die. Clouds are from the Landscape Scene and Outdoor Scene. The borders are from Border Blends - Trims.
The baby blocks are from Baby Charms and the stork is made by altering pieces from the Beach Charms.
As mentioned in the video, I was reminded to try this technique after seeing a clever card by Sandy Diller using the Iron Fence as a vase. The arching mechanism lends itself well to other interpretations - perhaps a wishing well or a bridge. Or try the rainbow styling in other colors and themes.
Ready to give this card a try? Here are the dies used on my card: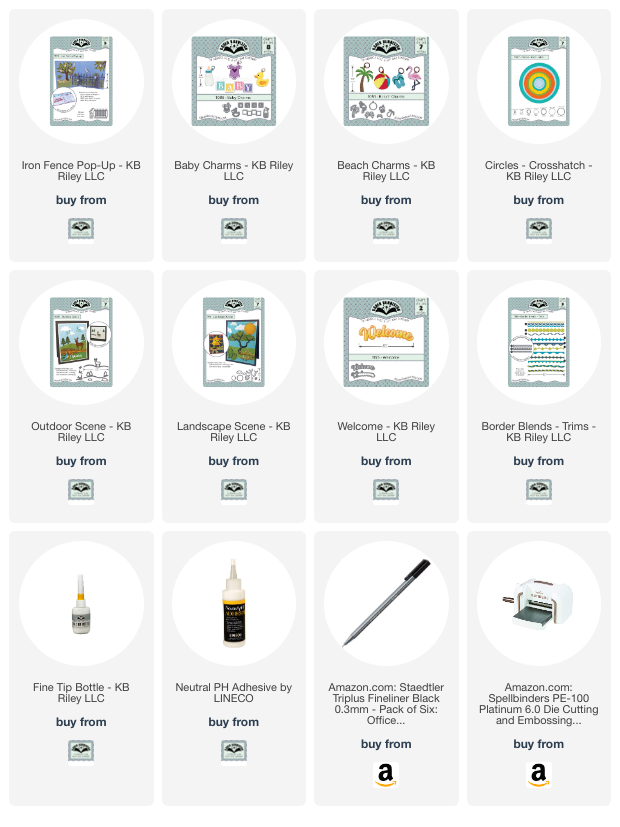 ---
Now let's take a look at the wonderful Baby and Wedding inspiration by our talented Design Team. In each case you can click the designer's name to open their blog post in a new window. On their blog posts you'll find additional photos, supply lists and, in some cases, even videos!
Suzanne Smit chose wedding anniversary for a theme and I love her adorable Tiny Gnome couple in the Adirondack Chair. Using a hippo tutu to make a lacy wedding dress is particularly clever! Be sure to click over to Suzanne's blog to see her second version of this card. Lovely!
Sandy Diller created an exciting Slider Box and stacked Surprise Cube combo as a gender reveal. I love how she also added a Bam Box Pop-up on top of the stack of cubes for even more excitement when the drawer pulls out. Be sure to click over to Sandy's blog to see a video of this card in action. Fabulous!
Sue Small-Kreider cleverly created a pop-up cradle swing by combining dies in unique ways. The cradle itself is made using a Bam Box, so it can be flattened for mailing but will pop into a cradle as soon as the card is opened. Click over to Sue's blog for a photo tutorial of how she made this card. Love it!
Jen Webster stacked Surprise Cubes inside a card to make an exciting baby blocks card. The front of the card is also adorable, so be sure to click over to Jen's blog to see all the details including a video of this card in action. I love the sparkly letters on the alphabet blocks. Adorable!
Lois Bak created a gorgeous 3-page Landscape Rectangle Accordion for a baby girl card. I love how Lois uses Border Blends dies to decorate the outside frames and as shimmery corner details in the center panel. What a precious pink keepsake!
Nicky Foden made a wedding card in non-traditional but beautiful colors. I love this idea of customizing the card to favorite or wedding colors plus the addition of shimmer and embossed elements. As usual, Nicky has included a full photo tutorial for how she created this lovely Little Twist Panel card. Love it!
Frances Byrne has the perfect mix of papers, stamps and dies in this lovely baby girl card using the Paper Frames Pop-up. The addition of the Safari Animals is so sweet and I love her use of a partial label as a place to sign the card. So precious!
Fran Sabad made me go "Awwww" with this super sweet baby card featuring a Mini Ball Lion sitting atop a Surprise Cube. The front of this card is equally awwwdorable, so definitely click over to Fran's blog to see all the photos.
Well hopefully you're inspired to celebrate some new arrivals and new beginnings with these card ideas. Join us next month, on July 5, 2023 for our next Designer Challenge with a theme of COLLECTION PACK CREATIONS. We sent each Design Team member a patterned paper collection pack to incorporate into their challenge card.
Also be on the lookout for the Mission Poppable challenge for June. It will go up next week. Check out the May Mission Poppable challenge here - you still have a week to add your cards to the album to be in the running for website cash!
Happy Crafting!
---