Happy March!
We've got a great challenge for this month. The theme is Tiny Accessories and the team was challenged to incorporate Tiny Accessories 1 or Tiny Accessories 2 (or both) die sets into their projects.
Tiny Accessories are designed to dress up any of our animal die sets, but they also work well on our charm sets. For my project and video I dressed up the Sweet Treats Charms and then modified the Charm Accordion die set to be a square album with ribbon pivots.
The page sets are trimmed to 3.25" high to match the width, turning it in to a square album. It's a cute fun-sized card that can easily mail in an A2 envelope.
Instead of using the charm frame connector piece that comes included in the die set, I opted instead to pivot the album with ribbon. I used the Squares-Crosshatch die set for the outer decorator frames. The Darkroom Door greeting stamp was a perfect fit for the sentiment.
I dressed two sets of Sweet Treats charms with the outfits from both Tiny Accessories sets. I drew on the eyes and mouths with a black pen. The smaller charms dangle from the ribbon on the paper jump rings.
Ready to make your own version of this card? Here are links to everything used on my card. The green patterned paper is an old one from my stash. The ribbon is Bo Bunny.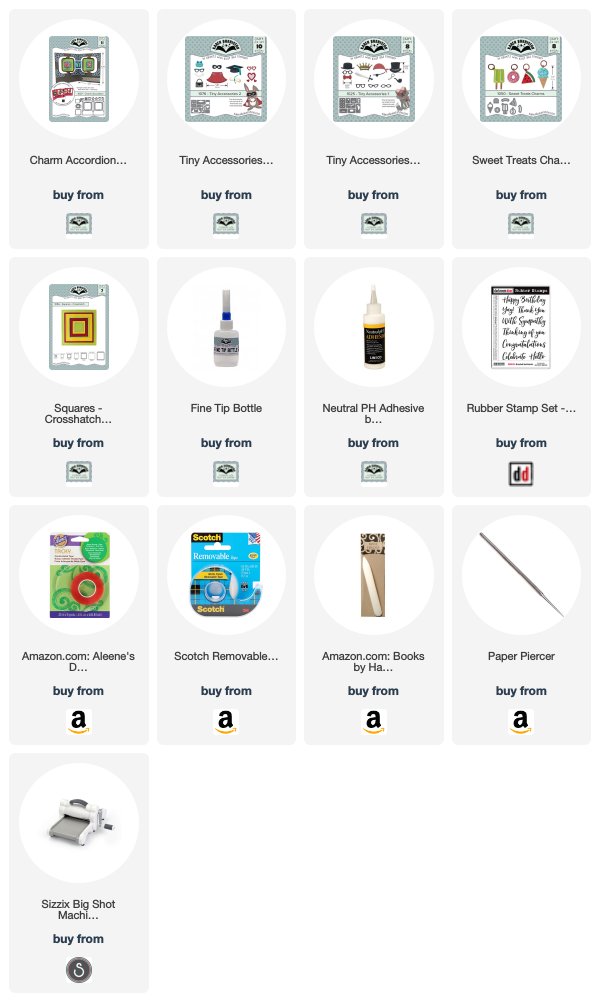 Let's see how our talented international design team interpreted the Tiny Accessories challenge. In each case, their name will link to their personal blog post, where you will find more photos, supply lists, tips, tricks and sometimes even videos. So click away for inspiration galore!
Sandy Diller created a special card for a friend going through a rough time. This really shows the joy and caring of being able to create customized cards for any occasion. I absolutely love Sandy's sweet queen owl peeking through the window and then soaring along with the supportive sentiment on the Katherine Label Pop-up. The animal scenery is delightful.
Kelly Booth has a knack for picking color schemes and especially with her signature aqua/teal color. This coffee-themed Rockin' Rectangle card, complete with crowned-kitty, is purrrrfection! I love how she mixes stamped imagery with dies seamlessly. Gorgeous!
Frances Byrne has so many amazing little touches on this birthday card I could stare at it all day. First, she put the Circle Tag Book pop-up inside a larger card - a great alternate assembly for that die set. Then she dressed up the chicks adorably. Notice the cape and diploma used as a mantle and scroll for the king. Notice the sequins used as pirate doubloons - incredible!
Karen Aicken made this touchingly sweet anniversary card featuring the waterfall assembly of the Frame Pull Pop-up. As the waterfall is pulled the pages flip and more parts of the outfits appear until the happy couple is revealed on the final page. This is exquisite!

Summer Hills-Painter created this absolutely amazing Easter-themed Rockin' Rectangle card complete with super bunny. The styling of everything is perfection and especially the dimensional leaves on the trees. Stunning!
Lois Bak cleverly converted the turkey from the Feathered Animals set into a peacock for the front of this fabulous 4-page Fancy Accordion. I love all the dashing and dapper couples in her sweet Easter parade. Everything about this makes me smile!
Irene Mendes has an amazing ability to combine beautiful patterned papers with dies and style those dies to perfectly blend with the papers. In this beautiful Circle Tag Book featuring the Garden Charms, Irene added the Tiny Accessories 1 crown to the premade bunny. This is so pretty!
Fran Sabad made this fun menagerie of dressed-up animals for a good luck card. This is such a clever repurposing of the House Pivot Panels to make a neighborhood, complete with fox pirate, squirrel duke, ostrich lady and dog sheriff. Amazing!
Another out-of-the-park challenge by the team! Join us next month on April 3, 2019 for our next challenge with a theme of EASTER OR SPRING.
Happy Crafting!
---