I love this month's challenge! The theme is Beach Day and the team will definitely inspire you with their cards below.
For my video I'm combining the mechanism from the Ice Cream Sundae Pop-up and then decorating it with the Castle Pop-up, Beach Charms, Tropical Scene and Word Set 6 - Summer. 


Learn how to make this card by watching the full video tutorial here:
This card is a top-fold A2 size, 4.25" x 5.5" when folded, so it will mail easily in an A2 envelope. The front of the card is a simple lead-in made with leftover materials.
Open the card to reveal a pop-up sandcastle, complete with drawbridge. The Beach Charms give the pop-up some color and whimsy. 
Because the flamingo and beach ball are attached to the angled platforms of the pop-up, (using clear extender strips) they will move outward as the card is opened and then tuck back in when the card is closed. 
Ready to give this card a try? Here are the product links: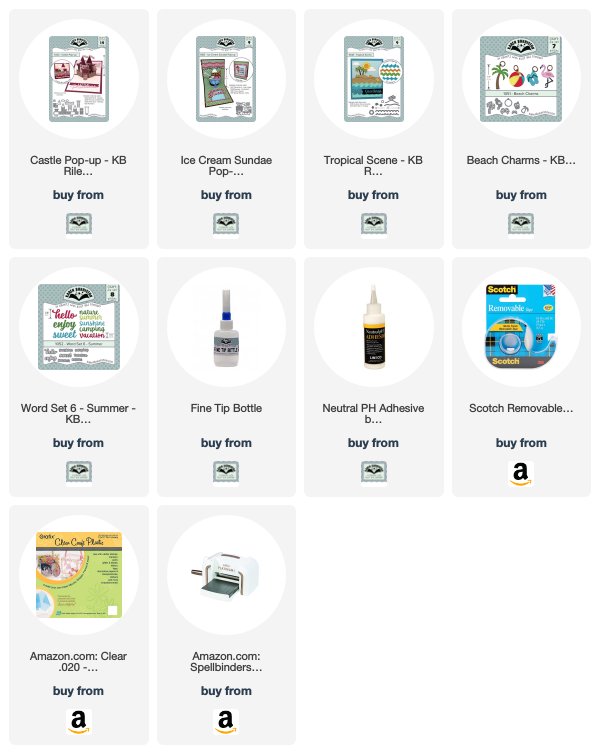 ---

Ready to toss off those flip-flops and feel the sand on your toes? Check out these inspiring makes by the Design Team.
Frances Byrne made this delightful Oval Frames Pop-up beach scene featuring an ice-cream loving crab duo and a serene scene revealed in the ovals. This is a card with so many thoughtful details and a beautiful mix of scale. Add this to my Frances-Favorites pile. (Hint - it's a very large pile!)
Irene Mendes has the amazing ability to seamlessly combine paper elements with die cut elements. This month's card is no exception, with the Oval Frames Pop-up decorated beautifully in a seaside theme. Notice that among her patterned elements are dies mixed in - the pail and shovel and the clouds - and yet everything feels cohesive. Love this!
Karen Aicken focused on all the beach-themed decorator dies to style them wonderfully with inks and then created a diorama card to show them off. She teaches the entire diorama technique, so definitely click over to her blog to learn how to do this. From freckles to googly eyes Karen has thought of everything with this fun card.
Kelly Booth has been rocking the technique from last month's challenge video - to create a stage using the bottom tier of the Cake Pop-up. This is such a fun island! The crab is stealing flip flops, the shark is checking things out and the sun blazes bright behind the palms. Tucking a square behind the sand is also a great look to this delightful card.
Fran Sabad created two cards for the challenge. This first one, featuring several dies layered to create a sandcastle birthday scene, is amazing. The Rockin' Rectangle provides the action, but she's layered in many other dies. Such a great way to really maximize your collection by mixing between the sets.
Fran's second Rockin' Rectangle beach card is a window card and features stamped and colored images. Another great way to get maximum value from a die set - to mix it with decorator stamps and dies from your collection and also to vary the assembly. Try window cards, top fold cards, doubled cards, etc. with this die.
Lois Bak also created two cards for the challenge. First up is a Circle Tag Book featuring an excellent mix of patterned paper, dies and stamps. I love her double stripe details and the chic look of elements against white backdrops.
Lois also made this wonderfully-layered Rockin' Rectangle card. Her use of photorealistic papers makes the scenery come to life. I love the palm trees in the distance behind the pop-up and punch of red from the crabs. Beautiful!
Sandy Diller created the perfect beach chair and as I listen to the rain falling steadily outside I certainly wish I was at Sandy's beach instead! Notice her excellent inking of the edges and palms, plus the vellum clouds and peeking sun. Fabulous details in this serene and lovely card.
Kelly Booth posted another card for the challenge and it's an amazing mix of beautiful colors and beachy goodness. This Upsy Daisy card features several dies mixed to perfection. Kelly's eye for color is exquisite.
Well I don't know about you, but I feel beachy keen after all that wonderful inspiration. Join us next month on July 3, 2019 for our next Designer Challenge with a theme of PICTURE THIS! We will all be incorporating photos into our challenge cards. We will also be free to use dies from our July release. Plan on sneak peeks starting on June 24, 2019 with shipping expected mid-July. There are 20 dies in the collection.
Happy Crafting!
---