Welcome to our 72nd monthly Designer Challenge with a theme of ACCORDIONS. I challenged the team to use one of our Accordion die sets to make a card for any theme. Team members could choose our Charm Accordion, Fancy Label Accordion or Landscape Rectangle Accordion. We also have two new Add-ons sets to fit our Landscape Rectangle Accordion - the Fence Add-ons and the Cupcake Add-ons.
For my card and video I am teaching a mixed Landscape Rectangle Accordion featuring a center Cupcake Add-ons page and two dangling cupcake charms.
Learn how I made this card by watching the full video tutorial here:
My card measures 3.5" x 6" in the closed position and it can be mailed easily in the shorter business envelope. When the card is closed the dangling cupcake charm is backed by a big decorated cupcake. The Short Rectangles - Crosshatch die set made the paper frame and inner crosshatch rectangle. I used the Circles - Crosshatch die set to make the circle frame. The cupcake charm is from our Birthday Charms die set.
When the card is opened the charms dangle in the circle openings and the center page is a row of cupcakes using the Cupcake Add-ons set.
Patterned papers are older ones from my stash. They are a mixture of Photo Play, Echo Park and some old retired Cosmo Cricket. Designer Challenge videos are not paper-specific, however, and are meant to just teach techniques and ideas that can be customized with custom colors and themes. For this card, think beyond birthday to other themes where cupcakes (could they be muffins?) would work. A celebratory or congratulations card, for instance. Combine with our Baking Charms or Coffee Charms for a different look. You'll also find great inspiration from the team below, including cupcake accordions for "you're sweet" and Christmas.
Ready to give this card a try? Here are the dies and supplies: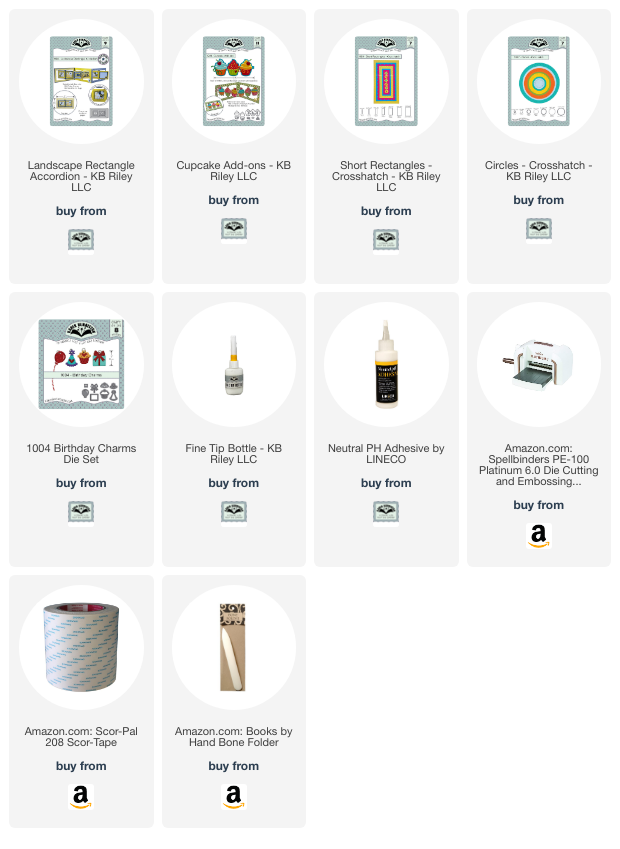 ---
Tim to check out the wonderful ACCORDION inspiration from our team. In each case you can click the designer's name to open their blog post in a new window. On their blog posts you'll find additional photos, supply lists and, in some cases, even videos!
Lois Bak made this delightful 3-page mixed accordion with the Landscape and the Fence Add-ons. I love how she added the Backyard Charms for her fairy garden and found the perfect older stamp in her stash for the sentiment. Gorgeous!
Jen Webster made a 3-page Landscape Rectangle Accordion in a Halloween theme and I love the vibrant colors and high creep-value to the embellishments. Notice her cauldron on the third page, made using the pot and cloud from the Good Luck Charms. Wonderful!
Suzanne Smit made a personalized 25th anniversary card using a 4-page Fancy Label Accordion and a ton of flowers from various sets. I love the classy color scheme! Suzanne also made a custom bag to present this gift. See more photos on her blog post.
Fran Sabad made a 2-page Landscape/Fence Accordion and included the Garden Charms. Notice the perfect shading on the watering can and the fun sprinkling of rhinestones throughout the scene. Fabulous!
Sandy Diller made a 3-page mixed Landscape/Cupcake accordion in a You're Sweet theme. I love this use of the cupcakes for a general anytime theme that isn't birthday. The styling on the cupcakes is scrumptious!
Nicky Foden made a beachtopia of a card with a 4-page Fancy Label Accordion decorated in a beach theme using a bunch of pieces from various sets. I love how she inlaid some of the spots in the polka-dot border and the relaxing scene she created. On Nicky's blog is a full photo tutorial for this card. Love it!
Sue Small-Kreider altered the Fancy Label Accordion in a similar way as when using the Landscape add-ons but this time to create a set of reindeer and Santa's sleigh. How clever! Be sure to click to Sue's blog for a full photo tutorial of this amazing card. Such a great idea!
Frances Byrne made a gorgeous 3-page mixed Landscape/Cupcake accordion and decorated it for Christmas. This is another great way to use the cupcakes for themes other than birthday and I absolutely adore the colors and styling on this card. Holly on the cupcakes is a perfect touch. So pretty!
Well we hope you feel inspired to make a few accordions of your own . Join us next month on Wednesday, September 6, 2023 for our next Designer Challenge with a theme of HOLIDAY HOUSE - we'll be showing off cards made our Holiday House die set for a variety of occasions.
Also be on the lookout for the Mission Poppable challenge for August. It will go up mid-month. I apologize for not putting up a Mission Poppable for July - I was sick for a couple of weeks and the month got away from me.
Happy Crafting!
---