Welcome to our May Designer Challenge with a theme of BEJEWELED! The team is incorporating items that are sparkly and/or shiny into their cards.
For my card and video I am showing a fun window card idea using the old timey TV from our Memory Charms die set.
Watch the video below to learn how to make this card:
My card measures 4.5" x 4" when closed. There is a corner tuck closure and you can glimpse the fast food framed in the TV's.
Untuck the corners and the Bam Box pops up inside the card and lifts up the table.
The card's interior includes the Fast Food Charms on the table and a greeting cut with Word Set 14 - Hugs. An oval charm from the Memory Charms set provides a place to sign the card. There is also a built-in pocket to hold a gift card.
Want to give this card a try? Here are links to the dies and supplies used in the video: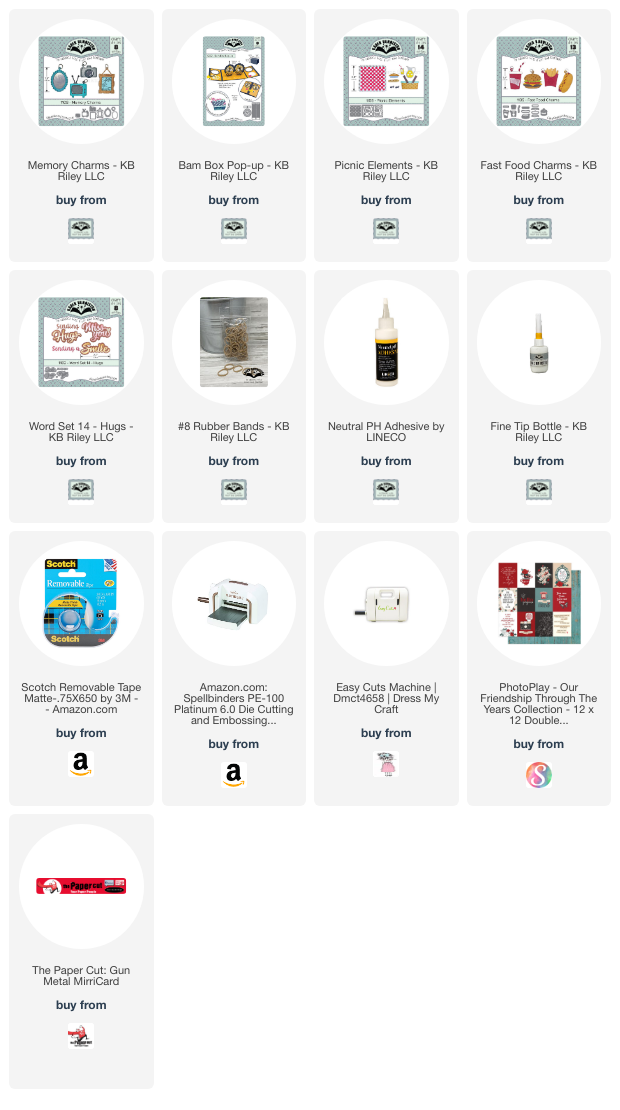 ---
Now let's take a look at the wonderful BEJEWELED inspiration by our talented Design Team. In each case you can click the designer's name to open their blog post in a new window. On their blog posts you'll find additional photos, supply lists and, in some cases, even videos!
We extend a fond farewell to Karen Aicken with this challenge. Karen has been on my various design teams for a decade and I treasure her friendship in addition to her amazing talents. Karen is freeing up more time to focus on family and travel. We will miss her incredible creations and out-of-the box ideas as an official member of the Design Team, but just like with all former members, we hope to welcome her back from time to time as a guest designer. We love you, Karen, and wish you beautiful vistas, doggy snuggles and plenty of hugs and carefree laughter in all your upcoming adventures!
Karen Aicken created this shimmery slimline anniversary card using the Heart Pivot Panels die set with a shortened front flap to allow the greeting to be viewed with the card closed. I love all the different types of mirrored and shimmer stocks used on this card for a vibrant and elegant feel. Click over to Karen's blog to see a video of this card in action!
Frances Byrne is a pro with teacher thank-you cards and I especially love this mirrored and sparkly slimline. She's used the Little Labels Pop-up and the Bookworm among other dies. I love the bright colors and shimmers plus the addition of jewels for even more sparkle. Perfection!
Nicky Foden made this wonderful shaker card using the Swirls Pattern plate in very unique ways. I love all the layers and the bright colors and all the sparkly bits in the shaker. This is such a clever use for the pattern plate for a vibrant and fun card. Love it!
Fran Sabad created a marvelous fairy garden window card using the Katherine Label Pop-up. I love her stenciled cloud background and all the flecks of shimmery paint in the sky. She also bejeweled the centers of the flowers from the Backyard Charms. Click to her blog post to see the front of this fabulous card.
Lois Bak used the Spinner Square Pop-up to pour a glass of wine on this congratulatory window card. I love how the wine is made from rhinestones! Lois also incorporated a rhinestone flourish on her card. Be sure to click to her blog post to see the front of the card. So cheerful!
Jen Webster creates such dimension on die cut pieces by coloring them with Comic markers. I love this gorgeous Flower Pot Pop-up card with rhinestone sparkle centers to the flowers. Jen also mixed in the Flutter Charms into her sweet bouquet. Click over to her blog to see the rest of this amazing card.
Sue Small-Kreider has this jaw-dropping amazing Mother's Day flower cart that she constructed by repurposing other dies! It's so brilliant that you simply must click over to her blog to see her step-by-step photo instructions. Absolutely incredible!
Sandy Diller created this gorgeous slimline card featuring the Purse Pop-up and Dolled Up Charms, but also a big oval mirror animated with a Bam Box. Click over to Sandy's blog for a video of this card in action. It's such a wonderful example of how our dies build on each other for new looks. So cute and clever!
Suzanne Smit has plenty of shimmery sparkles in this elegant Cupcake Pop-up card. What a wonderful soft and pretty color scheme for this pop-up. I love how she added floral elements as well. Exquisite!
Well we hope you feel inspired to bejewel and bedazzle your next card. Join us next month on Wednesday, June 7, 2023 for our next Designer Challenge with a theme of BABY OR WEDDING. The team has been challenged to make a card featuring either theme.
Also be on the lookout for the Mission Poppable challenge for May. It will go up next week. Check out the April Mission Poppable challenge here - you still have a week to add your cards to the album to be in the running for website cash!
Happy Crafting!