Welcome to Designer Challenge 65 with a theme of RUBBER BAND POP-UPS. I challenged the team to use any of our die sets that utilize a rubber band. There are five dies to choose from: Surprise Ball Pop-up, Bitty Ball Pop-up, Mini Ball Pop-up, Surprise Cube Pop-up or Bam Box Pop-up. Once again their creativity is off the charts!
For my card and video I'm showing how to combine the Tiny House Pop-up with the Bam Box Pop-up so the house will pop up in the card independent of a card fold. This is a fun alternate assembly for the house that allows it to be placed facing forward in the card instead of the normal assembly diagonal over a card fold. I decorated it as a doghouse using our Doghouse Tiny House Add-ons set.
Learn how to make this card by watching the video tutorial here:
My card measures 5"x 5" when closed, so it will fit in an A7 envelope. The two flaps for the card front are held together with magnets. An alternate closure could be a belly band or a string closure. I decorated the front with pieces from the Doghouse Tiny House Add-ons set, Backyard Charms and Squares - Crosshatch.
Open the card and the doghouse and Bam Box pop up at the same time, powered by rubber bands. I used our Mini Alphabet and Numbers set to spell out the greeting.
The Bam Box next to the doghouse animates the dog, grass and flowers. I used the same paper as the background so it would blend in. The patterned paper is an older Echo Park design called Peek-a-Boo.
The flat position for the tiny house is as shown below. It is connected to the card using the tapered tab on the left side of the house.
Want to give this card a try? Here are the dies and supplies used on my card: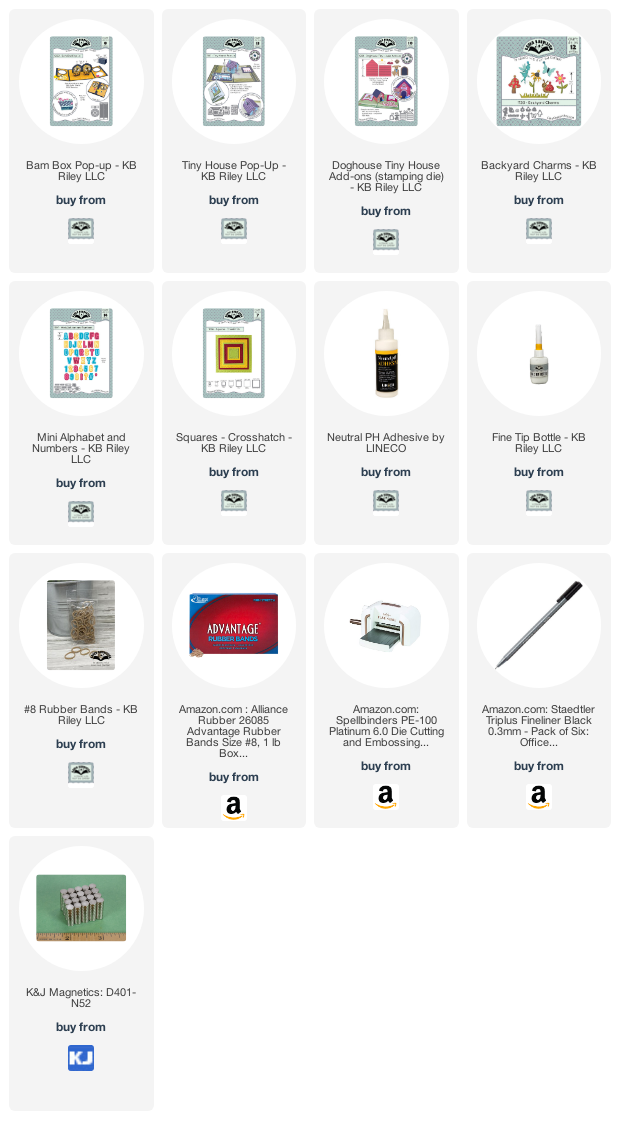 ---
Now let's take a look at the wonderful rubber band pop-up inspiration by our talented Design Team. In each case you can click the designer's name to open their blog post in a new window. On their blog posts you'll find additional photos, supply lists and, in some cases, even videos!
Frances Byrne used the Surprise Cube Pop-up to fashion a fashionable birthday card that's pretty in pink! The Dolled Up Charms work perfectly on the Surprise Cubes and I love how Frances used the Purse Pop-up decorator pieces on the front of the card. Click to her blog for more details on this dynamic card.
Sue Small-Kreider rang in the new year with a fun Surprise Cube card celebrating 2023. I love the iridescent paper and the feather confecting that is loose in the card. Click over to Sue's blog for more info, including her double belly band closure.
Lois Bak used the Bam Box Pop-up for a shimmery wedding card. I love how she added bubbles over the champagne flutes! Click over to Lois's blog to see the lovely card front and a video of this card opening.
Fran Sabad combined a Surprise Ball and Bitty Ball and fashioned an adorable ladybug! What a sweet little bug. I especially like how she did the eyes with a hole punch cut out for the catchlights. Adorable!
Suzanne Smit combined the Coffee Cup Pop-up with a Bam Box to animate a cupcake next to it. This is such a great illustration of how the Bam Box can be used to add elements around a traditional pop-up. I love the colors and styling on this card, especially the coffee beans atop the cupcakes!
Karen Aicken created a wedding card using the Surprise Cube to pop-up her greeting label. I love her color choices here and how the elements are so warm and vibrant. Click over to Karen's blog for more information on this card, including a video walk-through.
Nicky Foden made a spa day card featuring three stacked Surprise Cubes. I love how she styled the Princess with a mud mask! So many great details on this card and if you click over to Nicky's blog you'll find step-by-step instructions for this lovely card.
Sandy Diller created a Slider Box with birthday Surprise Cubes inside. She also added a Bam Box to the bottom of the Slider Box to pop-up the greeting. Such a great combination of dies and I love how Sandy used the decorator pieces from the Bam Box on the sides of the cubes. Click to her blog for a video of this box in action!
Jen Webster knows her way around a Copic marker and her card is no exception. I just adore how she created pop-up cupcakes with Bam Boxes and then created so much depth and character with her coloring skills. She even created the swirl suckers. Amazing!
Well we hope you are inspired to create some rubber band pop-ups of your own. Join us next month on February 8th for our next Designer Challenge with a theme of WEDDING, ANNIVERSARY OR VALENTINES. Love will definitely be in the air!
Happy Crafting!