Welcome to our October Designer Challenge with a theme of Fall or Halloween.
For my card and video I'm teaching how to make a removable Mini Ball Pop-up Character card with a fun fold tab closure. I made a Halloween card to match the Challenge theme, but this technique can be used for any stacked Mini Ball characters.
Learn how to make this card by watching the full YouTube video here:
My card measures 5" x 4.5" in the closed position, but also includes a 0.25" gusseted fold, so it will require extra postage to mail. The front of the card features our Happy Halloween and Skeleton and Bat die sets.
Pull the tab to release the closure, allowing the pumpkinhead character to spring up. The pop-up is made using our Mini Ball Pop-up as the foundation and then decorated with Character Add-ons 1. The character is mounted onto an oval from our Ovals - Crosshatch and the ends of the oval are slid under cardstock strips inside the card, keeping the character from jumping all the way out of the card when it opens. I also used the optional new Mini Ball Double-Ups to make cutting trapezoids, hexagons and shoes faster with a duplicate set of decorator dies to fit the Mini Ball Pop-up.
The character is removable for display. In the background of the card I added two stacked ovals and a greeting created with our Mini Alphabet and Numbers set.
The inspiration for this card was a similar card I taught as a class. For the Lion version I used the same measurements but decorated the Mini Balls with Mini Ball Add-ons 2 - Monkey and Lion. The "love you" comes from Word Set 9 - Love.
Ready to make your own Removable Character Card? The paper I used in the Halloween card is Creepy Candy, from Echo Park. The other papers are just older stash designs. Here are links to the dies and supplies used: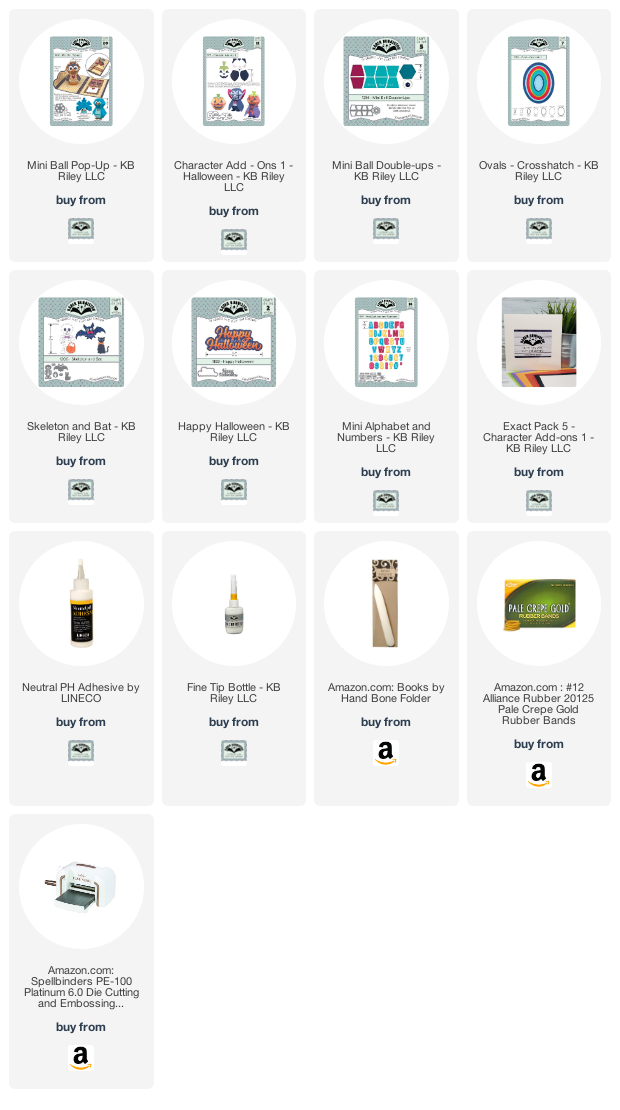 ---
Now let's take a look at the wonderful Fall and Halloween inspiration by our talented Design Team and guest designer. In each case you can click the designer's name to open their blog post in a new window. On their blog posts you'll find additional photos, supply lists and, in some cases, even videos!
Sue Small-Kreider went all out with this amazing haunted house diorama card combining the Fireplace and Family Room die sets. You'll definitely want to click over to her blog post to view the video and the photo tutorial. Sue has cleverly used a Double-Ups die to make a window frame! This card is epic!
Frances Byrne created a 5x7 card with plenty of room for her haunted scene. I love her use of a Pivot Panels die as a generic platform, allowing for flying bats and ghosts. This is a great example of how our dies always build on what came before. Love this creepily cute card!
Nicky Foden challenged herself to make a fall-themed anniversary card with a bench swing. She cleverly altered our Garden Bench die to make it appear to be a swing and I'm obsessed with it! Make sure you click over to her blog post for a full tutorial. Amazing card and beautiful fall colors!
Karen Aicken has been using the new Bats Slim Pattern Plate in a variety of vibrant non-traditional ways and I am HERE FOR IT! This rainbow-colored Explosion card is so unexpected for a Halloween card and yet so perfect. Fabulous creation!
Sandy Diller created two eerie coffin cards featuring our Frame Pull Pop-up to pop the lids of the coffins. Be sure to click to her blog post to see a video of these cards in action and to get the measurements of her coffins. Clever, clever, clever!
Suzanne Smit created this delightful spooky scene and I adore her choice of using teal as a background color. Another great example of mixing newer dies with favorites from previous releases. Such a cute idea to have the bat holding a treat bucket, too! Love it!
Fran Sabad used the Mini Ball and Mini Ball Add-ons 1 - Gnomes to create a witchy gnome with green braids! What brilliant styling to make the gnome into a witch. I love how she shaded the pumpkins, too. Be sure to click over to see the equally amazing card front. Love this!
Lois Bak depicts the scariest house on the block with this wonderful haunted House and Fence card. The details are creepilicious! She shows how easily the Bats Pattern Plate can be used on a portrait-style card by simply cutting a second one and stacking them. Wonderful card!
Jen Webster has created a delightful and vibrant Fancy Label Accordion card with trick-or-treating skeletons exploring a spooky neighborhood. I just love how Jen accents die cuts with markers and all her amazing details. Boo-tiful!
John Watterson is our guest designer for this month. John is a member of the Diamond Press Design Team and his creations are frequently shown on HSN. John loves to experiment with our dies to create new interesting combinations and effects. His first card is really two cards, because the Frame Pull on the front can be pulled open to reveal a delightful spooky scene, and then, when the entire card is opened, the Heart Collage Pop-up reveals a haunted collage. Amazing!
John's second card is so brilliant - he's once again used the Frame Pull Pop-up on the front of the card, but instead of pulling the tab, you push it, popping open the coffin and sitting up the skeleton. Inside he made a doubled Katherine Label with a gang of trick-or-treaters. Such a clever way to use die pieces and parts as costumes! Be sure to follow John on Instagram to see more of his work. We thank him for lending his talents to the challenge this month.
Well we hope you are inspired to make some fall and Halloween-themed cards of your own. Join us on November 2, 2022 for our next Designer Challenge with a theme of SNOW!
Happy Crafting!