Welcome to our September Designer Challenge with a theme of "Just." I challenged the team to create a card featuring a greeting that starts with the word Just. We have a great new Word Set 15 - Just Because die set that is perfect for the theme.
For my card and video I am showing the assembly of our new Label Charm Pop-up die set. The three words I would use to describe this set are versatile, generic and easy!
See how this die set works by watching the assembly video here:
My card is a landscape A2 size - 5.5" x 4.25" in the closed position - and will mail in an A2 envelope for a single stamp. On the front of the card I kept it very simple, with just a strip of patterned paper and some of the scribble elements from the set.
Open the card and the front label pivots to become part of the inside decoration. This feature really helps those of us who struggle with card fronts for our pop-up cards. With this style of card it's double-duty decoration. The paper is Bows n' Blooms by Dare 2B Artzy. The owl is from our Feathered Animals die set.
This is also a good example of how copying your own card can make things easier. I made just a few changes to colors and elements, but generally followed the packaging card as inspiration.
Here is the Halloween mini-slimline shown in the video. For this card I used our new Slim Pattern Plates - Bats and Spiders, plus the new Skeleton and Bat die sets. I framed the front of the card with the Short Rectangles Crosshatch and used our Happy Halloween set for a greeting. The pot comes from the Good Luck Charms.
Here are supply links to the products used in the video: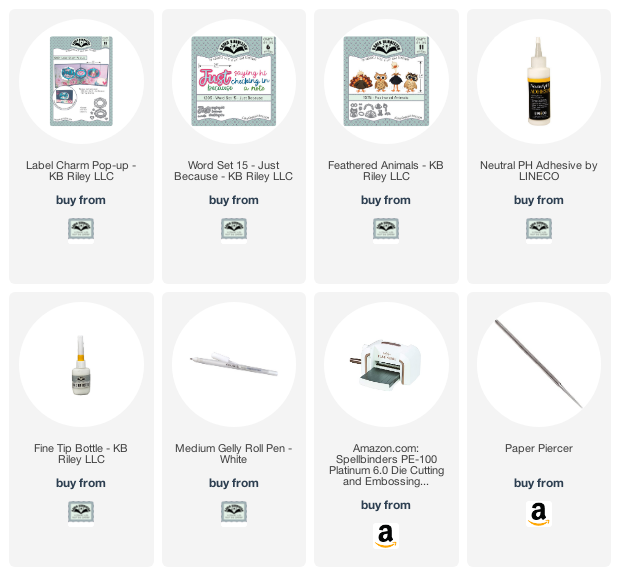 ---
Now let's take a look at the wonderful "Just" inspiration by our talented Design Team. In each case you can click the designer's name to open their blog post in a new window. On their blog posts you'll find additional photos, supply lists and, in some cases, even videos!
Fran Sabad made this epic Halloween card with a greeting of "Just a Boo for you!" It's amazing how she stacked all the balls and it still folds flat. Click over to her blog for more photos and a link to her Very Hungry Caterpillar card with the same configuration of stacked balls and a video showing how they open and close.
Jen Webster created a lovely Label Charm Pop-up card featuring a mixture of dies and some of her favorite stamps. I like how she created a custom title using the die cut "Just" and then stamped words. Click over to her blog for a clever tip on creating a border piece to frame the opening.
Lois Bak has created a lovely Thanksgiving-themed Landscape Rectangle Accordion. This definitely has me longing for fall weather (and for pumpkin pie!). Click over to her blog for the card front.
Karen Aicken created a stunning mini slimline Heart Collage card with a greeting of "Just because." I love her mix of paper, stamps and dies here. What a lovely card!
Suzanne Smit created a pair of fun Halloween cards using our Cupcake Pop-up with Halloween dies. I love all the fun details in her cards, like the jack-o-lantern-headed skeleton and the bones sticking out of the cupcake. Click over to her blog to see the other version of this card. Love it!
Sue Small-Kreider has included a full photo tutorial for how she made this lovely "Just sewing a hello" card using the Label Charm Pop-up and Sewing Charms. The blue and yellow color scheme is so fresh and lovely. Plus the stitching details are a great touch. Fabulous!
Sandy Diller went with a greeting of "Just chill" and then made a wonderful pop-up snowman for inside the card. I love her choice to add snowflakes to the sides of the snowman for dimension and texture. Who wouldn't love to get a card like this? So delightful!
Frances Byrne has such a way with colors and elements. This slimline Little Labels card shows off the new Sewing Charms perfectly. I love all the elements of this card and the clever punny title. Gorgeous!
Nicky Foden mixed colors and flowers to perfection on this Label Charm Pop-up "Just saying hi" card. I especially love the rhinestones put around the opening on the front of the card. Who doesn't love a little bling? Beautiful card!
Well we hope you feel inspired to make a few "Just" cards of your own. Join us on Wednesday, October 5, 2022 for our next Designer Challenge with a theme of HALLOWEEN.
Happy Crafting!