Welcome to our August Designer Challenge with a theme of "Labels." I challenged the team to create a card featuring a label as or on the pop-up. This is also the first Designer Challenge with our newly expanded team so you'll have supersized inspiration this month and going forward.
For my card and video I have combined the mechanisms of two of our pop-up dies; Landscape Rectangle Accordion and Little Labels Pop-up. I also used our Crosshatch Labels and the result is a card filled with labels and label frames and perfect for showcasing any of our charm sets.
Learn this technique by watching the full tutorial on YouTube here:
Because I added the large label frames to the card and didn't chop off the overhang, the card measures 4 1/8" tall by 6" long. My suggestion is an A7 envelope for mailing. The front features the "crabby" crab (pre-coffee!) styled with a frown and crabby eyebrows. The crab is from our Ocean Animals die set.
Open the card to reveal the entire scene. The Little Labels Pop-up has been altered to fit inside the fold, creating two pop-up frames perfect for dangling charms. The crab has turned happy with a mug of coffee. The greeting is one of my favorite stamps from Riley and Company.
The Coffee Charms are assembled on both the front and the back (double-sided) to look good from all angles. They are attached using 10mm metal jump rings.
Because the pop-up ended up covering two of the happy crab's legs I cut a second one and glued just the legs to the side of the pop-up. 
The papers I used are old ones from my stash. Here are supply links to the dies and supplies used in the video: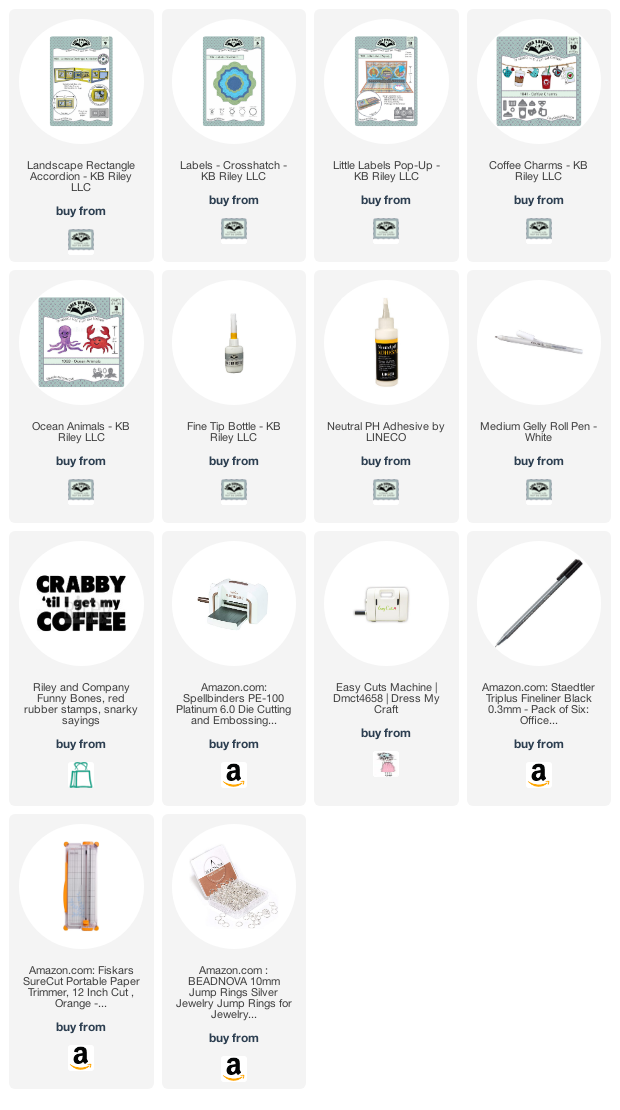 ---
Now let's take a look at the wonderful Labels inspiration by our talented Design Team. This is the first DC for our expanded team, so be sure to bookmark their blogs. 
Frances Byrne shows how perfectly the Little Labels Pop-up works to showcase all your favorite stamp sets. I love how she also incorporated the grass from the Long Nature Edges along the bottom of the pop-up and used the Mini Alphabet for a custom greeting. This card is Dino-mite! 
Jen Webster combines several die sets to make a gorgeous Landscape Rectangle Accordion with a scene from the garden. I just love all the layers of fun elements and her excellent coloring. This card would brighten anyone's day!
Karen Aicken created an absolutely stunning anniversary card using the Paper Frames Pop-up. There are so many textures working seamlessly in this card, including some shiny iridescent elements. Make sure you click to Karen's blog to watch a video walk-through of this card. So pretty!
Sue Small-Kreider has created a full photo tutorial for how she created this clever easel card using several of our die sets. The pop-up bee and hive spins as the card opens, for an exciting reveal that you can see on video if you click to Sue's blog post. Such a sunny and sweet card!
Lois Bak created a wonderful sea-inspired Happy Birthday card featuring the Little Labels Pop-up. I love how she's mixed the Ocean and Sea Animals sets and used cute little googly eyes. I also like how she subdivided the front of the slimline card into two areas. Sometimes the long cards can be difficult to fill but this is a great tip for how to use the space. Wonderful!
Suzanne Smit shows a wonderful feature of our Little Labels Pop-up - that you can cover the labels and have it pop up anything! In this case Suzanne made an entire Summer Camp scene and you can almost feel the cool mountain breeze and hear the rush of the river. What a gorgeous, creative card!
Sandy Diller brought such a smile to my face with this card. It's so clever! Congratulate YourSelfie! I love how she added a label in the middle of the Photo Collage Pop-up to hold the Tiny Gnome holding a selfie stick. Plus all the little gnome selfies are precious. Make sure you click to Sandy's blog for more information, including a video tutorial. Love this so much!
Nicky Foden created a full photo tutorial for this amazing Paper Frames Pop-up slimline birthday card. The black elements make everything "pop". (Pun intended) I also love how Nicky's stacked labels feature the inside label turned so that the curves are opposite each other. The effect is lovely. Gorgeous creation!
Fran Sabad has a Fancy Label Accordion dedicated to summer friendship. I just love the entire scene she created by combining several dies. I love that the animals are all paired up with a bestie and that several are wearing cool shades. Fran really shows here how building a collection of our dies can make for some wonderful combinations as many of the die sets coordinate perfectly with each other. Fabulous card!
Well hopefully the team has inspired you to make some pop-up LABELS cards of your own. Join us next month on Wednesday, September 7, 2022 for our next Designer Challenge with a theme of JUST... The team will be making cards featuring greetings that start with the word "Just". We hope you will join us!
Happy Crafting!