Welcome to our May Designer Challenge with a theme of "Ball and Small." I challenged the team to create an animal or character using our pop-up ball dies and then to pair it with the same animal or character made using our small die sets. The creativity on display this month will blow you away!
For my project and video I am teaching assembly of our newest ball die, the Mini Ball Pop-up, and then decorating it using our new Mini Ball Add-ons 1 - Gnomes set. These dies are part of our new May 2022 release and will be available for purchase on our website starting Monday, May 16, 2022.
Learn the assembly of this card by watching the video below:
My card measures 4" x 6.5" in the closed position. Options for mailing include a No. 10 business envelope (for slimline) or an A7 envelope (for 5x7 cards). The front of the card features the "small" part of the challenge - a matching gnome made using our Tiny Gnomes die set. I also used a greeting from our Word Set 14 - Hugs set. The flap is made using our brand new Long Flap and Closure set, designed to shorten easily into other sizes.
Open the card to reveal the pop-up gnome. The Mini Ball Pop-up on its own can be hidden in a 3.5" wide card, but when Add-ons are used the footprint enlarges slightly to 4". I've also used our new Short Rectangles - Crosshatch and Mini Alphabet and Numbers sets. The mushroom comes included in the Mini Ball Add-ons 1 - Gnomes set.
Ready to give this card a try? Here are the dies and supplies I used on this card. The patterned papers are just older ones from my stash. All cardstock is from The Paper Cut, including our new (available next week) Exact Pack 9 for the gnomes.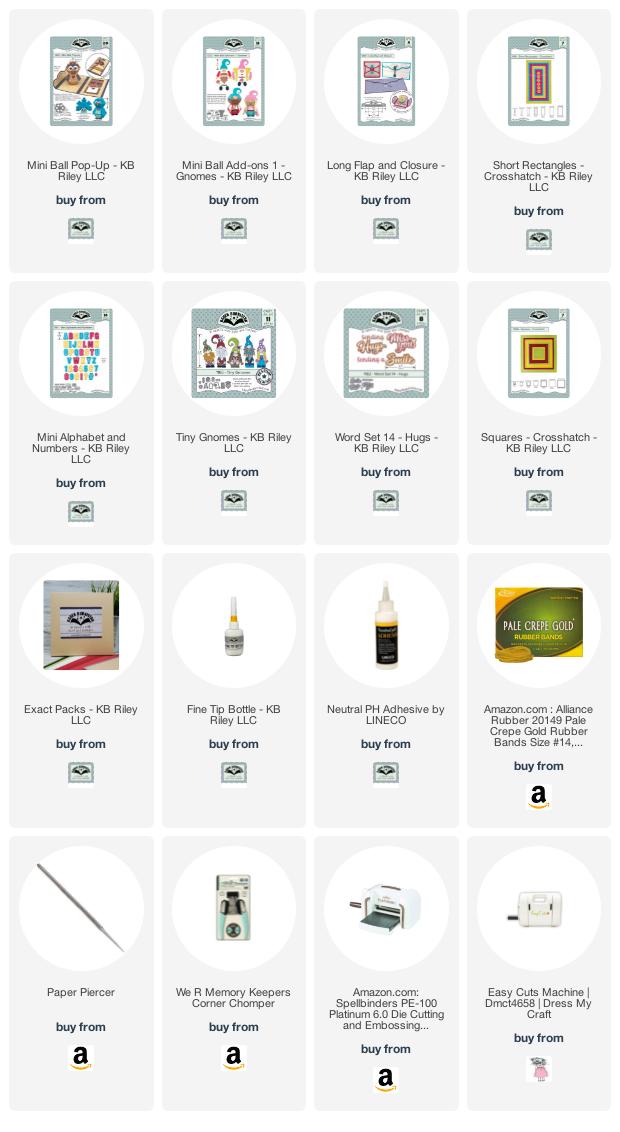 ---

Now let's take a look at the amazing Ball and Small inspiration from our talented design team. For each of these cards there is a full blog post, supply list and, for some of the cards, a video as well. Click the designer's name to visit the blog post, which will open in a new window.

We extend a fond farewell to Kelly Booth with this challenge. Kelly has been on my various design teams for about a decade and in addition to being an amazing designer and all around good human, she's a close friend. She's freeing up more time to focus on family and travel. We will miss her beautiful spirit and gorgeous work as an official member of the Design Team, but she assures us that she'll pop-up from time to time (I approve of this pun!) to share her talents using our dies. We love you, Kelly, and wish you the grandest of adventures!
Kelly Booth created this too-too-cute baby card by pairing the Mini Ball Pop-up styled as an owl with the small owl from our Feathered Animals set. Kelly's attention to color is on full display on this sweet card. Plus she shows the wonderful functionality of the new Mini Alphabet set being able to make custom greetings. Click over to Kelly's blog for more photos and a full supply list.
Karen Aicken cleverly styled the new Mini Ball Pop-up as a bee and then paired it with the bee from our new Flutter Charms die set. Her big bee has such character! The closure is magnetic, giving it an instant reveal. Make sure you head over to Karen's blog for a video walk-through of this happy card. Love it!
Lois Bak made an absolutely epic card for this month's challenge where she put a new Mini Ball inside a clear Bitty Ball to mimic the look of an astronaut helmet! Then she paired her large astronaut with a smaller one using the Space Charms. Brilliant!
Frances Byrne created this fun monkey slimline card using the new Mini Ball Pop-up plus Mini Ball Add-ons 2 - Monkey and Lion. Her nature colors are perfect to set the scene and you'll definitely want to click over to her blog for a video walk-through of this card in action. The team this month made great use of the new Mini Alphabet and Numbers set, fashioning custom greetings. This card is "chimply the best"!
Sandy Diller added an Ocean Animals octopus to the belly band that keeps this card closed and then created a whole underwater seascape inside the card with a ball octopus. I love her single-ball version of the octopus - such a great way to reduce the thickness of the card. The eyelash googly eyes are so fun!
Fran Sabad made this incredible Goldilocks and the Three Bears card featuring all three sizes of pop-up ball die. You simply must click over to her blog to see the front of this card plus a video of the card opening. I love that the "small" version of the animal is the baby bear holding a teddy bear! Absolutely amazing!
Well hopefully the team has inspired you to make some Ball and Small pairings of your own. Normally this is where I put the information about the next Mission Poppable challenge but we've decided to move the Mission Poppable challenges to mid-month, so look for a separate blog post and e-mail announcement about this month's challenge on May 18, 2022. In the meantime, we are extending the deadline for the April Mission Poppable challenge with a theme of Flowers. You have an additional week to post a card for that challenge before it switches to the May challenge on the 18th.
Happy Crafting!