Welcome to our April Designer Challenge with a theme of "Flowers." I challenged the team to create a card featuring floral elements.
For my project and video I am teaching how to get more use from the Mailbox Pop-up mechanism by using it for double spinner cards.
The inspiration for this card came from a class card I taught last weekend on Zoom. When I showed this monkey spinner card in our Facebook Group it was requested that I teach the technique for my next YouTube tutorial.
I started with the same card size and format as the monkey spinner card, but since our theme this month is Flowers, I swapped out the hearts for labels and the monkeys for our Garden Charms.
Learn this technique by watching the full YouTube tutorial here:
My card measures 5" x 5" when closed, meaning it will mail in an A7 envelope. The front of the card is a simple lead-in using leftover materials and a sentiment from our Word Set 4 die set.
As the card opens the pop-up lifts and the two spinners start to rotate.
Fully open, the scene is revealed. A watering can on the upper spinner rotates to "spray" (with wire water streams) a cluster of tulips on the lower spinner. The patterned papers are beautiful muted Maja Designs papers (Nyhavn collection) so I added punches of color with the die cut elements. I used a distressing tool to rough up the edges of the patterned papers for a more rustic feel.
In the video I show how I reversed the direction of the watering can and styled it with a scratch pattern from a worn cutting pad pressed into the silver cardstock for texture.
Ready to give this technique a try? This would also make a lovely Mother's Day card, thinking of you, sympathy or birthday. Here are the supplies I used in the video for the floral card.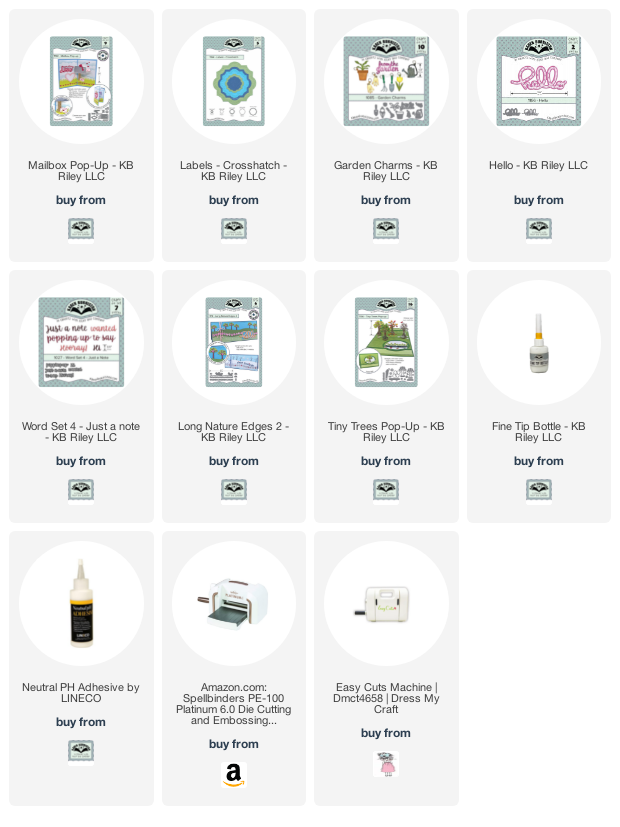 NOTE: Amazon links are affiliate links where I receive a small commission on the sale at no cost to you.
For the Monkey version, in addition to the Mailbox Pop-up I used four other dies: Hearts - Crosshatch, Monkey and Lion, Cake Trims and Word Set 6 - Summer.
---

Now let's take a look at the beautiful floral inspiration from our talented design team. For each of these cards there is a full blog post, supply list and, for some of the cards, a video as well. Click the designer's name to visit the blog post, which will open in a new window.
Sandy Diller made this jaw-dropping adaptation of the Cake Pop-up to turn it into an Easter basket. Even better - she made a full video tutorial for how she did it! Head over to her blog to learn this clever (and beautiful) technique. Mind blown!
Lois Bak had framed our Paper Frames Pop-up with a box to change the look. You'll find the technique video here. I just love her bright and cheery colors on this lovely card. Click over to her blog to see the equally beautiful card front. So sunny!
Kelly Booth used her signature teal color and combined it with sunny yellow for a gorgeous Woven Basket Box Card. I love her stacked greeting, giving it a lot of dimension. This sweet little paper bouquet will brighten anyone's day! So pretty!
Fran Sabad used the mechanism from the Heart Collage Pop-up to make a floral collage card and I am here for it! The card front is equally stunning and well worth a click over to her blog to check it out. The shading on the flowers is so realistic. Gorgeous!
Karen Aicken created the loveliest scene for this stunning Mother's Day card. She's used the Garden Bench Pop-up and then decked it out with flowers galore. I love her signature white pen detailing on the elements. Click over to her blog for a video walk-through of this card. Gorgeous!
Frances Byrne has an absolute explosion of flowers on this gorgeous Little Labels Pop-up card. I love how she's covered two of the labels with large flower pots and used the center label for the greeting. Such a great customization of the pop-up die. The colors are vibrant and cheery and the recipient is sure to be delighted to get this card. Just lovely!
Well I hope you feel inspired to make some floral pop-up cards of your own. Join us next month on May 11, 2022 for our next Designer Challenge with a theme of BALL AND SMALL. We'll be combining animals and characters made from our pop-up ball dies with the same type of animal or character from our small sets.
We started our Mission Poppable hashtag way back on Designer Challenge 45 and have been delighted with the projects posted each month. For the March challenge our winner (by random draw) is Cindy Manott, who posted a St. Patrick's Day shaker card.
Each challenge will bring a new mission and you have a month to complete it. You are welcome to post more than one card for the mission, which will increase your chances to win by random draw.
Your mission, should you choose to accept it, is to make your own card following this month's challenge theme of "FLOWERS." Make sure your card features our die(s) heavily. Post your card on Instagram using the hashtag #missionpoppable OR on our Facebook Group Karen Burniston Pop-up Peeps OR both. If posting in the Facebook group, please add it to the photo album for this month's challenge, which you'll find in the Media section of the group. You have until the next Designer Challenge date (May 11, 2022) to complete your mission. This message will not self-destruct because I don't know how to do that.
We will choose a winner by random draw from all the cards for a $25 credit to our website. The winner will be contacted via messenger or e-mail.
Make sure if you're posting on the Karen Burniston Pop-up Peeps Facebook Group that you follow the rules of the group. Outside product is allowed, but not for the pop-up portion of the card. Cards posted on the group must heavily feature our brand. You can find us on Instagram @karenburnistonbrand and also my personal account @karenburniston
Happy Crafting!
---