Welcome to our March Designer Challenge with a theme of "Shaker Cards." I challenged the team to create a card featuring a shaker element.
For my project and video I created a Heart Collage Pop-up card with a shaker heart and a peek-a-boo window on the front.
Learn how to make this card by watching this full YouTube video:
The card measures 5" x 7" in the closed position. The front of the card features a peek-a-boo small heart window that aligns over the shaker part of the pop-up. The rest of the front decorations are a mix of hearts from the Heart Collage Pop-up and Crosshatch Hearts, plus the Butterfly Collage Add-ons.
As the card opens the mechanism starts to twist open, revealing a larger heart-shaped shaker attached to the pop-up.
Once open the entire shape collage is revealed with a mix of hearts and butterflies. The greeting is from Word Set 14 - Hugs.
The shaker is filled with a mix of sequins, glitter flakes and seed beads. The brick patterned paper is an older Bo Bunny design from my stash. The corrugated papers are from DCWV.
Ready to give this technique a try? Here are supply links for the products used on my card.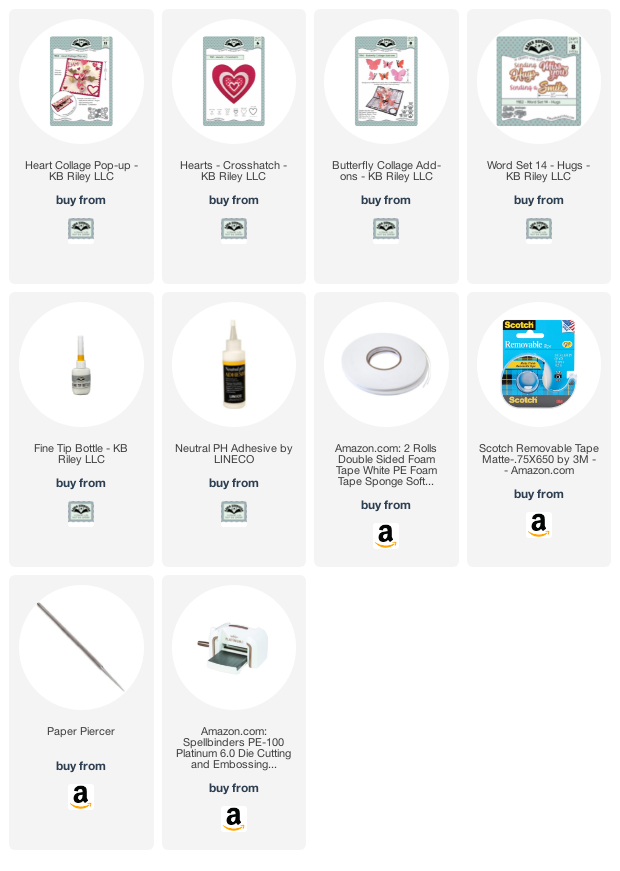 NOTE: Amazon links are affiliate links where I receive a small commission on the sale at no cost to you.
---

Now let's take a look at the clever shaker cards created by our talented design team. For each of these cards there is a full blog post, supply list and, for some of the cards, a video as well. Click the designer's name to visit the blog post, which will open in a new window.
Karen Aicken created a stunning Mother's Day shaker card that she plans to give to her daughter. The colors are gorgeous and I love the clever way she's created a heart pop-up with expanding butterflies. Make sure you head over to her blog to watch the video.
Kelly Booth made this absolutely charming Parcel Pop-up card featuring a shaker front and adorable birthday monkeys. Everything about this card is delightful, including the tiny monkey confetti in the shaker. On her blog you'll find a close-up photo.
Sandy Diller always impresses with her clever takes on challenge themes. I love how she used the shadow die from the Happy St. Patrick's Day set to be the shaker opening with a floating title and spilling gold. Inside the card she's used the Rockin' Rectangle and Good Luck Charms. Such a clever idea to have the rainbow end at the hat!
Frances Byrne created a full shaker front slimline card and it's so happy! Frances used the Little Labels Pop-up for this birthday card, with a lovely color scheme drawn from the paper. Click over to her blog for a video of this delightful card in action.
Lois Bak made a Flower Pivot Panels birthday card where she customized the panels with Big Birthday and Fast Food charms instead of using the flowers that come in the set. I love her large shaker card on the front of the card, featuring charming tiny shaker bits.
Fran Sabad created two cards for this month's challenge. The first is a froggy shaker card where she's used our Crosshatch Labels to create the shaker opening and then embellished with the Bayou Animals. So charming!
Next Fran created a wonderful Coffee Cup Pop-up with a full-front shaker. Make sure you click to her blog to see all the other photos and supplies. Love this!
Kelly Booth made a second card for this month's challenge, this time a Sending a Smile card with a large heart-shaped shaker on the front. If you click to her blog you'll see the pop-up interior of this card, featuring the Katherine Label Pop-up. So pretty!
Well I hope you feel inspired to make some shaker cards of your own. Join us next month on April 6, 2022 for our next Designer Challenge with a theme of FLOWERS. We'll be making floral infused pop-up cards.
We started our Mission Poppable hashtag way back on Designer Challenge 45 and have been delighted with the projects posted each month. For the February challenge our winner (by random draw) is Karen Inchak, who posted a beautiful triple Heart Collage card.
Each challenge will bring a new mission and you have a month to complete it. You are welcome to post more than one card for the mission, which will increase your chances to win by random draw.
Your mission, should you choose to accept it, is to make your own card following this month's challenge theme of "SHAKER CARDS." Make sure your card features our die(s) heavily. Post your card on Instagram using the hashtag #missionpoppable OR on our Facebook Group Karen Burniston Pop-up Peeps OR both. If posting in the Facebook group, please add it to the photo album for this month's challenge, which you'll find in the Media section of the group. You have until the next Designer Challenge date (April 6, 2022) to complete your mission. This message will not self-destruct because I don't know how to do that.
We will choose a winner by random draw from all the cards for a $25 credit to our website. The winner will be contacted via messenger or e-mail.
Make sure if you're posting on the Karen Burniston Pop-up Peeps Facebook Group that you follow the rules of the group. Outside product is allowed, but not for the pop-up portion of the card. Cards posted on the group must heavily feature our brand. You can find us on Instagram @karenburnistonbrand and also my personal account @karenburniston
Happy Crafting!