Welcome to our February Designer Challenge with a theme of "Mod Valentine's Day." I challenged the team to create a Valentine's (or love-themed) card without using pink or red as the primary color. As usual, they came up with beautiful creations.
For my project and video I am showing an idea for putting three Heart Collage Pop-ups inside one slimline card. My mod color scheme is black/white/gray/silver.
Learn how to make this card by watching the full YouTube video here:
My card is a top fold slimline measuring 3.75" x 8.75" when closed. For the card front I created a very simple lead-in using leftover materials. The patterned papers are older designs from my stash. (Pebbles on the plaid and Echo Park on the wood)
As the card opens the three mechanisms start to spin and pop-up.
The full reveal is an explosion of shapes on three side-by-side mechanisms. I used all of the flat hearts from the Heart Collage Pop-up, but also incorporated the XOXO from Word Set 9 - Love and several of the Love Charms. This mechanism lends itself well to swapping out for other shapes to customize the collage.
Ready to give this technique a try? Here are the dies and supplies I used on my card.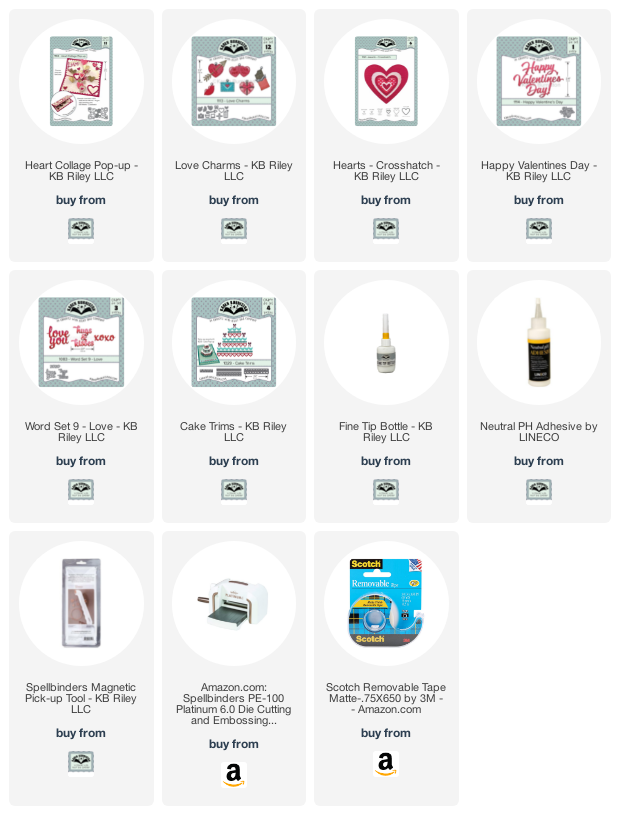 NOTE: Amazon links are affiliate links where I receive a small commission on the sale at no cost to you.
---


Now let's take a look at the awesome MOD VALENTINES cards created by our talented design team. For each of these cards there is a full blog post, supply list and, for some of the cards, a video as well. Click the designer's name to visit the blog post, which will open in a new window.
Fran Sabad created such a unique card this month using our Rocket Pop-up for a "Love you to the moon and back" Valentine's Day theme. Such a creative idea and a great way to customize for the recipient. Fabulous!
Sandy Diller created a fun fold card using the Crosshatch Hearts die. Learn how she created this effect by watching a video on her blog post. I love the elegance of black/white/gold for the color scheme.
Lois Bak made a super sweet Heart Collage card using purple as her main color. The little love monkeys on the front add a touch of whimsy while the foil elements inside add some shimmer. Adorable!
Kelly Booth was able to use her favorite color, teal, in her amazing Heart Collage card. I love that she's used a larger card and mixed various patterns for a bold exciting reveal. Amazing card!
Frances Byrne used the new Mailbox Pop-up for a fun Love-themed card featuring purple as the main color. She incorporated some adorable stamped owls into the design. So sweet!
Karen Aicken with a rainbow explosion of wonderfulness! She's used the Heart Collage Pop-up in a mini-slimline with such a vibrant WOW reveal She even has a tiny shaker on the front of the card. I love it!
Have you had a chance to check out my business partner Tanya Kostynuk's creative ideas on the Stamp and Scrapbook Expo's virtual @home events? She's been showing fabulous projects using our dies. Here is her latest, which works perfectly for the Mod Valentine's Day theme, so I had to include it for the challenge. Tanya has combined the Tree Pop-up along with Border Blends - Argyle, Word Set 9 - Love, and tiny hearts from the Cake Trims die set. You can watch Tanya explain the ease of this card's assembly on Saturday, February 12, 2022 on the SSBE Facebook and YouTube channels at 12:40 pm, CST.
Well I hope you feel inspired to make some Mod Valentine's Day cards of your own. Join us next month on March 2, 2022 for our next Designer Challenge with a theme of SHAKER CARDS. We'll be incorporating shaker elements into our pop-up cards.
We started our Mission Poppable hashtag way back on Designer Challenge 45 and have been delighted with the projects posted each month. For the January challenge our winner (by random draw) is Clara Bondie, who posted a beautiful birthday Pop 'n Swap card.
Each challenge will bring a new mission and you have a month to complete it. You are welcome to post more than one card for the mission, which will increase your chances to win by random draw.
Your mission, should you choose to accept it, is to make your own card following this month's challenge theme of "MOD VALENTINES" or we will also accept your version of the "TRIPLE COLLAGE" technique in any theme/color. Make sure your card features our die(s) heavily. Post your card on Instagram using the hashtag #missionpoppable OR on our Facebook Group Karen Burniston Pop-up Peeps OR both. If posting in the Facebook group, please add it to the photo album for this month's challenge, which you'll find in the Media section of the group. You have until the next Designer Challenge date (March 2, 2022) to complete your mission. This message will not self-destruct because I don't know how to do that.
We will choose a winner by random draw from all the cards for a $25 credit to our website. The winner will be contacted via messenger or e-mail.
Make sure if you're posting on the Karen Burniston Pop-up Peeps Facebook Group that you follow the rules of the group. Outside product is allowed, but not for the pop-up portion of the card. Cards posted on the group must heavily feature our brand. You can find us on Instagram @karenburnistonbrand and also my personal account @karenburniston
Happy Crafting!
---