Welcome to our January Designer Challenge with a theme of "Birthday Cake." I challenged the team to create a birthday card featuring cake or cupcakes. (Donuts are also acceptable!)
For my project and video I'm teaching how to double and shorten the Twist Panel Pop-up die set to fit in a slimline card.
This is a technique that I first taught as a Zoom class in 2021 and then received requests to create a YouTube tutorial. Learn the technique by watching the video here:
My card measures 8.5" x 3.5" when closed. I took full advantage of the patterned paper, an older design (Abstract Moments) by Vicki Boutin for American Crafts, to fill and decorate the majority of the card. I used our Crosshatch Long Rectangles and Crosshatch Circles and then added streamers cut from our Border Blends - Trims set. The slice of cake is from the Big Birthday Charms and the heart is included in the Twist Panel Pop-up die set.
As the card opens the two Twist Panel mechanisms start to twist and open. The Happy Birthday greeting and the rectangle for signing the card are placed strategically to avoid creating catch points for the mechanisms.
Once open, the two panel sets are popped up and decorated with the Big Birthday Charms. The borders are from the Border Blends - Trims set.
Ready to give this technique a try? Here are links to the dies and supplies used in the video. The papers are from my stash - American Crafts and Echo Park. Cardstock is My Colors.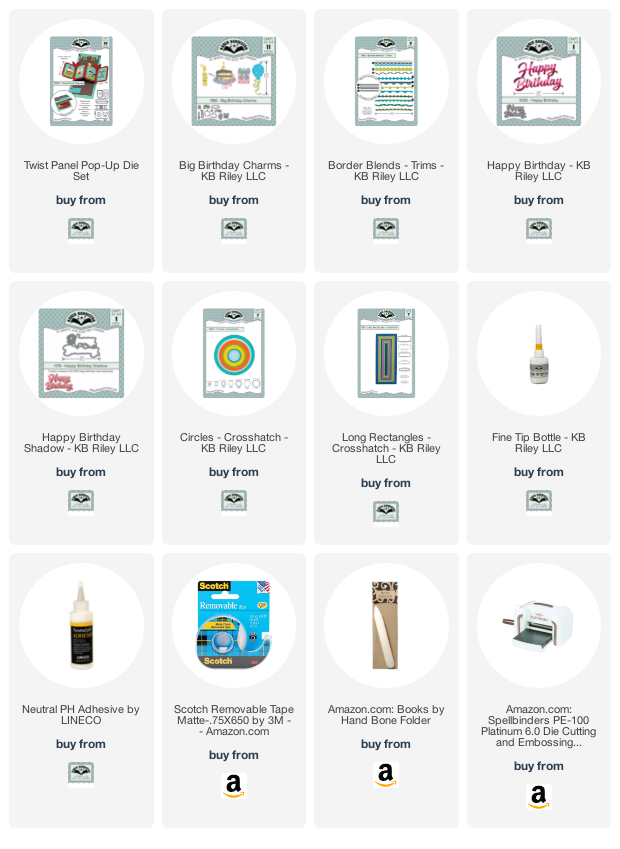 NOTE: Amazon links are affiliate links where I receive a small commission on the sale at no cost to you.
---

Now let's take a look at the awesome BIRTHDAY CAKE cards created by our talented design team. For each of these cards there is a full blog post, supply list and, for some of the cards, a video as well. Click the designer's name to visit the blog post, which will open in a new window.
Karen Aicken created an absolutely marvelous Coffee and Cake birthday card. The papers are so bright and happy. The Coffee Cup Pop-up is further embellished with a peeking cupcake and big Happy Birthday greeting. Click over to Karen's blog to see the card front. Stunning!
Sandy Diller cleverly repurposed the Flower Pivot Panels die set to hold her HB2U birthday greeting. I love the way she made a circle-edged card using the Crosshatch Circles die set and the addition of the Big Birthday Charms. Click over to Sandy's blog to see the card front. Super!
Lois Bak made a lovely Circle Tag Book for the challenge with little cupcakes from our original Birthday Charms die set. I love how Lois used the rickrack borders throughout the background and her pops of black. Click over to Lois's blog for a look at the card front with a great tip for how she created it. I also love how she used the cherries from our Tree Fruit die set on the cupcakes. Pretty in pink!
Frances Byrne created a bright and lively Cupcake Pop-up card and also incorporated the new birthday candle from the Big Birthday Charms. This is really the perfect showcase of our brand philosophy to create timeless staple dies with new exciting decorator combinations to give them fresh looks. I love the colors Frances used for this card!
Fran Sabad followed a video tutorial I created for Designer Challenge 9 to make a side fold Cupcake Pop-up window card. I love how Fran was able to incorporate our newest dies for a fresh amped-up version of the card, adding extra pop-up balloons animated with our Mini Pops Pop-up die set. Love it!
Kelly Booth used our Cake Pop-up die set to make a lovely teal birthday card. I love how she incorporated the new Crosshatch Labels and added pops of yellow to the design. Click over to her blog to see the equally fabulous card front.
Kelly Booth mentioned that once she has a die set out, she'll often make multiple cards, especially for birthday cards. She created two additional Cake Pop-up Cards and while all of her cards follow the same basic measurements and layout, they each have their own personality by swapping out papers and embellishments. Amazing!
Have you had a chance to check out my business partner Tanya Kostynuk's creative ideas on the Stamp and Scrapbook Expo's virtual @home events? She's been showing fabulous projects using our dies. Here is her latest, which works perfectly for the Birthday Cake theme, so I had to include it for the challenge. Tanya has combined the Cupcake Pop-up with Border Blends - Trims, Big Birthday Charms, Crosshatch Ovals, Happy Birthday and Happy Birthday Shadow. You can watch Tanya explain the ease of this card's assembly on Saturday, January 15, 2022 on the SSBE Facebook and YouTube channels at 11:50 am, CST.
Well I hope you feel inspired to make some birthday cake cards of your own. Join us next month on February 2, 2022 for our next Designer Challenge with a theme of MOD VALENTINE'S DAY. We'll be making Valentine's Day cards in unexpected color schemes.
We started our Mission Poppable hashtag way back on Designer Challenge 45 and have been delighted with the projects posted each month. For the December challenge our winner (by random draw) is Gail Jean, who posted several wonderful mod holiday cards using a teal color scheme.
Each challenge will bring a new mission and you have a month to complete it. You are welcome to post more than one card for the mission, which will increase your chances to win by random draw.
Your mission, should you choose to accept it, is to make your own card following this month's challenge theme of "BIRTHDAY CAKE" Make sure your card features some sort of cake, cupcake or donut and uses our die(s) heavily. Post your card on Instagram using the hashtag #missionpoppable OR on our Facebook Group Karen Burniston Pop-up Peeps OR both. If posting in the Facebook group, please add it to the photo album for this month's challenge, which you'll find in the Media section of the group. You have until the next Designer Challenge date (February 2, 2022) to complete your mission. This message will not self-destruct because I don't know how to do that.
We will choose a winner by random draw from all the cards for a $25 credit to our website. The winner will be contacted via messenger or e-mail.
Make sure if you're posting on the Karen Burniston Pop-up Peeps Facebook Group that you follow the rules of the group. Outside product is allowed, but not for the pop-up portion of the card. Cards posted on the group must heavily feature our brand. You can find us on Instagram @karenburnistonbrand and also my personal account @karenburniston
Happy Crafting!