Welcome to our November Designer Challenge with a theme of Window Cards. I challenged the team to incorporate a window or clear front to a card of any theme.
For my project and video I'm showing how to create a window card to fit our Bitty Ball Pop-up. This technique can also be used with the larger Surprise Ball Pop-up.
Learn how to make a window pop-up ball card by watching the full YouTube video:
My card measures 6x6 in the closed position and will mail in a square envelope for extra postage. This card uses two patterned papers from PhotoPlay and a red polka-dot paper from my stash. The closure is a piece of silver elastic cording that loops over a decorative snowflake brad. The brad is elevated using spacers from our Flap and Closure die set. To easily make window frames I combined the trapezoid decorator dies from both ball sets.
Open the card and the ball pops up, revealing the cute Christmas gnomes made using our Tiny Gnomes die set. The Merry Christmas greeting is from our Word Set 3 - Holiday set. The circles are from our Crosshatch Circles die set.
I paid attention when die cutting the decorator trapezoids for the ball that the words would be oriented correctly in the finished ball so it would read HO HO HO and not OH OH OH!
Ready to give this card a try? I definitely invite you to try the technique for cards of other themes. The Bitty Ball is completely generic and can be decorated with any elements to shine through the windows.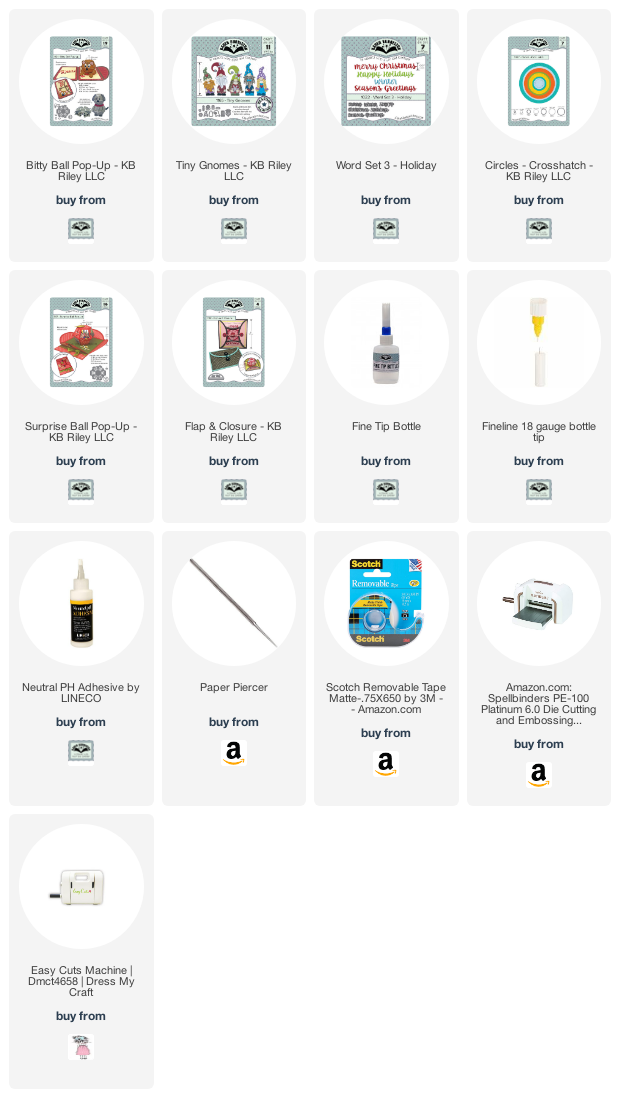 NOTE: Amazon links are affiliate links where I receive a small commission on the sale at no cost to you.
---

Now let's take a look at the awesome window and clear cards created by our talented design team. For each of these cards there is a full blog post, supply list and, for some of the cards, a video as well. Click the designer's name to visit the blog post, which will open in a new window.
Karen Aicken made this absolutely stunning clear-front card featuring the Holly Pattern Plate cut from foil. It is so elegant and pretty. Click over to Karen's blog for a video of this card.
Kelly Booth made two great cards for the challenge. Both are top-fold Rockin' Rectangle cards where you can see the reindeer through the window and then the rectangle pops-up, rocks, and reveals the greeting as the card opens. Merry and Bright!
Lois Bak made a cute Thanksgiving turkey card using the Katherine Label Pop-up die set. The turkey in the window is attached to the pop-up so it lifts up as the card opens. Lois also used the Autumn Elements to decorate this adorable card.
Sandy Diller was very creative with this Thanksgiving Photo Collage card. The forks are visible through the window and then as the card opens they move from horizontal to vertical, attached to a swing arm of the pop-up. Click over to her blog for a video of this lovely card in action.
Frances Byrne used the Rockin' Rectangle in a side-fold card to animate some cute Christmas stamps. As the card opens the rectangle lifts, rocks and reveals the inside greeting. Frances used a clear front to this card and I love the use of our Alphabet and Border Blends dies mixed in.
Fran Sabad also used the Rockin' Rectangle this month. Her beautiful fall-themed hello card features our Autumn Elements die set shaded beautifully on the pop-up. The colors on this card are so rich and beautiful and I love the stenciled background to set off the die cut elements.

Well I hope you feel inspired to make window cards. Join us next month on December 8, 2021 for our next Designer Challenge with a theme of MOD HOLIDAY! We'll be making holiday cards in non-traditional colors.
We started our Mission Poppable hashtag with Designer Challenge 45 and have been delighted with the projects posted. For the October challenge our winner (by random draw) is Patty Beers, who posted a delightful haunted Tiny House card.
Each challenge will bring a new mission and you have a month to complete it. You are welcome to post more than one card for the mission, which will increase your chances to win by random draw.
Your mission, should you choose to accept it, is to make your own card following this month's challenge theme of "WINDOW CARDS" Make sure your card features some sort of peek-a-boo effect plus uses our die(s) heavily. Post your card on Instagram using the hashtag #missionpoppable OR on our Facebook Group Karen Burniston Pop-up Peeps OR both. If posting in the Facebook group, please add it to the photo album for this month's challenge, which you'll find in the Media section of the group. You have until the next Designer Challenge date (December 8, 2021) to complete your mission. This message will not self-destruct because I don't know how to do that.
We will choose a winner by random draw from all the cards for a $25 credit to our website. The winner will be contacted via messenger or e-mail.
Make sure if you're posting on the Karen Burniston Pop-up Peeps Facebook Group that you follow the rules of the group. Outside product is allowed, but not for the pop-up portion of the card. Cards posted on the group must heavily feature our brand. You can find us on Instagram @karenburnistonbrand and also my personal account @karenburniston
Happy Crafting!