Welcome to our April Designer Challenge with a theme of YUMMY! I challenged the team to make cards that feature something delicious.
I chose to make my card as an ode to chocolate.
This card features two Spinner Squares inside a slimline card, plus a variety of chocolate treats made using our charm sets. Learn how to make this card by watching the full YouTube tutorial:
This card measures 4" x 9" in the closed position and can be mailed in a No. 10 business envelope. The front is meant to look like a big chocolate bar. It's made using a combination of our Long Crosshatch Rectangles, a square from the Spinner Square and our Alphabet set.
As the card opens the two spinner arms start to move.
Once open, the greeting is revealed and a decadent array of chocolate treats are layered on the pop-up squares.
All of the squares and the lacy frame come included in the Spinner Square die set. For the chocolate treats, I combined pieces from several charm sets, including Treasure, Camping, Love and Fast Food.
This double-opposite-spinner-square-slimline (say that five times fast!) is a very generic technique that can be decorated for any theme. Here are the products used on my version: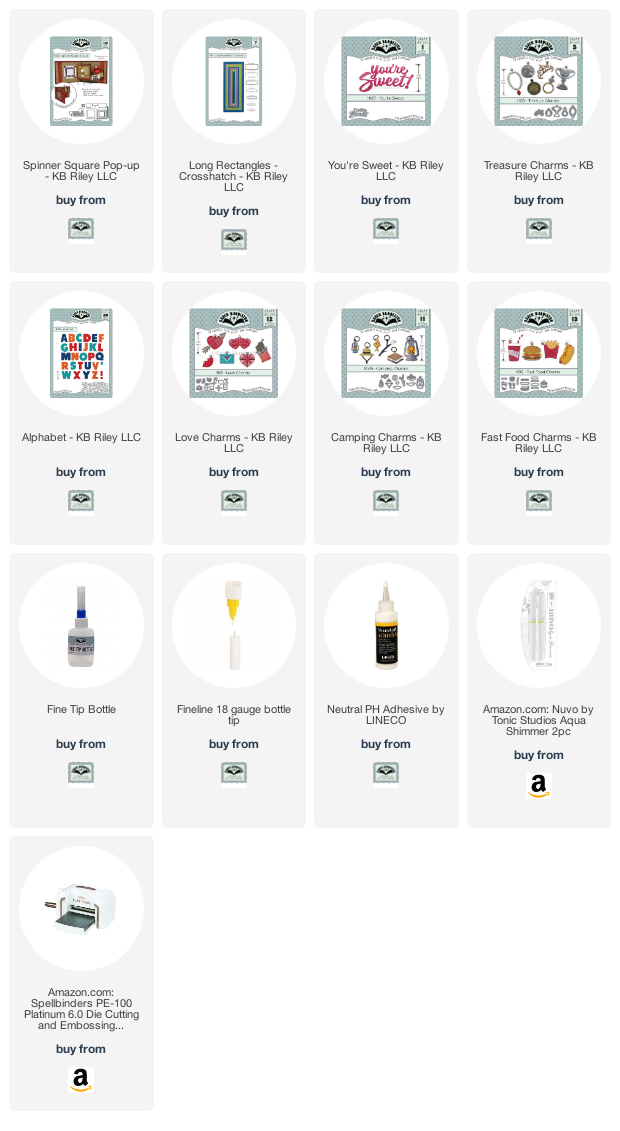 ---
Now let's take a look at all the delicious inspiration from our talented design team. I encourage you to click their names to visit their blog posts, where you will find supply lists, more photos, explanations and, in some cases, videos!
Karen Aicken's idea of "yummy" is right up my alley! She made a very clever and beautiful gatefold Circle Charm Pop-up in a slimline card and decorated it in a wine theme. The shimmer cardstock adds such a soft elegance to the card.
Frances Byrne combined fabulous colors for this top-fold slimline featuring the Ice Cream Sundae Pop-up and our Border Blends. It's a very clever design with a shortened card panel, allowing the greeting to be viewed in both the closed and open position. Yummy, indeed!
Fran Sabad celebrated the delicious decadence of fast food in this clever Explosion Pop-up card. Her styling on the Fast Food charms is divine, and I love the two-tone Party Border Blends. The front medallion made with French fries is so eye-catching!
Sandy Diller made a top fold slimline full of pop-up cupcakes and my mouth is watering! She brilliantly combined three Upsy Daisy mechanisms to animate the cupcakes and includes a full video tutorial for how she did it. The colors on this are so vibrant and cheery!
Lois Bak used the Circle Tag Book to make this sweet birthday card. She glued the tag book inside a larger card for more real estate. I love the combination of dies here. It's a great illustration of how the decorator pieces from multiple sets can combine into a custom card.
Kelly Booth finishes us up this month with this stunning Coffee Cup Pop-up card featuring a garland of yummy treats on the front. Everything about this card, from the colors to the shading to the clever mini-cup-on-the-cup styling is awesome!
Well hopefully you're both inspired and hungry!
Join us next month on Wednesday, May 5, 2021 for our next challenge with a theme of NEW DIES! We'll all be making cards featuring our April 2021 release. New dies will be available in stores at the end of next week and on our website starting April 19, 2021.
Happy Crafting!