Happy March!
For our challenge this month I asked the team to make cards that are primarily black and white but feature a "pop" of any other color. The cards are spectacular as ever so be sure to scroll down to see the images and links.
For my card and video I thought the color scheme lent itself well to a birthday card for John. I chose red as my "pop" color.
This card uses one of our staple pop-up dies from our first release, the Twist Panel Pop-up. Decorating as a side-fold card instead of top-fold creates a different look to the die set. The panels end up being landscape instead of portrait. I also incorporated some of our newer die sets, including the Slim Frames, which fit on the Twist Panel perfectly, Mini-Pops Pop-up and Gnome and Santa. Learn how to make this card by watching the full YouTube tutorial here:
This card measure 5x6 in the closed position and can easily be mailed in an A7 envelope.
The wonderful thing about making cards with dies is that they're so easily duplicated into any other color scheme. Here's the same card front in different colors/theme:
Open the card to reveal the Twist Panel. Spirals from the Mini Pops set are used to create more interactive elements.
Here's the alternate color scheme, where instead of a birthday card it's a "happy day" card.
The spirals add more whimsy to the cards, expanding as the Twist Panel expands. For the birthday card I also used the smaller angled platform from the Mini Pops to animate the numbers.
On the alternate card I didn't use the angled platform but did add hearts to the spirals.
Want to give this card a try? Here are the supplies used. In both cases I just used patterned papers from my stash.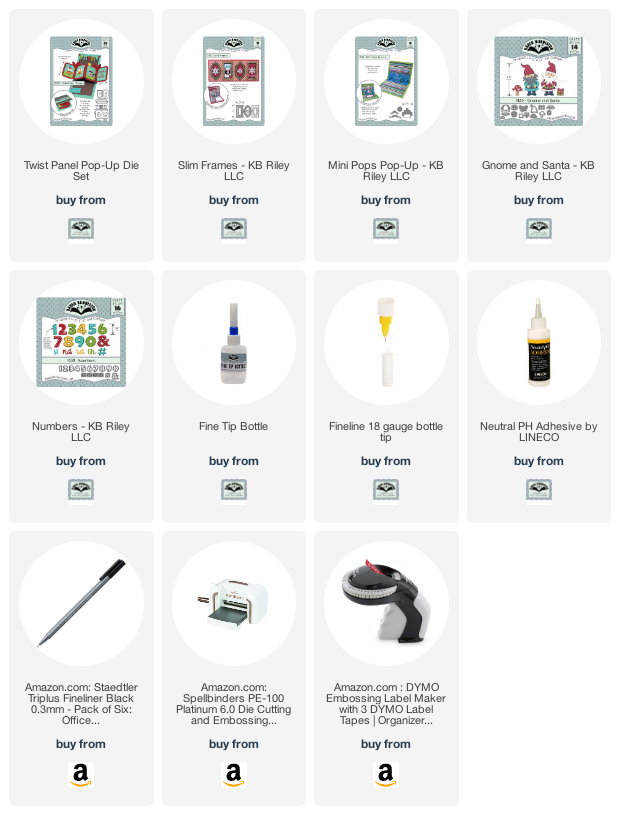 Ready for some additional black/white and pop inspiration? Our talented design team is hear to inspire you. Click on their names to go to their blog posts, where you'll find additional photos, supply lists and, in some cases, videos.
Sandy Diller used one of my favorite pop-ups, the Paper Frames Pop-up, for a striking birthday card with black/white and a pop of red. The star motif is perfect for any recipient and I love the way the white elements pop against the other colors. Super!
Frances Byrne created a stunning Fancy Label Accordion in a wedding theme. The black/white/gold color scheme is so elegant and perfect for the occasion. I love her choice to add a solid panel as the final panel. So pretty!
Karen Aicken used pink for her pop color and this Cupcake Pop-up card has such a vibrant and modern feel. I also love her choice to use the cupcake in a thinking of you card instead of birthday. Cupcakes for any occasion is a firm yes! Love it!
Kelly Booth used her favorite color, teal, as her pop color. Using zebra stamps (MFT) was a great choice for the theme and I love the mix of polka-dot papers with the stamps and dies. The pop-up die on this one is the Circle Tag Book, a great choice for showcasing stamps. Such a fun card!
Fran Sabad chose gold as a pop color and made this gorgeous Upsy Daisy Pop-up card. I love her choice to color her background stamp in shades of gray except for the occasional "pop" of gold. She also incorporated die cut flowers on the pop-up. Lovely!
Lois Bak made this card in honor of a friend who passed away a few years ago and loved the color scheme of black/white/red. I love Lois's choice to honor her friend with such a sweet and meaningful card. The slimline size is perfect for the Cupcake Pop-up, especially when paired with angled Mini Pops platforms to animate the smaller cupcakes. What a wonderful tribute to her friend.
Join us next month on Wednesday, April 7, 2021 for our next challenge with a theme of YUMMY! We'll be incorporating sweet treats into our cards.
Happy Crafting!
---