Happy New Year!
We're kicking off 2021 with a simple challenge theme - Thinking of You. It's more important than ever to check in on your friends and family and the perfect way is with a cheerful card.
For my card and video I was inspired by a class card I designed with a pompom closure. I was also inspired by the Pantone colors of the year. The result is a slimline card with a gatefold opening, pompom closure and Mini Pops pop-up inside.
Watch the full YouTube tutorial to learn this technique:
The card measures 3.5"x 8.5" when closed. It will fit in a No. 10 business envelope but will require extra postage because of the pompom. I used our Slim Frames, Border Blends - Party and Word Set 10 on the front of the card, along with flowers from the Woven Basket Box Card.
Open the gatefold card and a basket of flowers pops up, attached to one of the angled platforms from the Mini Pops Pop-up die set.
Because I was working in a small area, I trimmed the Woven Basket to a smaller size.
The inspiration for this card was one of my recent class cards, featuring the same basic construction.
Want to give this card a try? Here are links to the dies used. For papers I just used stash papers that matched my chosen color scheme.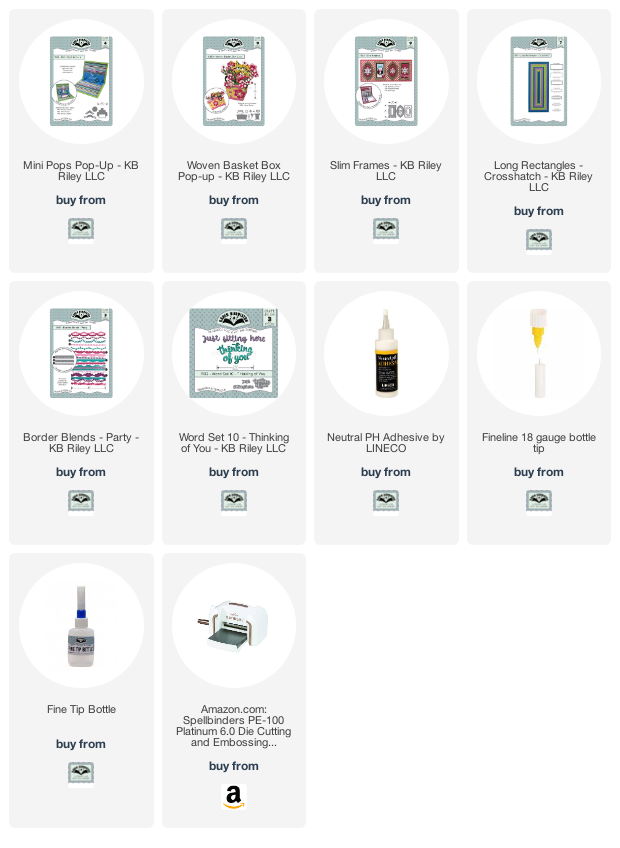 Now let's take a look at the wonderful creations by our talented Design Team. For each of these cards you can click on the name of the designer to go to their blog post for more photos, supply lists and, in some cases, videos.
Frances Byrne made this absolutely stunning slimline card featuring side-by-side Adirondack chairs. I love how she incorporated the Backyard Charms, including those adorable fairies.
Sandy Diller extended the Triple Flip die set so it has five flips to fit a slimline card. How clever! I love her addition of the Border Blends and the striking color scheme.
Kelly Booth made this impressive double ball Elmo slimline card. I love how she created the hands by using a flower die for fingers! So clever!
Karen Aicken created this bright and cheerful slimline card with the Heart Pivot Panels inside. I just love the rainbow of hearts, both in the paper and the pop-up. A card to brighten any mailbox!
Lois Bak created a lovely Katherine Label Pop-up card featuring lovely patterned paper and matching colors. I love the simple elegance of this card.
Fran Sabad made this absolutely darling Heart Pivot Panels card featuring the Snowman. This is such a great combination of dies, colors and styling.
Well hopefully these cards inspire you to send a little bit of happy mail to someone in your thoughts. Join us next month on Wednesday, February 3, 2021 for our next Designer Challenge with a theme of "Hearts!"
Happy Crafting!