Welcome to our October Designer Challenge. The theme this month is "Inspired by" where we each chose a card from a teammate to be our inspiration card. I chose this cute card by Lois Bak as my inspiration card. I liked how she used the Rockin' Rectangle Pop-up die set in a landscape orientation card and incorporated a penguin-shaped window into the front of the card.
For my version I used the penguin from our Winter Animals die set. It was much smaller than Lois's stamped penguin so I also incorporated a twine feature to pop-up two more penguins.
Watch the full YouTube video tutorial to learn how I made it:
The card measures 5.5" x 4.25" when closed, so a standard landscape A2. I followed Lois's lead on a polka-dot paper to look like snow and some curvy snow banks below. The trees and snowflakes come from our Winter Charms die set. I used a labelmaker for the greeting.


Open the card and the Rockin' Rectangle brings up the penguin that was visible through the window and in the process also lifts a piece of twine, suspending two more penguins.
To keep the center penguin weighted to stay right-side-up I added a snowflake under one wing.
Want to make your version of my version of Lois's card? Here are the dies and supplies I used on my card. The polka-dot paper is an older Echo Park design.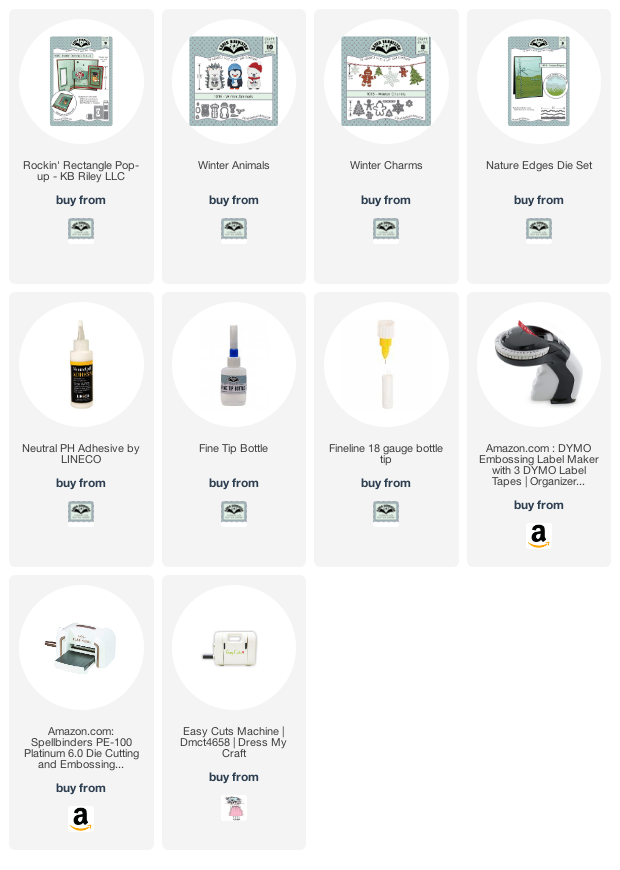 ---
Now let's take a look at the cards the team made from their inspiration muses. In each case you can click on the designer's name to head to their blog post and see more details on their card plus a link to their inspiration.
Fran Sabad took inspiration from Kelly Booth to create a sweet stacked ball Elephant card in bright fun colors. I love those big round eyes and the great combination of patterned papers.
Frances Byrne's muse was Karen Aicken. Frances was inspired to use the Explosion Pop-up in a slimline card. This birthday card would brighten anyone's day and I love how Frances matched the colors and styling of her die cut cupcakes to the patterned paper.
Karen Aicken took inspiration from me to create a billboard version of a ball pop-up. She went even further with this idea, though, by incorporating a clear billboard to make the elements appear to float. This is such a beautiful and striking card.
Kelly Booth's muse was Frances Byrne. Both Kelly and Frances love owls, so Kelly took inspiration from a stacked ball owl from Frances to create her own woodsy version. It's always fun to make a stacked ball animal that matches one of our smaller animals and Kelly did that here with this vibrant special birthday card.
Sandy Diller took inspiration from Fran's fairy Charm Accordion to make her own autumn-themed version. I love the white pumpkins and the fun garden scene that Sandy created to travel the length of her card.
Lois Bak's muse was Sandy Diller. Lois took inspiration from a Halloween-themed woven basket box card that Sandy made. Lois expanded the idea (literally) by doubling the basket to make a double-wide. She filled it with all sorts of boo-tiful elements.
Hopefully you found plenty to be inspired by with this month's challenge. Join us next month on Wednesday, November 4, 2020 for a Designer Challenge with a theme of Slimline Cards. We'll all be making long cards in the popular slimline style.
Happy Crafting!