Welcome to our September 2020 Designer Challenge.
Our theme this month is "In the Wild!" and I challenged the team to create animals by combining our Surprise Ball Pop-up with the new Bitty Ball Pop-up.
For my card and video I wanted to show how the pieces in Animal Add-ons 1 can be repurposed to make a raccoon. I also thought it would be fun to show how any of the stacked animals can wear a pumpkin costume for Halloween.
Learn how to make this card by watching the YouTube video here:
This card measures 6x6 when closed, so it will require additional postage, both because it's a square but also because the bead closure on the front adds thickness to the card. I recommend a bubble mailer. The silver elastic cording is attached to the back of the card and stretches across to hook onto the bead/brad, keeping the card closed.
Lift the cord off of the bead/brad and the gatefold card will spring open, revealing a raccoon all ready for trick-or-treating in a pumpkin costume. The Happy Halloween greeting is from Halloween Charms and the backing oval is from our Ovals - Crosshatch set.
The pumpkin costume will fit any animal.
You also have the option to make animals (with or without pumpkin costumes) by stacking two of the same size ball dies. A note, though. The Bitty Ball die set includes animal accessories (arms, smile, pointy nose) that you will need to make the animals in Animal Add-ons 1. If you only want to invest in one ball die and animals are what you primarily want to make, then I would recommend the Bitty Ball. If you are looking for an Add-on set to use with your Surprise Ball only (no Bitty Ball) then I would recommend Animal Add-ons 2 because it includes arms. Hopefully that makes sense.
Want to give this card a try? Again, you can make the head, arms, legs and tail into any animal, so get creative with who will be wearing your pumpkin costume. Here are links to the supplies used. The plaid paper is from Echo Park in their Celebrate Autumn line from a couple of years ago. The paper on the pumpkin is a very old sheet of Basic Grey from my stash. The silver elastic cording is from Michaels, where you can also find plastic beads.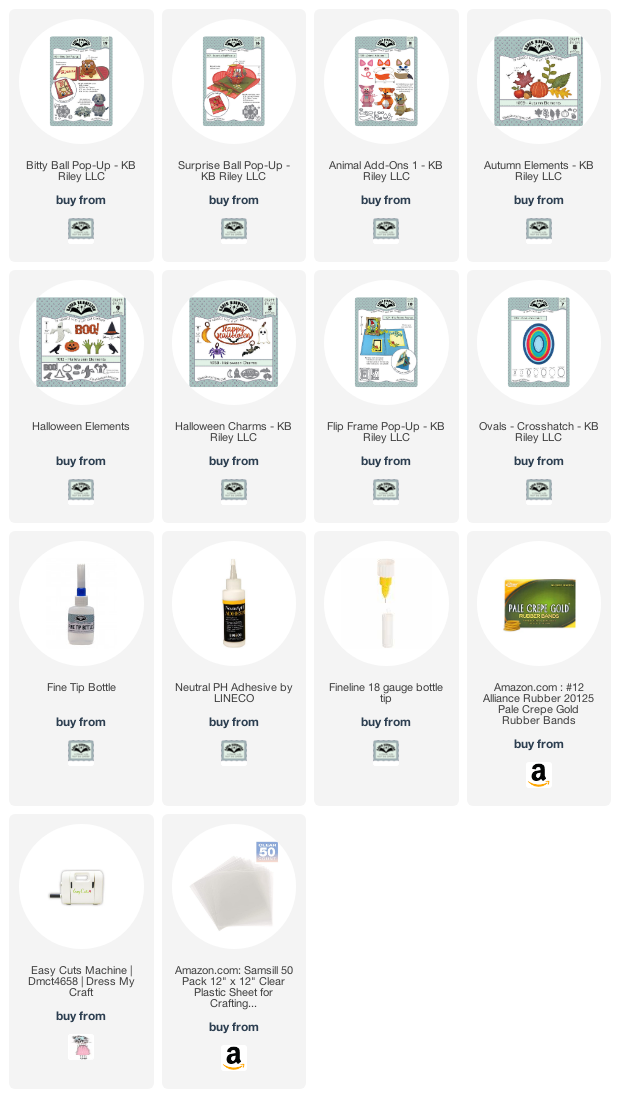 ---
Are you ready for more animal inspiration? Check out these amazing cards by our incredibly talented design team!
Fran Sabad made this masterpiece of a card to celebrate her daughter's first wedding anniversary. I actually attended that wedding, which I was surprised to learn was just one year ago, when it feels like a decade! There are so many amazing details to this card, but especially that the hippos rotate and kiss!
Karen Aicken did something very clever with her batty bitty ball - she put the Surprise Ball on top for a bigger head than body! Brilliant! Karen hand cut the wings and has a YouTube video explaining the details and tips/tricks for her card. Definitely check it out!
Kelly Booth has a favorite color and it's on full display with this wonderful teal elephant. I adore the way Kelly has added the flowers from the Flip Frame die set to make a flower tiara for the elephant. The matching small elephant from the Safari Animals on the front of the card is perfection.
Sandy Diller made a sweet birthday card using a Bitty/Surprise stacked elephant in bright fun colors. I particularly like the way she snipped out some of the individual fronds from the Fronds Pattern Plate to decorate her interior greeting strip. And whiskers as elephant hair is brilliant!
Frances Byrne made this absolutely stunning lion card. I adore the scene she created on the front circle using the new Landscape Scene. Her use of the crosshatch circle die to create a mane is a stroke of genius. Love it!
Lois Bak fashioned her favorite mouse for this magical birthday card. This is a great example of combining pieces from other die sets to expand your menagerie (circle dies for ears) as well as clever panel decoration to make clothes. Awesome!
Please join us next month on Wednesday, October 7th (my 25th anniversary!) for our next Designer Challenge with a theme of "Inspired by -" we will be taking inspiration from each other for this fun challenge.
Happy Crafting!