Welcome to our August 2020 Designer Challenge.
Our theme this month is "Wing it!" and I challenged the team to incorporate wings into their cards. They have once again taken it to a new level with their creativity.
For my card and video I am styling our new Bitty Ball Pop-up die set as a chick for a "Just Chicken In" card. Watch the YouTube video to learn how I did it.
My card measures 5" x 5" when closed, so it will fit nicely in an A7 envelope for mailing. The front features a large circular window so the flattened Bitty Ball chick is visible. The top flap closure is magnetic. I used our Spring Animals chick with the bow from the Chicken, Pig and Lamb set to fashion a small chick for the front of the card. The rest of the greeting is made by using our Alphabet set and Word Set 10 - Thinking of You.
Release the magnetic flap and the double-decker Chick will spring up. I used the included pieces in the Bitty Ball set for the wings, eyes, beak, feet and bow.
I think it's particularly fun to fashion large animals that match some of our smaller ones. I perched another small chick onto the wing of the big one. I also used an offset stack for the chick, with a flat-panel head atop a pointy-belly body.
As I mention in the video, please don't limit your audience for these fun animal cards to just children. People of all ages would love to receive a card like this and especially right now, when we can't gather or travel. It's a great time to check in (chicken) on our loved ones. This could be the perfect card to brighten someone's day.
Ready to give this card a try? As of today, August 5, 2020, we are temporarily sold out of Bitty Ball Pop-ups on our website, but we have shipped orders out to the retailers and are currently shipping website pre-orders. You can check with your local store to see if they have Bitty Balls in stock or you can put in your e-mail on the product page to be notified when they are back in stock (estimated end of August). If you are in the UK, please tune in to our Hochanda shows August 7-8th where we will be featuring this new release. Hochanda will have Bitty Balls available for the shows as they reserved them early.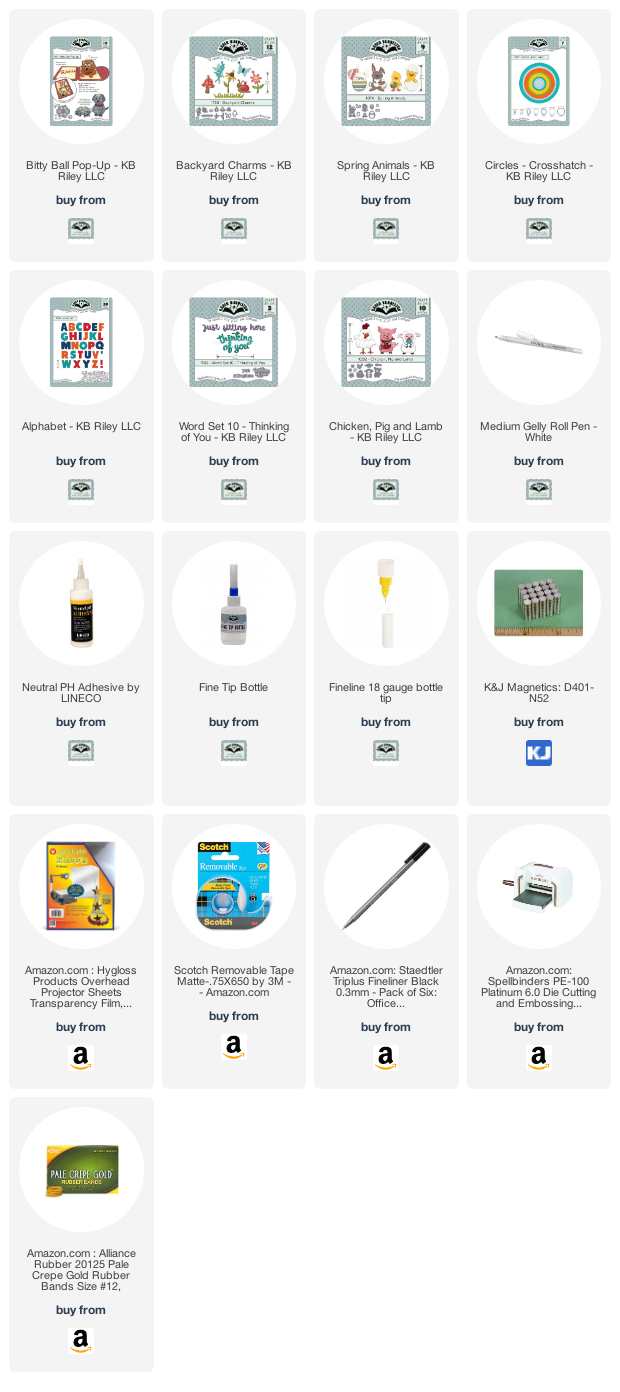 ---
Let's look at the great Wing it! cards by our talented Design Team.
Fran Sabad featured the new fairy from our Backyard Charms set on this delightful Castle Pop-up card. I just love the rainbow circle of fairies on the front of the card and all the touches of gold on the castle. Magical!
Sandy Diller stacked the Bitty Ball onto the larger Surprise Ball for this cute "when pigs fly" anniversary card. This is another great example of mixing a large version of an animal with the smaller version. Sandy mixed pieces from Animal Add-ons 1 and 2 to make the ears, snout and legs of the pig. So sweet!
Karen Aicken made this stunning clear sympathy card featuring the Flowers Pattern plate and our new With Sympathy word set. I love her choice of grays and whites for this comforting card. Absolutely gorgeous!
Lois Bak used the Fancy Label Accordion and Fancy Flourish Frames to make this lovely 4-page card featuring stamped butterflies. The colors are so vibrant and happy. Love it!
Kelly Booth shows off the new Flip Frame Pop-up on this sweet thinking of you card. I love her styling on our new Gnome set, plus the Backyard Charms fairy and dangling butterfly. Amazing!
Frances Byrne made an extended Circle Tag Book with a gorgeous mix of gnomes and Backyard charms. She cleverly repositioned letters from two word sets to make the "fairy wishes" greeting on the front. A delightful scene!
Please join us next month on Wednesday, September 2nd for our next Designer Challenge with a theme of "In the Wild!".
Happy Crafting!
---