Welcome to our July 2020 Release Blog Hop.
Hop along on the blogs of our Design Team to find inspiration for using these new die sets. Dies are available for pre-order now on our website with shipping starting the first week of August, 2020 in the order received.
Leave comments on the blogs on the hops to be entered into a drawing for a $25 credit to our website. Each stop on the hop will draw a winner on July 27, 2020 and winners will be notified by e-mail.
For my card I'm using the new Pop 'n Swap to create a "you are super" thank you card, complete with a superhero giraffe from the Safari Animals.
Here's the full video tutorial for this card:
My card measures 4.75" x 6" when closed. The front panel of the card is cut 2" shorter to allow the upper swing arm of the pop-up to be viewed when the card is closed. I rounded the corners with a 1/2" corner chomper. I used the new Safari Animals to create the giraffe, dressed as a mild-mannered cub reporter on the upper swing arm. I used the giraffe die to create the hair and clothes by cutting the body out of the appropriate color for hair, jacket, shirt and then snipping sections into the proper shapes. The collar and buttons are drawn on with a black pen. I added a pair of glasses from Tiny Accessories 1. The "you" die comes included in the Pop 'n Swap die set as does the heart. The "thank" is made using a Dymo label maker.
As the card opens the mild-mannered cub reporter starts to lower behind the pop-up rectangle while the other arm swings out from the bottom. Once again I used the "you" from the die set along with a label maker to create the greeting. The hearts and rectangles come included in the Pop 'n Swap.
Once the card is fully open the cub reporter is completely hidden and SuperGiraffe has appeared. I used the cape and mask from Tiny Accessories 2 and a tiny star from the Paper Frames Pop-up to dress the giraffe as a superhero. The patterned paper is an older piece of Basic Grey paper from my stash.
Ready for more inspiration for these new dies? Here are the other stops on the hop. Remember to leave a comment on each blog to be in on a drawing for a $25 credit to our website. Every stop on the hop will be drawing a winner on July 27, 2020.
Here are the dies used on my Pop 'n Swap Thank You Card: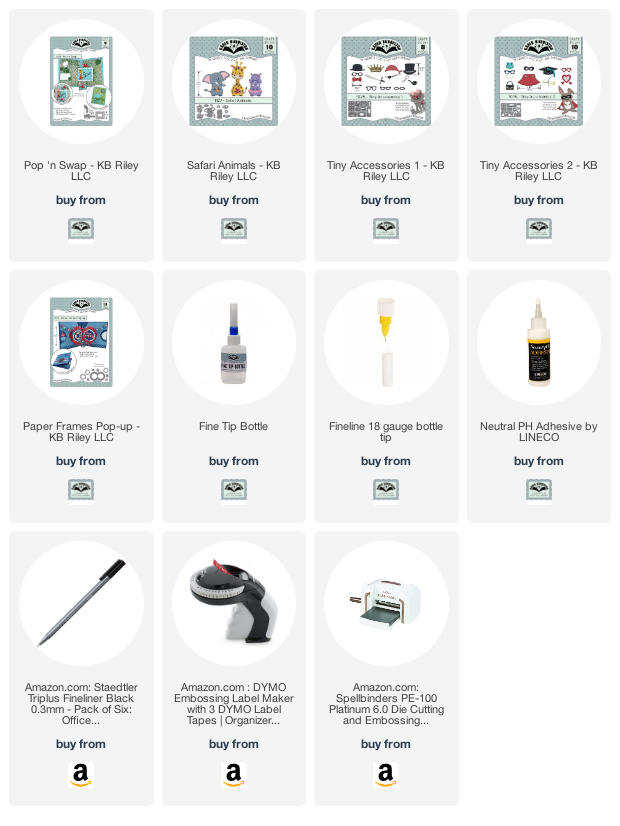 If you missed the preview video for the new release you can watch it here: