Wishing everyone a blessed and safe Memorial Day Weekend. Within our family there is military service on both sides, including three late grandparents who fought in WWII, plus John's father (pararescue in Vietnam) and many uncles and cousins. We honor all of their service as well as the patriotism and sacrifice of all veterans and their families.
We are offering free shipping on our website for US orders between now and Monday, May 25, 2020. No code is needed. While you're there, be sure to also check out our new Pop-up Perks Program, a way to earn reward points. You'll find a purple "rewards" box in the lower right corner of our website for signing up.
I wanted to make a Memorial Day card using our new Paper Frames Pop-up die set. My son Karl was in the room fixing my computer as I was planning the card. I knew I wanted to fashion an Uncle Sam outfit for one of our animal dies.
ME: Karl, what's the most patriotic animal?
KARL: A bald eagle.
ME: Oh yeah. Duh.
This card measure 3.75" tall by 6" wide when closed. I used a 1/2" corner chomper to round the corners. The Tiles Pattern Plate for the front of the card was cut out of white cardstock and then inked in patriotic colors. The labels and banners come included in the Paper Frames Pop-up die set.
Open the card to reveal the pop-up. Once again I used the Tiles Pattern Plate, but this time in the same blue as the card so it would be a tone-on-tone effect. I decorated with white stars. Our Alphabet set is used for the USA letters.
The eagle is made with a combination of a Spring Animals chick head/legs and Winter Animals penguin body, plus the top hat and bow tie from Tiny Accessories 1. I used a decorator label in the Paper Frames set to cut a window on each side of the pop-up that I backed with a piece of the Tiles Pattern Plate.
Here are the instructions for making the Uncle Sam eagle:

Want to give this card a try? It will also work well as a 4th of July card. Here are the products I used: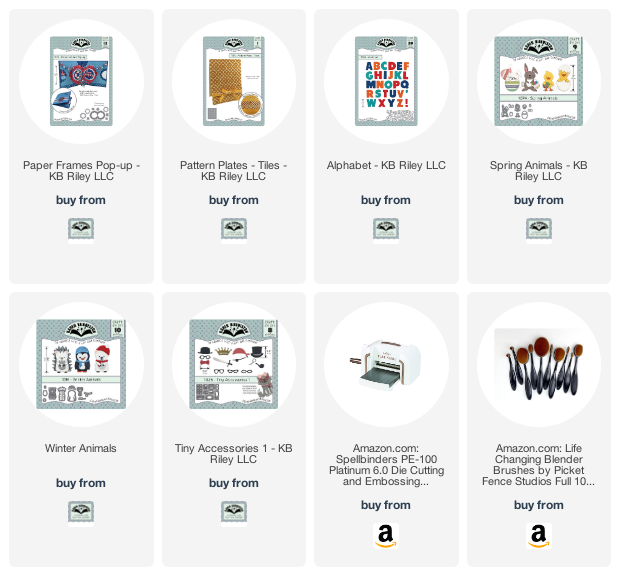 ---