Welcome to our April 2020 Designer Challenge.
Our theme for this month is Tree. I challenged the team to create a card using any of our die sets that include a tree. For my card and video I wanted to revisit two of my all-time favorite die sets - the Tree Pop-up and the Nature Edges. To add a new element, I am teaching an alternate way to use the included pop-up die to make angled platforms instead of straight.
Watch the full assembly video here:
This card measures 5x5 when closed and features our brand new Flowers Pattern Plate on the front. I trimmed it down to make it fit the square card.
When the card opens the two angled platforms allow the trees to pop up and outward, extending beyond the limits of the card. The Nature Edges are combined to make the grassy meadow and the cloud-filled sky.
Here are links to the products used in the video: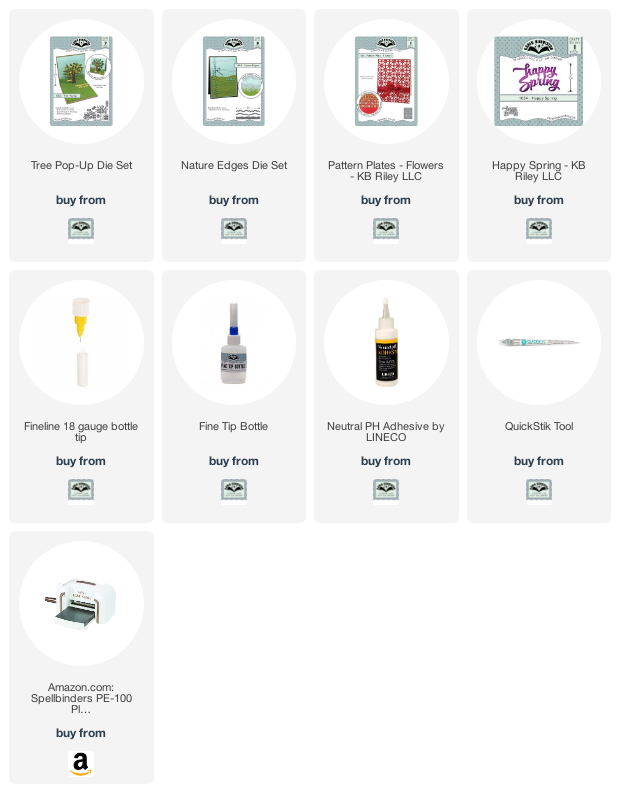 ---
Let's take a look at the amazing tree cards by our talented design team. For each card, you can click the designer's name to open a new tab with their associated blog post.
Sandy Diller cleverly combined the Tree Pop-up with a house from the House Pivot Panels to make a treehouse card! What a cute idea!
Lois Bak created this darling double-wide Woven Basket Box Card to celebrate Easter. I love the mixture of charms, animals and the Tree.
Karen Aicken shows how well Christmas dies can be repurposed into nature dies. She has used the Christmas Trees Pop Stand plus the reindeer styled as a deer. I love all the evergreens throughout this masculine card.
Fran Sabad made this joyful beach scene card using the Snowman Twist Circle die set (minus the snowman) She mixed in a bunch of other dies to create the scene and, in an extremely clever repurposing, used the Halloween Charms Ghost die to create a beach towel. Clever!
Kelly Booth created this beachy Woven Basket Box Card incorporating palm trees. I just love all the fun touches. Notice that the Sea Animals shark is styled as an orca! Brilliant!
Frances Byrne cleverly created an integrated pop-up into her scene. She used the new Paper Frames Pop-up and inked it to match the background scenery. She decorated with stamps and evergreen trees from our Evergreen Pivot Panels die set.