Welcome to our first Designer Challenge of 2020. This month our theme is "Hearts" and you'll find some lovely heartfilled cards by our Design Team to inspire you.
For my card and video I am showing how to use the Surprise Ball Pop-up to animate a circle billboard, suitable for any theme. In keeping with the challenge I decorated mine for Valentine's Day.
Learn the technique by watching the full YouTube video here:
This card measures 5.5" square when closed. The front is decorated with patterned paper (Crate Paper Main Squeeze, from my stash) and two love note charms from the Love Charms. The scalloped edge pieces were made using the Tropical Scene die set.
Because of the bulky bead closure, it would need a bubble mailer, but I plan to give it in person. You can always swap out the closure for something more mail-friendly, like a tie closure, belly band or magnets.
Once the closure is released, the billboard will pop-up, attached to the Surprise Ball. The billboard is created on a base of the largest Crosshatch Circle and decorated with Love Charms and our Happy Valentine's Day word die. The inside patterned paper (PhotoPlay Candy Hearts) is also from my stash.
Here are the supplies used in the video. This technique would work wonderfully for any theme by swapping out the papers and embellishments.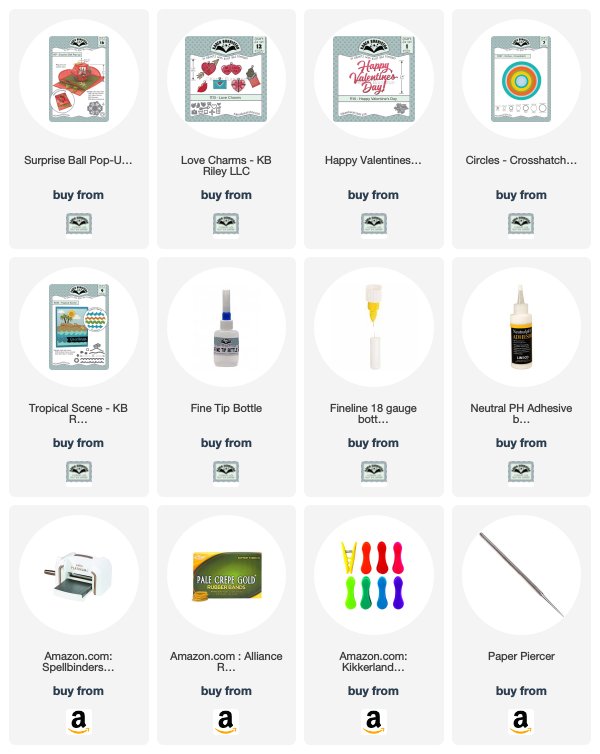 ---
Let's take a look at the wonderful inspiration by our talented Design Team.
Frances Byrne created this fabulous Circle Tag Book featuring the Heart Pivot Panels. Love the touches of cream and gold to highlight the red/pink color scheme.
Karen Aicken combined red and kraft for this fabulous Surprise Ball Valentine. I especially love the paper yoyo on the top of the ball. Check out Karen's blog for a video of this card in action.
Fran Sabad made two cards for the challenge showing the Heart Pivot Panels two ways - in a standard card and then combined with the Twist Panel Pop-up. The foil elements and patterned hearts are gorgeous.
Sandy Diller cleverly combined the Tag Book Pop-up with the Heart Pivot Panels to create this unique card with elements of both pop-ups. She has a full video tutorial for how she made it on her blog post, so be sure to click over and watch it. Love the combination of pink and teal on this.
Lois Bak created this magnificent light-up Surprise Ball Valentine. She has more information and a video of the card in action on her blog post. This is such a cool effect and the EZ-Lights from Pear Blossom Press work so wonderfully with our pop-up dies that we are now carrying them on our website.
Kelly Booth created two amazing cards for the challenge. First up, she combined the Circle Tag Book and Heart Pivot Panels for a fun vibrant Valentine. I like how she added the Love Charms to the pop-up.
Kelly's second card is absolutely adorable, combining our Surprise Ball Pop-up with cute googly-eyed stamped frogs. One of the frogs is on an action wobbler for even more interactive fun.
Hopefully you feel inspired by a hearty helping of heart-filled cards. Join us next month on Wednesday, February 5, 2020 for our next Designer Challenge.
Happy Crafting!
---