Happy Thanksgiving Week!
Over the weekend I hosted "craft weekend" where my cousin Jessica came for the weekend and we were joined by Rebecca, Becky and Karrie for card making merriment.
On our Facebook Group, the Karen Burniston Pop-up Peeps, Julie Pea said she wanted to see the Surprise Ball Pop-up die turned into a disco ball. I recently ordered the "Staying Alive Riley" stamp knowing it would be perfect for a disco ball card.
The first thing I did was assemble the Surprise Ball from a shiny silver cardstock and then added glitter cardstock to each panel. I glued my stamped, colored and fussy-cut image to the ball and then flattened it to figure out what size card I needed. I used Copic markers for the coloring.
Once I discovered that a 5x7 card would work, I got to work on creating a black card that included four flaps from the Flap and Closure die set. I used our Border Blends - Argyle for the front borders, using the same colors as the dance floor inside the card. I added our large Happy Birthday greeting to the front of the card.
The closure is made with two shiny buttons that are sewn to the flaps using thin black elastic. For the bottom button I left a large loop of elastic on the front of the card and strung a bead onto the loop to act as an easy handle for lifting the elastic off the upper button to release the flaps.
Once released, the ball will spring up inside the card, revealing a bright dance floor made with our Squares- Crosshatch die set. I thought I'd add "just a few" rhinestones to the disco ball. (Spoiler alert - "just a few" turned into covering the entire top half of the ball in rhinestones!) The stars come included in the Surprise Ball die set. I also used our large Celebrate die and the Ovals- Crosshatch as a place to sign the card.
Learn how the Surprise Ball and Flap and Closure dies work by watching this assembly video:
The other card I made during Craft Weekend was yet another Parcel Pop-up Magic Card, also using a Riley stamp.
The video tutorial for the magic card technique is posted on the product page for the Parcel Pop-up die set. This card also uses the Flap and Closure die set, Tropical Scene for the stitched scalloped edge, Postage Stamp Riley from Riley and Company, and a retired "happy holidays" stamp from me.
Below you'll find the links for the dies and supplies used on the Disco Surprise Ball card. The black grid patterned paper was an old one from my stash. The rest of the papers are solid cardstocks and glitter papers.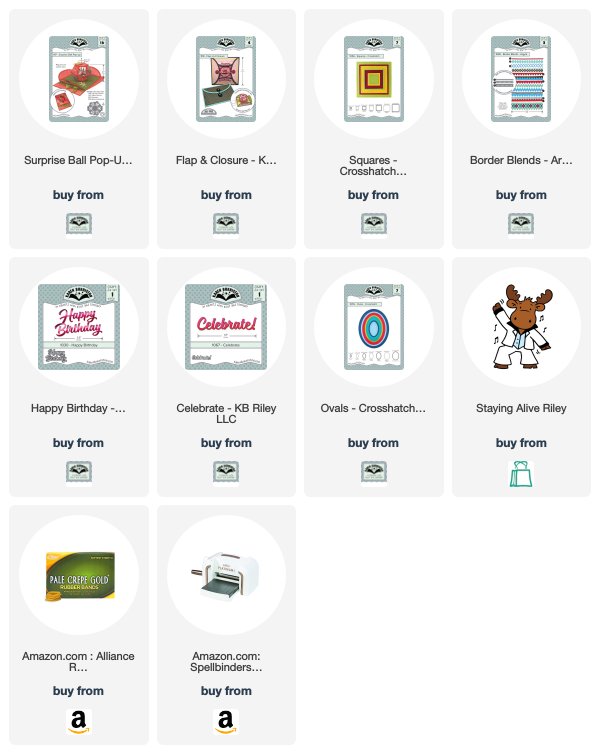 ---