As if pop-up cards weren't cool enough . . . let's light 'em up!
Thank you so much for hopping along with us on the Karen Burniston and Pear Blossom Press Collaboration Hop! Be sure to comment along the way to be entered to win one of two great prizes:
Snowman Twist Circle Die Set with a 5-pack of EZ-Lights, or 

Cake Pop-Up Die Set with a 5-pack of EZ-Lights! 
Now don't worry if you aren't drawn as one of the winners; we've got a special gift for everyone! Just enter the code POPANDLIGHT for 15% off your purchase at karenburniston.com or pearblossompress.com. One code works for both shops! (Coupon code valid until November 2, 2019.)
For my card I'm teaching how to light up the Snowman Twist Circle die set with the added element of a vellum window so you can light up the card in the closed position as well. Learn how to do this by watching the YouTube video here:
Because the patterned paper I chose was laid out in squares, I made a 6x6 square card with a center square window backed with vellum. You can see the mummy octopus and jack-o-lantern through the vellum window when the card is closed.
Push the switch to light up the mummy and pumpkin through the window, giving a sneak peek of what's inside.
Open the card and the circle twists up into the center, showing off the octopus mummy in full glory.
Press the switch again to light it up.
I cannot say enough about the Pear Blossom Press EZ-Lights. They are the perfect choice for the pop-ups because the lights are tiny and on wires that can easily be strung onto the pop-ups, reaching even the smallest of spots, like the tops of candles. You'll definitely want to hop through and check out all the amazing inspiration by both company teams.
Want to give my card a try? Here are all the supplies I used in the video.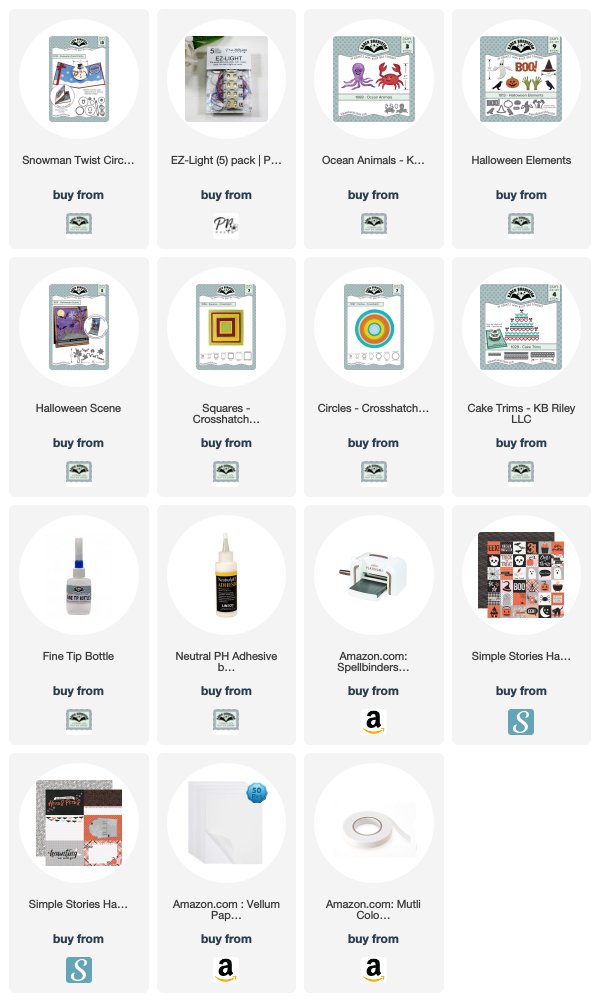 Prizes & Official Contest Rules
Two prizes will be awarded to two separate winners, chosen at random, from comments left on participating blogs and videos. No purchase necessary. Comments must be posted by 11:59 pm PDT on October 26, 2019. Only one comment per blog or video will be counted, but you can comment on multiple blogs and videos in the hop for additional entries. (This is to prevent spam.) Contest open internationally to participants over 18 years of age. Void where prohibited by law. Any personal information collected will only be used for the purposes of contacting winners, your information will never be shared or sold. Comments left on YouTube videos must not violate community guidelines. This contest is not sponsored by YouTube. Winners will be announced on November 28, 2019 here and prizes must be claimed within thirty days of announcement, or new winners will be drawn. 
Ready to hop on? Here's the list of participating blogs. 
Karen Burniston <------ YOU ARE HERE