Happy October!
Our Designer Challenge this month has a theme of Autumn. The team has once again knocked it out of the park with their fabulous creations.
For my project and video I'm teaching a fun technique for doubling our Pivot Panels die sets. To demonstrate I've used the House Pivot Panels, but this technique works with any of them. I also used the Tree Pop-up and Nature Edges.
Learn how to make this card by watching the video tutorial:
To make a double pivot panels card you'll want a landscape 5x7 card (or larger). For the front of my card I have a simple lead-in using the same styling as the interior. (My favorite way to make card fronts.)
Open the card to reveal a forest of trees behind an autumnal village. The video shows how to attach two pivot panels die sets together to create a longer pop-up. You also have room behind the pop-up to add another platform as I did, or even to fill it with a third pivot panels. (You decide!)
Here's a closer look at the houses and trees. The patterned papers (Photo Play) do all of the work creating the fall colors. The greeting is from Word Set 7.
Want to give this technique a try? Here are the products used in the video: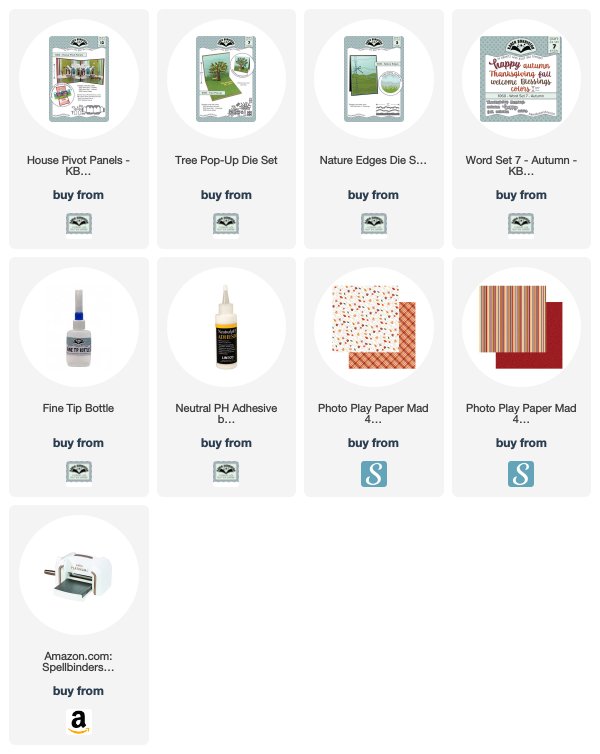 Let's look at some additional autumn inspiration by our talented design team.
Frances Byrne kicks us off with a gorgeous Photo Collage card featuring vibrant autumn elements and colors. I love how Frances seamlessly mixes die cut elements and stamps into fabulous scenes.
Kelly Booth pays homage to pumpkin spice season with a fabulous Coffee Cup pop-up in fall colors. Notice the festive speckled cup and stenciled napkin edge. I'll take a venti, please!
Karen Aicken amuses with a Spinner Square card featuring a Funny Bones sentiment. I love how she created a custom inked background and also used the happy die from Word Set 7 to completely fill the front of the card. What a great technique!
Sandy Diller made a vibrant and beautiful staggered Charm Accordion to celebrate the season. I love the pumpkin scene she created along the bottom of her card plus the solid panel front cover.
Lois Bak used the Rockin' Rectangle and some fun Riley and Company stamps for a Thanksgiving card that's sure to delight. The front features the Autumn Elements layered into a lovely embellishment.
Fran Sabad also used the Rockin' Rectangle and also used Riley and Company stamps but with a different effect. Fran made a window card and fun apple-picking colors. What a great way to welcome fall on the farm.
Hopefully we've inspired you to craft up some autumn goodness. Join us next month on Wednesday, November 6th for our next Designer Challenge with a theme of HOLIDAY ACCORDIONS. The team will be using our Charm Accordion or Fancy Accordion to make holiday cards.
Happy Crafting!