OK, I might have a new addiction! It used to be that I couldn't make a card that didn't pop-up. Now I fear that I won't be able to make a card that doesn't pop-up and then also light up!
Last Saturday our collaborative hop with Pear Blossom Press went live, featuring tons of great pop-up/light-up inspiration from both teams. Make sure you check that out if you missed it.
While teaching at a retreat last weekend I got started on another light up card, this time featuring our House and Fence Pop-up die set styled as a gingerbread house. The EZ-lights from Pear Blossom Press are the perfect addition to a pop-up card to easily light it up.
This is a top-fold A2-sized card (4.25" x 5.5" when folded) The front of the card repeats elements from the interior to create a simple lead-in. The snowflakes and gingerbread tree are from the Evergreen Pivot Panels die set. The stitched tree hills are from the Outdoor Scene die set.
Open the card to reveal the sweet scene. I used the stencil feature on the House to add all the brick and slat detailing using a white gel pen. Diana, one of the students at the retreat, helped style the gingerbread house by adding all the rhinestone detailing to the roof, chimney and door. I then repeated those same rhinestones on the background trees and on the wreaths hanging off the fence posts. I used my computer to make a "press here" circle and put a gemstone in the center.
When the button is pressed the lights will come on in the two windows and behind the gingerbread lantern (Camping Charms) which is sitting on a gingerbread tree stump (Tent Pop-up). The greeting is our large Merry Christmas die.
If you need more inspiration for lighting up the House and Fence die set, there are two cards in the hop using this die set. Kelly Booth also made a gingerbread house and Jennifer Paar Gross has a step-by-step picture tutorial for her whimsy house card.
Here are links for the products I used on my card. If you are reading this prior to November 2, 2019, you still have time to take advantage of a promotional discount code. Just enter the code POPANDLIGHT for 15% off your purchase at karenburniston.com or pearblossompress.com. One code works for both shops! (Coupon code valid until November 2, 2019.)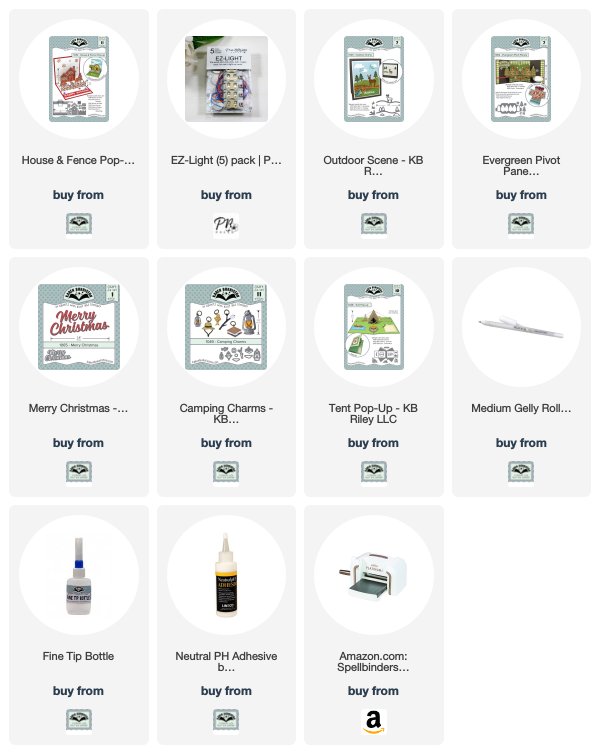 ---