Happy July! And to my fellow Americans, have a patriotic and fabulous 4th of July.
This month's Designer Challenge has a theme of "Picture this!" where I challenged the team to incorporate a photo or photos into a card of any theme. For my card and video I'm teaching how to assemble the brand new Photo Collage Pop-up die set which will start shipping on July 15, 2019. My friend Rebecca and I have done a lot of fun things over the last few years so I wanted to make a "hello" card featuring photos of our fun activities. Watch the video to learn about this die set.
To use the Photo Collage Pop-up with photos, you'll need 8 (or more) photos sized to 1.25" square. This is easy to do on a computer using a photo editing software like Photoshop or Microsoft Word. However, if you are not technically inclined but you live anywhere near a Walgreens (sorry to my international viewers - you'll have to find if your local drug store will make a similar collage print) you can take advantage of their 4x4 collage print option to easily size your photos to fit. Here's a video showing how:
This card measures 4.25" x 5.5" when folded and will mail easily in an A2 envelope. For the front decoration I mimicked the feel of the inside, adding two more photos and then the camera charm from the new Memory Charms and the word Hello from Word Set 6 - Summer. The patterned paper is an old Jillibean Soup design from my stash.
As the card opens the collage starts to twist and expand. I must credit our very talented design team for the inspiration to make some of the photo frames in colors instead of leaving them all white. I chose colors that would pop against the patterned paper.
Once open you can see the entire photo collage. Eight photos are attached to the pinwheel spinner. The die set also includes the push pins, binder clips, ticket and the word "smile."
We are taking pre-orders for the new dies now, with shipping starting July 15, 2019 in the order received. We do ship all store orders first, so if you're lucky enough to have a local store, please ask for our products. Here are links to the products used in the video: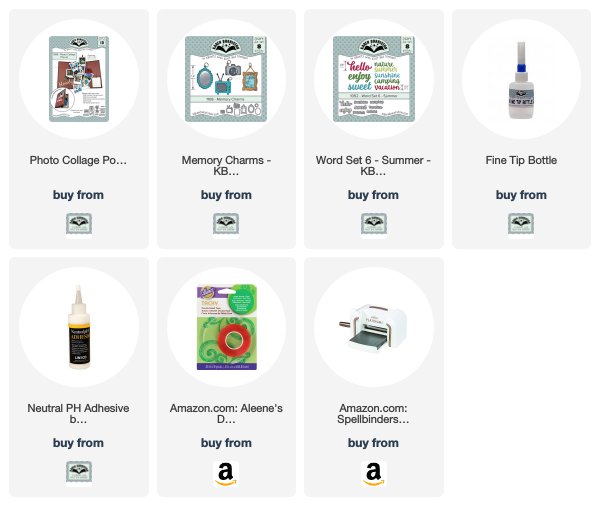 Let's take a look at the creations by our very talented Design Team. First I want to extend a huge thank-you to Irene Mendes, who answered our Design Team call last year and was selected to join the team for a six month term. She brought beautiful creations to our team and we are so grateful for her talents. She is stepping down as an official team member but we will continue to see her beautiful works on the Pop-up Peeps group and her blog.
Kelly Booth made a special personalized card for her son-in-law's 40th birthday. What a wonderful trip down memory lane for the lucky recipient. Kelly also added extra photos to the collage and used a 5x7 card size so they'd all fit.
Karen Aicken used the Triple Flip die set to create a custom card for her grandson's 7th birthday. This is a great mix of colors, patterns, borders and more. The birthday boy is going to delight in pulling the arrow and watching the rectangles flip.
Frances Byrne expanded the number of photos on the Photo Collage Pop-up to 10 and filled it with pictures of her grandpuppy. I love everything about this card, from the colors to the fun captions to the clever use of the "sweet" portion of the Home Sweet Home die set.
Fran Sabad and Frances both chose to focus on grandpuppies with the Photo Collage this month. Fran made some great choices here, including patterned photo frames and the addition of the dog die from the Cat and Dog. Precious!
Sandy Diller's parents will soon celebrate their 75th wedding anniversary. Yes, you read that right! What a wonderful celebration and cause for a very special card. Sandy shows on this Photo Collage how to use fewer photos to keep the focus on just a few milestone images. I love the border around the inside as well. The Happy Ever After die works perfectly as a card front. Congratulations to the happy couple!
Lois Bak surprised her daughter with a commemorative card from their trip to Sea World. Using the Photo Collage Pop-up not only creates a dynamic exciting card, but a treasured keepsake as well. Lois used a background paper of cork board, for a very realistic bulletin board effect, and mixed in the Sea Animals into the collage.
Summer Hills-Painter created a personalized birthday card for her children's grandmother. I love her choice to use the photo frames from the Photo Collage Pop-up on the Triple Flip. What a great way to make a card also be a gift for a beloved grandparent.
Helen Cryer is currently moving her family across the country but found a little break for crafting a card for the challenge. I just love how she used the Photo Collage Pop-up with bright fun elements for this happy Thank You card. Oh, and apparently binder clips are called "bulldog clips" in England. The more you know!
Shelly Hickox recently moved to a new state and is working on a new craft space. We're so happy to have her back! In this card Shelly uses the Photo Collage Pop-up without the photo frames and instead adds some fussy-cut elements to the pop-up for a dynamic, pretty card.
Such an amazing array of inspiration this month. One thing that the team has reported is that cards that are personalized with photos are much appreciated by the recipients. The Photo Collage and Triple Flip die sets also work wonderfully in scrapbooks and mini-albums. I hope you are inspired to give them a try!
Join us next month on Wednesday, August 7, 2019 for our next challenge with a theme of FUN ON THE FARM. We will be showing off the Barn Pop Stand and related farm dies.
Happy Crafting!