Happy May!
For this month's Designer Challenge the theme is Congratulations! Graduation season is coming up soon, so here's a fun way to repurpose the Cake Pop-up die set into a stage for a graduation scene.
Watch the video to learn the technique:
This card is a standard A2 size, 5.5" x 4.25" (top fold) when closed. For the front of the card I chose a minimalist design - just the leftover woodgrain paper and then a triple layer of Congrats where the black layer is slightly offset for a shadow. The graduation cap from Tiny Accessories 2 adds the finishing touch.
Open the card to reveal a pop-up graduation stage complete with graduate, year and greeting. The owl is from the Feathered Animals set and the year is made using our Numbers set.
In this close-up you can see the clear supports that create the gravity-defying scene. The video also shows a fun technique for fashioning a graduation robe for the owl.
You can use this same technique to make robes for any of our animals. Here are a few examples. (Spring Animals, Woodland Animals, Knight and Dragon)

Ready to give this card a try? Here are the dies and supplies used in the video: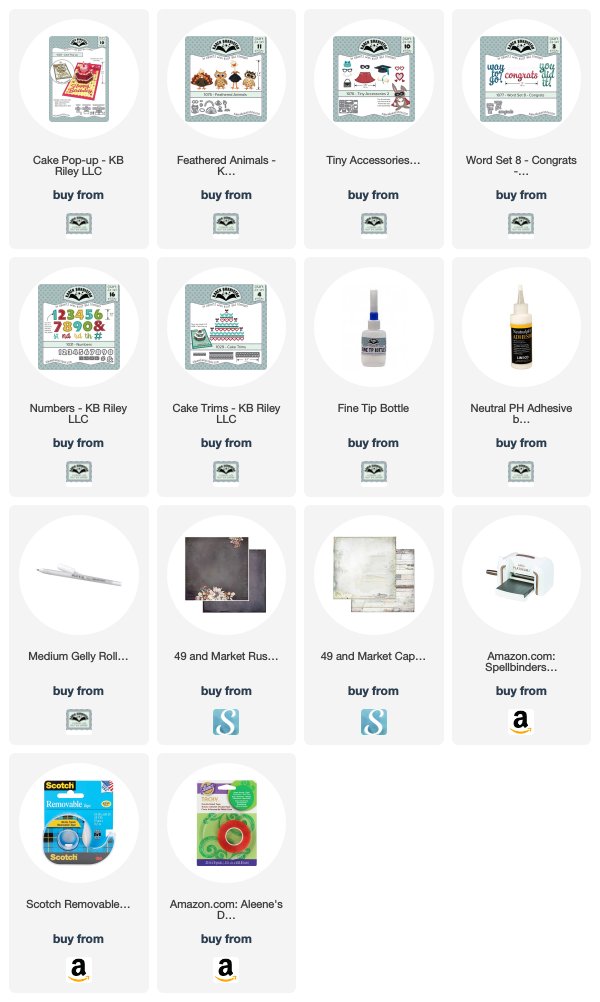 Let's see the divine congratulatory (and thank-you) inspiration made by the team this month. As I mentioned last month, we have three design team members who are in the process of moving, so they will be out for a few months but will be back!
Sandy Diller focused on the thank-you side of congratulations gifts with this amazing mash-up of the Coffee Cup Pop-up and the Ice Cream Sundae Pop-up. By robbing the mechanism from the coffee cup, Sandy was able to make a standing sundae without a back wall to the card. This is so impressive and easy to do. You can learn how by watching Sandy's full YouTube tutorial on the technique. (And please give a subscribe, too - I know from experience the work that goes into these videos and your support is the currency of motivation!)
Karen Aicken combines and customizes dies in ways that are so clever and polished. I love what she's done here with the Oval Frames Pop-up by removing the front frame and focusing instead on a pop-up 4-panel oval spread - room to spell out CONGRATS. Then she added another oval with the sweet owl that rises with the pop-up.
Kelly Booth used her master coloring skills on a cute stamp to add to the front of the Frame Pull Pop-up. Our word sets with connected phrases, like Word Set 8 - Congrats, work perfectly on the pop-ups as you see here. This card will definitely bring smiles!
Fran Sabad made a congratulations Tag Book for a new baby. It's a wonderful mix of stamped and colored imagery alongside die cut Baby Charms. The new parents are sure to display this beauty!
Frances Byrne also created a congratulations for a new baby card with this cute Frame Pull Pop-up. I love how the Baby blocks charms fit perfectly on the inner pop-up. The color scheme is so sweet and classy. Adorable!
Lois Bak also celebrates baby with this month's theme. This double Woven Basket Box Card is filled with charm. She's added the Baby Charms, flowers, Spring Animals and bright balloons. What a charming display piece to celebrate a new arrival.
Irene Mendes focused on a thank you card (new parents and graduates always need thank you cards!) featuring the Spinner Square pop-up, soft pretty colors and loads of clouds. As usual, Irene's card is an exquisite mix of colors and images.
I say this every month, but isn't this team spectacular?! Join us next month, on June 5, 2019 for our next challenge with a theme of Beach Day! We will all be making cards with a tropical/beach theme.
Happy Crafting!