It's time for another Save the Crafty YouTuber video hop!
We are one of the sponsors of the event, which is explained so well by Justine Hovey, the organizer:
The Save the Crafty YouTuber Video hop is a celebration of cardmaking video tutorials created by a group of talented crafters of all different styles and levels. We are coming together to give our viewers a chance to discover other amazing cardmakers and help reach monetization goals! All you have to do is watch, like the video, consider subscribing, and click the link in the video description below to hop to the next video. Let yourself be inspired! Don't forget to comment because we have tons of prizes to give away. Please indicate if you are located in the USA or International so that prizes can be awarded appropriately as some prizes (not all!) have restrictions on them. (NOTE FROM KAREN: you'll need to click over to YouTube to leave comments and keep hopping - blog comments don't count)
A couple of weeks ago I posted photos of an Oval Frames/Flower Pot combination card I made for a friend's birthday. I received a lot of requests for a video for the card. For the original card I created a "lift up" assembly but I thought for the video that more people would prefer the "drop down" assembly since it creates a better display piece. Watch the video to learn the technique:
This card measures 5x7 when closed and will mail easily in an A7 envelope for extra postage. The front of the card is made with the leftover materials - my favorite way to make card fronts.
Once open the Oval Frames Pop-up drops down from the upper corners, covered completely with flower pots, flowers, vines and a flying bee. This could be used for any theme so I went with a generic "love you" die from Word Set 9. The background paper inside the card is from 49 and Market and the front paper is an old scrap. The flowers are also cut from paper scraps. The pot texture is created using Distress Oxide Inks. You can learn how I did it by watching the Twist Panel Flower Pot version of this card.
Here are the supply links for the card: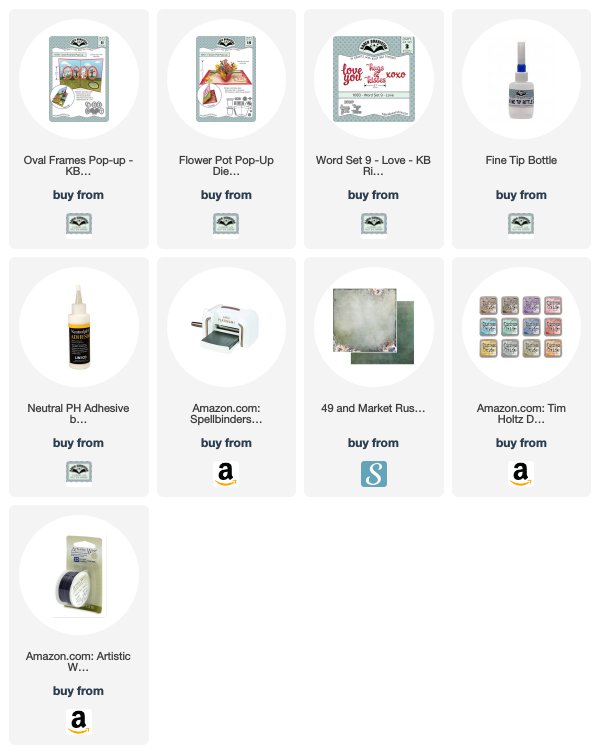 Remember, you need to do all your hopping and commenting on YouTube. Comments must be posted by June 5, 2019 to qualify for the prize drawings.
Good luck and happy hopping!
---