Happy 2019, fellow crafters!
To ring in the New Year our first Designer Challenge has a theme of NEW! This challenge centers on trying out a new technique or a new style or a new purchase. The team has created fabulous inspiration as always.
For my card and video I combined three "new" things - a NEW die assembly idea for the Frame Pull Pop-up to convert it into a waterfall card, a NEW (to me) stamp set from Visible Image of the Cheshire Cat, and some brand NEW cutting pads, which I'm sure will please those of you who cringe constantly seeing the well-used ones in the videos every month.
In my defense - I am like everyone else - I use cutting pads until they break.
And then I keep the broken pieces because they work so well for small dies.
I may have a problem.
Anywhoooooo - here's the video.
This is a postcard-style card measuring A2-size (4.25" x 5.5"). To color the Cheshire Cat I stamped it with Ranger Archival black ink onto white cardstock and then used Prismacolor pencils in these shades - Pinks (PC993, PC994, PC1014) and then PC1018 for the inner ears. Purples (PC932, PC956, PC1008). Yellows (PC1011,PC1003) and White PC938. I copied the packaging image as best I could, although I am the first to admit that my coloring skills could benefit from some practice and professional instruction!
Pull the tab to flip to the next set of panels. In this one, the greeting begins as the cat fades. The bird and hearts are dies that come included in the Frame Pull set. I cut them from black cardstock and colored with the same pencils, leaving a black edge to make them tie in better with the stamped images.
Keep pulling to reveal the third scene. Now the cat is just a head, the bird has turned around (in keeping with the greeting) and the rest of the greeting is revealed.
One last pull to reveal the final scene. The cat is now just a floating face spouting his signature phrase: "We're all Mad Here!" I meant to use a purple colored pencil between the nose and the eye, where I left a little bridge of paper while fussy cutting. I figured it would disguise my cheat. But then I forgot to do it! (We're all mad here!)
For the back of the card I added a panel of white cardstock. The "welcome" word from Word Set 7 is inlaid into the white panel, but would look just as good layered on top.
Here are links to the products used on my card.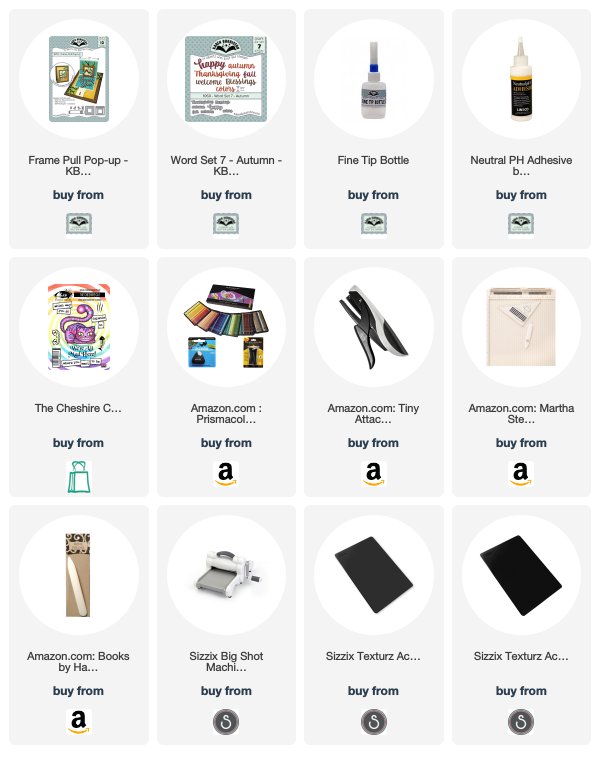 Let's see how our talented international design team interpreted the NEW challenge. In each case, their name will link to their personal blog post, where you will find more photos, supply lists, tips, tricks and sometimes even videos. So click away for inspiration galore!
Karen Aicken was inspired by the Twist Circle Forest technique to craft this manly birthday card. What a wonderful combination of woodsy elements. Perfection!
Shelly Hickox was inspired by some gorgeous new paper she found on a recent shopping trip. She used the Circle Charm die set and our crosshatch shapes to create this charming hello card, suitable for anyone. I love that there are several ideas this month that could easily work for masculine cards, which can be more challenging.
Lois Bak took inspiration from last month's Double Spinner technique to create a lovely New Year's card, complete with pouring bubbly. What a wonderful festive card to usher in 2019!
Summer Hills-Painter took on the Staggered Accordion technique to make the Harry Potter card featuring footsteps traveling through the pop-up elements. What fun!
Helen Cryer challenged herself to create a background with inks and stamps instead of her usual go-to of patterned paper. The results are divine! She made this fun Circle Charm card to usher in 2019.
Kelly Booth was inspired by the Double Spinner technique to create her own vibrant version. I just love her watercolored elements - adding such a colorful and fun twist to this birthday card. Gorgeous!
Frances Byrne made this incredible Harry Potter scene using the Twist Circle Forest technique. I just love the background she created plus the cute peeking house elf in the forest. Treemendous! (See what I did there?)
Irene Mendes was inspired to create a window Tag Book card and it is just so soft and pretty! I love the elements peeking through the window that are attached to the back of the first pop-up tag. How darling!
Sandy Diller altered the House Pivot Panels into rectangles so she could use the die to spell out a six-letter greeting, in this case, THANKS. This is such an excellent way to modify and expand the possibilities with this die set. So clever!
Fran Sabad created a wonderful shiny birthday card using the Double Spinner technique from last month's challenge. I love the mix of golds, white and black for this fun "wow!" card!
This was such a great challenge to encourage everyone to try something new in the new year. And speaking of new, join us for next month's Designer Challenge, on February 6, 2019 with a theme of LOVE, SWEET LOVE! where the team will be making love-themed cards that incorporate a chocolate element of some kind. Additionally, we will be showing off brand new dies from our late-January release. Sneak peeks will start mid-month.
Happy Crafting!