Happy November!
Christmas is fast approaching so for this challenge we thought we'd inspire you with cards using Christmas Trees. Get ready for some jaw-dropping inspiration by the team below. Of course I say this every month, but this month they REALLY hit it out of the park. Like out of the park and across town. Just sayin'!
For my card and video I combined the mechanism from the Snowman Twist Circle die set (with an extra two folds to alter the action) with the trees from the Evergreen Pivot Panels. Our die sets are always backwards-compatible with the dies from previous collections. After all, you're investing in tools that don't wear out, so our goal is to bring out new dies that also bring new looks (and techniques) to previous dies. 
Here's the full YouTube video tutorial for this card:
This top-fold card measures 4.25" x 5" when closed, so it will mail easily in an A2 envelope. I decorated the front to match the styling of the interior.
As the card starts to open the forest starts to twist up into place. Watch the video to learn how I adapted the pop-up mechanism of the Snowman Twist Circle to create this effect.
Once the card is open a forest of Christmas trees is revealed. The trees lend themselves well to this technique because they are small and look great bunched together, but do experiment with other small items to make different scenes. Perhaps our charm sets or nature/animal dies.
Want to give this technique a try? You will find our die sets at independent craft stores and some of your favorite online retailers worldwide. For USA customers, we've added a list to our website of local stores who carry our products. We'd love for you to shop local when you can - we need to support our local stores! Click here to check: Where to Find Us. Here are the products I used in the video.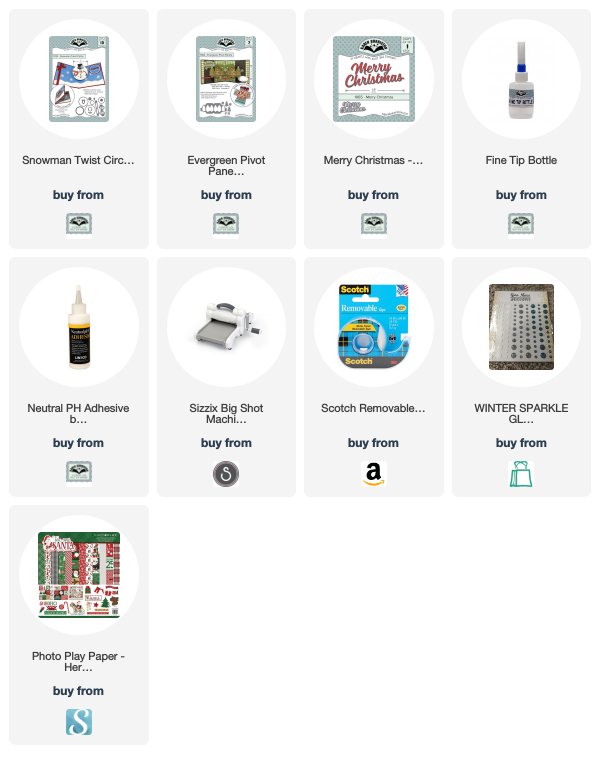 Get ready for a dozen AHHHHMAZING cards from our talented design team. If you click their names you'll go to their blog posts, where you will find supply lists, tutorials, videos and more! 
Summer Hills-Painter starts us off with this hip holiday Evergreen Pivot Panels card. I love the way she cut the interior paper using the Rectangles Crosshatch to give the interesting edge detail and then drew colors from the paper for her pop-up trees. This card is so joyful with the pretty bows topping each tree. Fabulous!
Karen Aicken created this absolutely gorgeous neighborhood house by combining the Christmas Trees Pop Stand die set with the House and Fence die set. She used the mechanism from the pop stand for all three pop-up elements. I love the white patterned trees with wreath toppers and the big round baubles for the greeting areas.  Karen also shares a really great tip for how you can do a wide card like this and still fit it into a standard Big Shot for cutting the tabs. Click over to her blog to learn her method.
Frances Byrne created this festive triple tree card using the Christmas Trees Pop Stand and a wonderful mix of patterns for the background. Stripes and harlequins with mod fresh colors - perfection! Plus Frances added a stamped Santa for an extra touch of whimsy. Love it!
Fran Sabad created two cards for the challenge using the Christmas Trees Pop Stand for both, but with different styles. The first is an elegant card, using whites and metallics for a classy feel. The second has traditional colors and the mouse from the Christmas Animals decorating the tree for a fun whimsical feel. What a great illustration of how dies are simply tools for your imagination and you are always in control of the colors, textures and styling. Same die, two feels!
Kelly Booth rocks her signature teal color in this amazing Christmas Trees Pop Stand card. I love the mix of colors with the plaid and the pretty garlands. The front of the card is just as lovely, so definitely click over to check it out. I love Kelly's ability to mix solids with a touch of pattern. 
Shelly Hickox is celebrating the birth of her first grandchild this week. Congratulations, Hickox family! Lucky for us, she already had her challenge card ready to go and it is a stunner! The styling on the Sleigh for the front of the card with the wooden paneling is exquisite, and then when you open the card up pops a forest of trees from the Christmas Trees Pop Stand die set adorned with a deer and a cardinal. What a Shellypiece!
Sandy Diller cleverly cut the tree from the Christmas Trees Pop Stand die set right into the front of the card so she gets a double-sided pop-up! What a great technique! And it gets even better, because if you click on Sandy's name you'll go to her blog post where she had posted a full YouTube video for this card. Sandy explains things so well and I definitely encourage you to subscribe to her YouTube channel.
Helen Cryer always finds the perfect mix of paper and colors to create incredible cards. I love this combination of the Twist Panel Die Set along with the Evergreen Pivot Panels. The red trees are so festive! As I always say . . . Helencredible!
Irene Mendes made a floating forest of trees using the Christmas Trees Pop Stand on the floating floor mechanism from the House and Fence Pop-up. I love how the deer from the patterned paper is hidden behind the forest on the back wall of the card. The wreaths hung on top of the trees are a great touch! Exquisite!
Lois Bak really knows her way around creating a scene and this Explosion Pop-up card is no exception! I love how she combined the tree from the Christmas Trees Pop Stand onto the pop-up and then decorated the room with accessories from the Sleigh set. It's beginning to look a lot like Christmas!
But wait! Here's a bonus card from Lois for her daughter who lives in sunny Florida. How clever to decorate the Palm Tree Pop-up for Christmas! I love it!
So how about it? Have these ideas inspired you to decorate a few paper trees of your own? Pop-up Christmas cards are keepers! Join us next month, on Wednesday, December 5, 2018 for Designer Challenge 16, with a theme of "Ink it!" - the team will be showing off pop-up cards featuring inking techniques. We hope you'll join us!
Happy Crafting!