Happy October! Here in South Texas we still have humid hot weather.
For my card and video I crafted what I would love to see outside - trees with changing and falling leaves. I used the Tree Pop-up combined with the base of the Palm Tree Pop-up to create a grove of three autumn trees. This exact technique could be used to style the tree for any season, so think of winter trees with snow on the branches, spring trees full of blooms, and summer trees with picnic baskets.
My card measures 4.75" x 6" when folded and will mail easily in an A7 envelope for no additional postage. I mimicked the look of the card's interior for a simple lead-in on the card's front.
As the card opens, the trees start to pop-up.
Once open a grove of three autumn trees pops up in the middle, shedding brightly-colored leaves.
Here's a closer look at the trees and the tire swing. 
I used patterned papers from my stash, but this card would look good with any papers. 
Our products are sold at independent and online retailers throughout the world. We are always looking for more retailer partners, so please ask for our products at your local stores. Otherwise, we do sell on our website. Here are the links to the products used on my card: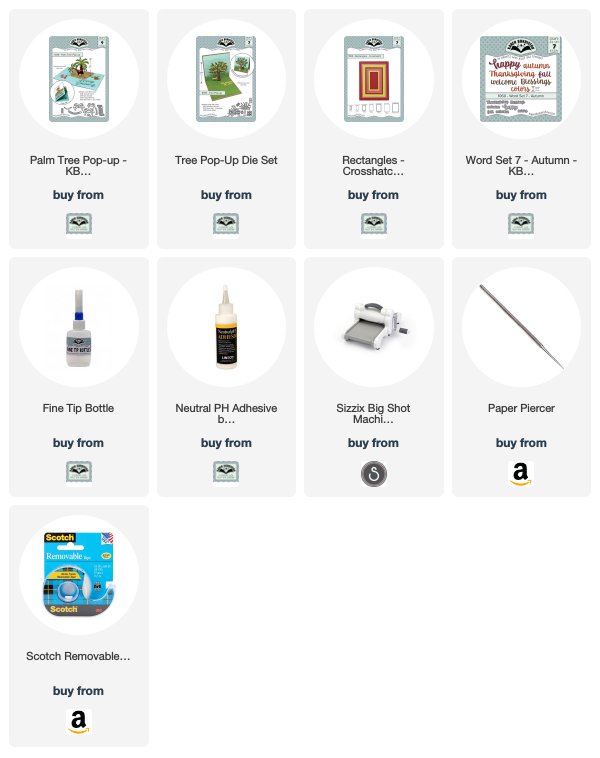 Our extremely talented Design Team has once again hit it out of the park with their amazing Fall projects. If you click their names you'll go to their blog posts, where you will find supply lists, tutorials, videos and more!
Shelly Hickox created this amazing floating leaves staggered Charm Accordion by using clear panels behind the leaves. What an amazing effect! She has a full tutorial on her blog post, so definitely check it out!
Karen Aicken cleverly stacked two Pivot Panels into one card to create a delightfully spooky Halloween card. I just love all the dimension and elements in this card.
Sandy Diller created a double spinner in a top fold card and has a full YouTube tutorial video to teach you how to achieve this technique with the Spinner Square die set. In addition, her vellum wreath of leaves and squirrel popping out of the pumpkin are beautiful touches.
Kelly Booth chose muted beautiful colors for this fall leaves card featuring the Circle Charm Pop-up doubled. The Distress Oxide inking for the leaves is perfection and I love the use of the clouds edge as a border.
Frances Byrne combined the Twist Panel die set with the House Pivot Panels to create this delightfully wicked Halloween card. I love all the spooky elements and the wonderful sky. 
Summer Hills-Painter created this gorgeously rich autumn-colored Frame Pull Pop-up card. I love the Woodland Animals holding the leaves on the front. How charming!
Fran Sabad combined the Evergreen Pivot Panels with the Woodland Animals and plenty of leaves for a splendoriffic fall card. The combinations on this card are beautiful.
Lois Bak created this eerie haunted house card using the House and Fence Pop-up plus our Halloween dies. I love that spooky graveyard on the front of the card and the flying bats over the house. Fabulous!
Irene Mendes combined elements so beautifully in this rich autumn Spinner Square card. Her skillful mix of patterned papers and die cut elements are so striking and this card is a feast for the eyes.
Helen Cryer has such a gift for mixing colors and patterns and this Halloween card is no exception. I love the mix of yellows, oranges and grays with accents of wood. Helen used the Upsy Daisy Pop-up for this fabulous card.
Well hopefully you're inspired to welcome Fall with some handcrafted cards. Join us next month on November 7, 2018 for our next challenge with a theme of CHRISTMAS TREE. The team will be incorporating trees into their cards.
Happy Crafting!