Happy September! It's been a busy few days already with the September Release now available for pre-order on KarenBurniston.com as well as the announcement of three new Design Team members, expanding our team from seven to ten. For this month's challenge the theme is House, and team members were instructed to create a card of any theme but incorporating either the House & Fence Pop-up die set OR the new House Pivot Panels die set OR some sort of house image from a stamp set or paper.
For my card and video I decided to use the House Pivot Panels for a Halloween card, also using the new Halloween Charms. I thought it would be fun to cut a house-shaped window (you know me - I never met a pop-up card that wasn't calling out for a window! grin) into the front of the card to line up with one of the pop-up houses when the card is closed. Watch the video to learn this technique:
My card is a landscape A2 card - 4.25" x 5.5" when closed, and will mail easily in an A2 envelope. I used the Circles-Crosshatch set for the rings on the card's front and the Halloween Charms to decorate. All of the papers on my card were just old ones from my stash.
As the card opens, the House Pivot Panels start to pop-up.
Once open a neighborhood pops up, perfect for Trick-or-Treating. 
Here's a closer look at the houses, cut from solid colors of cardstock. I stamped the yellow ones with an old spider web stamp from my stash. The "Halloween Hello" stamp is from a Stampin' Up! set of the same name. I glued the moon charm to the back of a chimney so it floats above the houses and then attached one of the bat charms to the moon.
Our products are sold at independent and online retailers throughout the world. We are always looking for more retailer partners, so please ask for our products at your local stores. Otherwise, we do sell on our website. New dies will start shipping September 10, 2018. Here are the links to the products used on my card: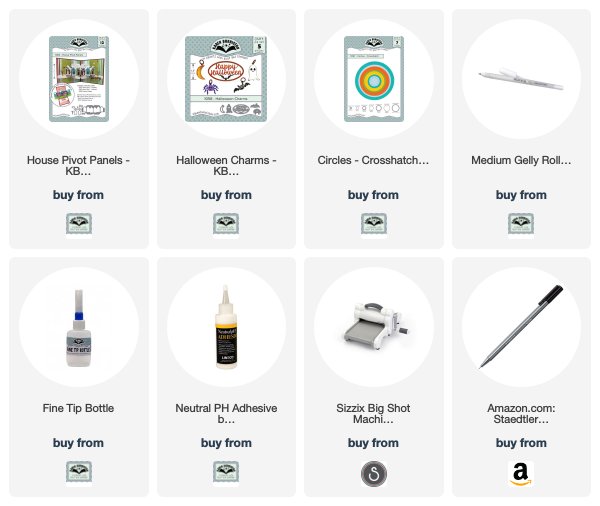 We're excited to have our new team members joining in for this month's challenge. If you're new to our challenge format, our design team members post their challenge creations on their own blogs on the first Tuesday of each month. (*Next month we're a week later) Then, on Wednesday I post a compilation blog post (you're reading it!) including my card and video for the challenge as well as photos and links to each of their projects. You are highly encouraged to click the name of each designer to visit their blog (in a new window, so no worries about losing this post if you click) to see more photos, full supply lists and tips about their individual projects. Let's start with our three newest members:
Sandy Diller (Arizona) was on the Design Team during my licensing days and we were thrilled when Sandy applied for an expansion slot. She not only creates amazing combinations with the die sets, but also teaches cards on YouTube. For this month's challenge she created a double floating floor using the House & Fence die and then crafted the most amazing picturesque property, complete with matching dog house! So clever!
Irene Mendes (Portugal) has an amazingly soft, pretty, layered style that works beautifully with our dies. For this Tag Book she incorporated some gorgeous papers and house elements to decorate. We are excited to welcome Irene as our fourth international Design Team member. (Note: her blog is easily translated using the translate button at the top of the blog page.)
Lois Bak (Florida) has been wowing us with her clean, classy style with clever touches and tons of whimsy. Lois incorporates a mix of stamps and blending techniques into her projects for beautiful results. For this challenge she created a 3-page Fancy Accordion card featuring the Fancy Flourish Frames and some sweet home-themed stamps. I like Lois's choice to start with a mountain fold on the Fancy Accordion so the first label will fold inward.
Shelly Hickox (Mississippi) combined the House Pivot Panels with the Twist Panel die set plus some of our Halloween dies for an absolutely spooktacular card. Check out the clever and unique ways she styled each house in this chilling pop-up neighborhood. Amazing!
Frances Byrne (Australia) used the new House Pivot Panels in the Tag Book die set for a holiday card in a fresh mod color scheme. I love how her patterned paper seamlessly integrates with the row of house. She also used the perfect greeting stamps for the theme. So festive!
Kelly Booth (Arizona) created a new home card using the House Pivot Panels with the Twist Panel die set. What a great color scheme for this card. I love, too, how Kelly used the Happy portion of the Happy Birthday die with a decorator house for the front of the card. Gorgeous!
Karen Aicken (Canada) shows an awesome combination of both Pivot Panels die sets - the Evergreen and the House. She created a row of trees and houses to mix up the look. It's a wonderful color scheme for a Thanksgiving card. So pretty!
Fran Sabad (Kentucky) created an absolutely darling little elf village for this holiday card using the House Pivot Panels. What a wonderful mix of stamps, dies and papers. Everything about this card is made of happy!
Summer Hills-Painter (California) posted her in-progress photos of this incredible inked background and everyone was excited to see the finished card. This is an incredible mix of the House Pivot Panels and Twist Panel for a fabulously eerie neighborhood. I love how Summer used the brick stencil feature of the House & Fence set to put a brick texture on the small houses. Amazing!
Helen Cryer (England) also mixed the House & Fence with the House Pivot Panels for a charming neighborhood. Helen has such a talent for mixing pretty patterned papers and creating such sweet scenes. I love the bunting on the front of the fence and the clever way she used the small foliage piece from the House Pivot Panels to fill in the larger Tree. Helencredible!
What amazing inspiration for home-themed cards! We're proud of our amazing team, representing five different states and five different countries. Join us next month on Wednesday, October 10th for our Designer Challenge with a theme of "Happy Fall, Y'all!" - the team will be making autumn-themed cards.
Happy Crafting!