Happy 4th of July to all my fellow Americans!
Our Designer Challenge for today has a theme of "Sweet Summer."
For my card and video I made my sister's birthday card using a staggered assembly for the Charm Accordion die set. You can also heck out my earlier wine-themed staggered charm accordion card.
Here is the video tutorial for this technique:
For the front of the card I added glittered flourishes using some lovely new microfine glitters from VZ Crafts. (Full disclosure - VZ sent me the glitters to try out.) I used Aquamarine, a more matte-finish with bits of sparkle, and Warm Crystal with tons of sparkle. The circle paper is an older Bella Blvd. design from my stash.
Even though the Charm Accordion is a petite-sized card (just 3.25" x 4.25" when folded up), it doesn't feel small when it is displayed. The staggered orientation adds an extra element of movement and excitement to the card. The Happy Birthday stamp is Hero Arts. The blue paper is Photo Play.
Our charm dies are all sized to work perfectly with the Charm Accordion die set and with each other. This card combines the four charms from the Sweet Treats Charms set with two charms (birthday hat and cupcake) from the Birthday Charms set. The tiny heart comes included in the Birthday Charms set. All of the charms dangle from paper jump rings using the die included with the Charm Accordion that cuts four paper jump rings at a time.
Ask for Karen Burniston branded die sets at your favorite independent and online retailers. If you are sadly without any local shops, you will also find them on our website. Here are the links to the video products: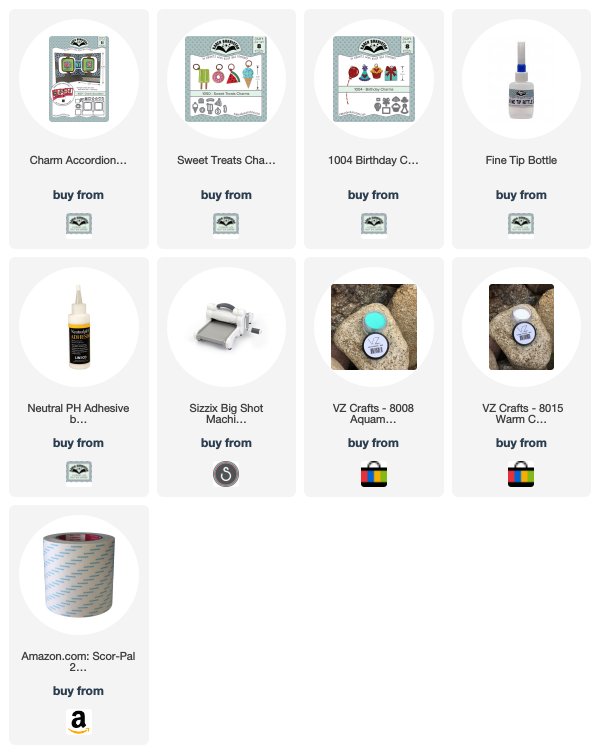 ---
The team will make your mouth water with these amazing Sweet Summer card ideas. If you click the designer's name you'll go to their blog post for more photos, supply list and information.
Frances Byrne informs us that popsicles in Australia are called "ice blocks"! The more you know! I love how she was inspired by the ice block paper to style the ice block charms and have her stamped and colored birds holding them. The pop-up is the Tag Book, placed into a larger card. So cool!
Helen Cryer made this vision in pink of a Circle Charm Pop-up card. I love how she cut a circle hole into the back of the card to line up with the pivoting circle for a tunnel effect when the card is closed. The styling in all pink (check out that palm tree) is lovely!
Karen Aicken can do it all! I love how her blog is filled with practical ideas, such as making use of premade embellishments with your pop-up dies to make fabulous cards on a time budget. This one uses the Katherine Label Pop-up to animate the Happy Birthday label and sunglasses. A great mix of premades and dies.
Summer Hills-Painter used the perfect popsicle paper to highlight the Sweet Treats Charms on this vibrant Twist Panel card. I particularly like how Summer used the scalloped squares from the Upsy Daisy to mix in with the scalloped rectangle included with the Twist Panel set. Such a great way to get more use out of your sets, to mix and match the decorator pieces.
Fran Sabad made a donut-shaped card! I just love this! She cut the card itself using the Circles- Crosshatch set and then decorated with the donut charm from the Sweet Treats set, along with Word Set 6. I adore the little girl (colored to perfection) anchoring the card. The Circle Charm Pop-up is the perfect choice for a donut-shaped card!
Kelly Booth knows a thing or two about coloring and it's obvious in this gorgeous Upsy Daisy card. Look at those popsicles! They look good enough to eat! And clearly Mr. Fox agrees! (Plus he has left all the lime popsicles for meeeeee!) I like how Kelly incorporated a money gift by making the lower decoration a pocket.
Have a safe and blessed 4th of July. Meet us back her next month on August 8, 2018 for our next challenge with a theme of CHARMED!
Happy Crafting!