Happy June, my crafty friends!
Today we're celebrating The Great Outdoors with our Designer Challenge and you'll find amazing (AMAZING!) inspiration by the team, especially for using the new Tent Pop-up die set.
For my card and video I thought it would be fun to style the Tent as an "Up" tent floating through the sky with an "adventure" theme. Here is the video tutorial:
This card measures 5" x 6.5" when closed and will mail in an A7 envelope. For the front of the card I created the scene first using the Nature Edges and Outdoor Scene die sets, and then used the Alphabet die set to cut the "Adventure" word using a stacked inlay technique. (Essentially an inverted eclipse effect)
As the card opens the tent starts to expand. The balloons are suspended on transparency strips.
Once open the whole scene is revealed. 
The Squares - Crosshatch dies were perfect for making the windows, window frames and flower boxes. The flowers came from the Tree Pop-up.
All dies are in stock and shipping now. Stores have already started receiving their dies, so if you have one nearby, please consider giving them your business first. Otherwise, you can always shop on our website. Here are the links: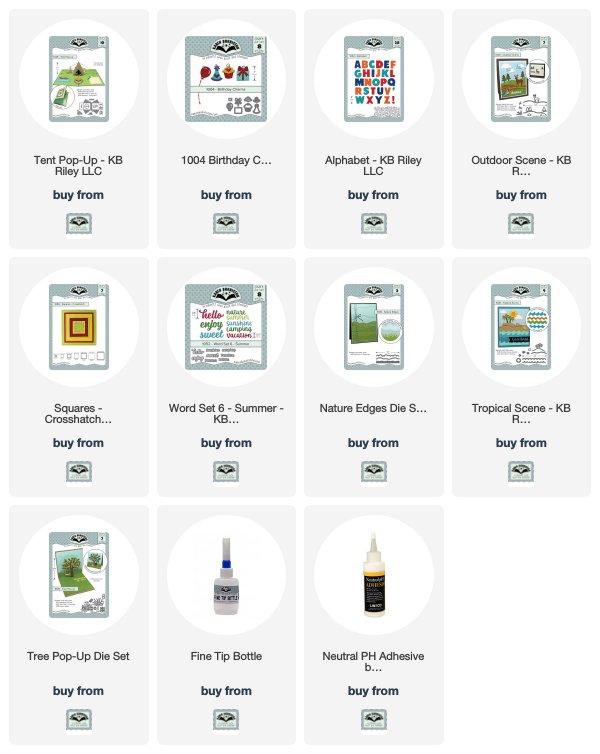 ---
These seven Great Outdoors cards are sure to knock your socks off! Click on each designer's name to check out their blog post, where you will find more photos, supply lists, tips, etc.
Summer Hills-Painter created this wonderful night scene Upsy Daisy pop-up featuring the Tent used flat on the front of the card, plus an amazing glow effect around the Camping Charms lanterns.
Karen Aicken has so many tremendous details in this card, which makes use of the floating floor from the House and Fence die set to animate a tent and animals. Amazing!
Frances Byrne combined some cute camping-themed stamps to create a wonderful birthday card with the Tent Pop-up and Camping Charms. Adorable!
Helen Cryer created this gorgeous feminine Tent Pop-up card featuring a book and beverage mug. I am swooning over this! What a great card for a friend. Helencredible!
Kelly Booth has such a way with creating a scene and I love this birthday card featuring the Tent Pop-up. Notice the raccoon (Woodland Animals) sitting on the tree stump and eating a piece of watermelon! Cuuuute!
Shelly Hickox made this amazing Father's Day card featuring the Tent Pop-up and a photograph of a relative leaning up next to the tent. How clever! I love her use of plaid and the great textures she created. Shellypiece!
Fran Sabad created this showstopper of a beach Tent card that also features the Palm Tree Pop-up behind the tent. Enjoying their own private island are a barrel (or two) of monkeys. Absolutely darling and clever card!
Well I hope you feel as inspired as I do after seeing all these magnificent Great Outdoors cards. Join us next month on Wednesday, July 4th (Independence Day!) for our next Designer Challenge with a theme of "Sweet Summer".
Happy Crafting!