Welcome Wednesday and Happy May! 
It's time for our monthly Designer Challenge and this month I challenged the team with a theme of Paradise. They were welcome to interpret the theme any way they chose and while you'll see plenty of inspiration for tropical scenes, you'll also find some other paradises in the mix. The team has, once again, blown me away with their creativity.
I was in California teaching at an event this last weekend and found myself with exactly one day (GULP!) to get my card and video done. Luckily, a recent card I'd posted in our new Karen Burniston Pop-up Peeps Facebook Group had received requests for a video tutorial. "Paradise" for me is when I have an idea that I can execute quickly! 
This is a fun alternate orientation for the Cupcake Pop-up. Rather than use it in a top fold card, I switched to a side-fold card so I could incorporate a cupcake-shaped window on the front of the card, lining up with the decorator cupcake inside. It's a simple technique but a great way to mix things up. Watch how I did it in this video tutorial:
This card measures 5" x 5" when closed and will mail in an A7 envelope. On the front of the card I've used one of my very favorite Funny Bones stamps. The kitty is peeking through the cupcake-shaped window.
Once open, the scene expands. The cat is sitting atop a framed "Happy Birthday" square that lifts up and slides to the left attached to the box section of the Cupcake Pop-up. This also reveals the decorator cupcake, attached to the lower section of the pop-up and placed to line up perfectly with the window. The patterned paper is Doodlebug's "Kitten Smitten". The Happy Birthday stamp is Hero Arts.
I wrapped baker's twine around the card three times and tied it inside the card. I wove one end through the cat's paws and then tied a knot and let it hang. The other end of the twine is also knotted. I took inspiration for styling the cat from the paper - adding gray ears and stripes.
The inspiration card was one I made for Rebecca's birthday last week. 
If you'd like to make this card yourself, please ask for Karen Burniston die sets at your local shops. They'd love your business and we'd love theirs! However, if you are sadly short on local shops, you can always shop online. Here are the links: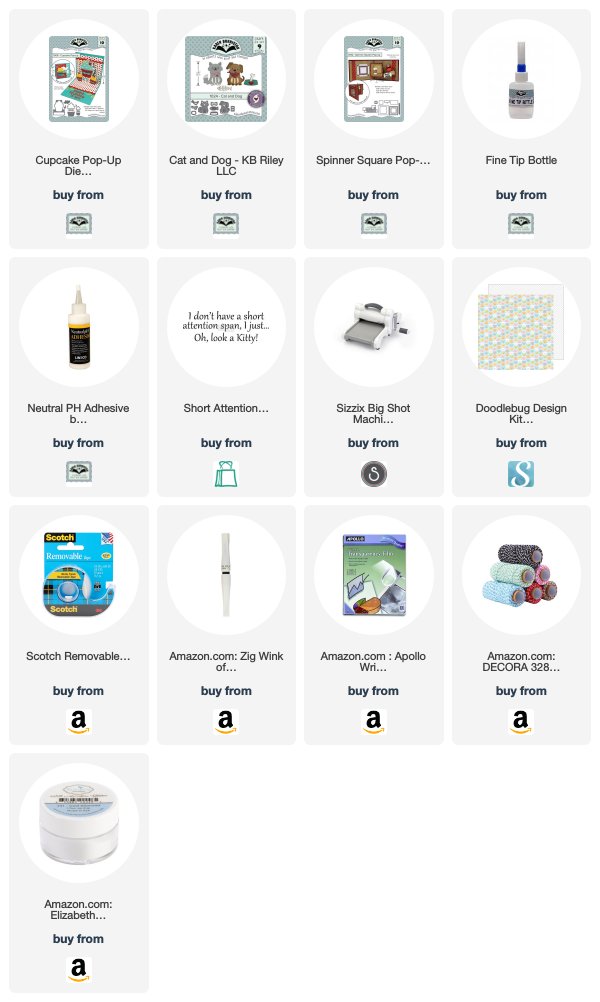 ---
Let's check out the amazing Paradise cards by the Design Team. If you click the designer's name you'll be linked to her blog post where you'll find more photos and a supply list.
Fran Sabad created this amazing pirate-themed Palm Tree Pop-up card illustrating her idea of paradise - a deserted island with buried treasure! I love her triple tree cluster with attached hammock. Brilliant!
Karen Aicken considers the great outdoors to be her idea of paradise and then she made a brilliant version of it in card form. I love her use of the Christmas Tree Pop-up as an evergreen tree for her amazing yeti scene.
Kelly Booth says Paradise is by the ocean with friends and this card illustrates that perfectly. I love the crab hanging out in the hammock and the other Sea Animals frolicking in the surf. Perfection!
Shelly Hickox finds paradise in her garden and used it for inspiration for this absolutely gorgeous Flower Pot Pop-up card. The details are so pretty. What an exquisite card!
Frances Byrne created a gorgeous tropical island for her idea of Paradise. I love her mix of dies and stamps. Plus, Frances decorates both ends of the interior card so the scene looks wonderful from any angle. Such precision! Love it!
Summer Hills-Painter combined some gorgeous sophisticated paper with the Spinner Square die set for this vision of paradise. I love how she put a blank square opposite the pop-up square inside the card and the classy crisp elegant feel to everything. 
Helen Cryer finishes us out this month with a fabulous double-fold card to allow for offset Palm Trees. I love Helen's signature bunting as decor and her bright cheery colors on everything. The shoreline and waves are also very clever and beautiful.
As usual, I am incredibly inspired by the talented team. Join us next month on Wednesday, June 6, 2018 for our next Designer Challenge with a theme of "The Great Outdoors". 
Happy Crafting!